Restaurants in Ottawa
---
Recommended Restaurants by Groupon Customers
---
At Ed Debevic's, every house burger, hot dog, and diner entree shares a not-so-secret ingredient: sass. The servers welcome guests to the vintage venue with tongue-in-cheek remarks and paper deli hats, seating them next to vibrant examples of what Centerstage calls "smart-aleck decor": fake autographs, old-timey ads, and signs that carry proverbs such as "Eat Now…Pay Waiter." The mischievously retro tone is cultivated in homage to one of the owner's favorite restaurants, Lill's Homesick Diner. Back in the '50s and '60s, Lill acquainted Ed with the classic flavors of comfort food cooked from scratch, showcasing the spirited moxie that made her a standout in the short-order world.
Ed chose to emulate both her classic cooking and feistiness at his own diner. Many of his menu items are housemade, including the meatloaf, mashed potatoes, the desserts, and the blue-cheese sauce on top of the Ed's Blue Moon burger. Milk shakes and malts pair well with a variety of hot dogs and sandwiches, especially when counterbalancing the effects of Atomic Mix: a blend of diced jalapeños, onions, and tomatoes that garnishes certain plates. The staff stays in comically impudent character throughout these meals. And every now and then, the servers pause to put on countertop dance numbers that are almost as exciting as the time your grandpa turned the lazy Susan into a zoetrope.
1590 E Main St.
St. Charles
Illinois
630-513-1311
Veteran chefs prepare Stir Crazy's Chinese, Japanese, Thai, and Vietnamese dishes on sizzling woks right in the dining room. So while diners-to-be ponder the menu of more than 50 traditional and innovative Asian creations, they'll witness knives quartering veggies and flames lapping at the edges of the wok as the sights, smells and sounds of the kitchen come alive around them. Should your taste buds riot at the sight of all this mouth-watering action, satisfy them with an appetizer like the Ahi tuna and avocado poke ($9), a spicy stack of fresh fish and cool veggies. For main courses, choose from an array of entrees like the sweet and sour chicken, a dish featuring tender pieces of crispy chicken tossed with broccoli, red and green peppers, onions, carrots, and pineapple in a sweet and tangy sauce ($12.75). Or manage your intake with the Crazy Feature menu, which offers smaller-in-portion but towering-in-flavor classics like Mongolian beef or sesame chicken, served with a crispy veggie spring roll (all $8.88).
28252 Diehl Rd.
Warrenville
Illinois
Since its first pizza went into the oven in 1961, Palermo's has been crafting Italian favorites from scratch with recipes passed down through the generations. The restaurant's pizza makers blanket pies in the classic flavors of homemade italian sausage and pepperoni, or glean inspiration from other dishes in Chicago-style beef or barbecue-chicken pizzas. Meanwhile, other Italian staples—all of which are also available for takeout and catering—fill out the menu with such classics as chicken parmesan and penne primavera.
11255 W 143rd St.
Orland Park
Illinois
Tommy Nevin's Pub was founded by Steven Prescott and christened for his grandfather Thomas Nevin, a WWI veteran. The flagship location in Evanston touts a bright red façade that pays homage to the renowned Temple Bar in Dublin, and the menus at all three locations likewise salute the culture of the emerald isle. Though it inhabits a decidedly Celtic corner of the pub world, Chicago Bar Project deemed the Evanston outpost "the best bar in the suburbs" for its "intriguing combination of country Irish pub, modern Chicago bar and cutting-edge alternative music venue." Chefs whip up corned beef and shepherd's pie as bartenders handle taps and spirits. Friends can cheer on local sports teams on TV or wrack their brains to remember the name of Azerbaijan's currency and most popular potato-chip flavor at weekly trivia nights.
3032 English Row Ave.
Naperville
Illinois
Traditional Japanese recipes and cooking styles continue to inspire the chefs at Shinto Naperville. Mushrooming bursts of flame erupt from stainless-steel hibachis as they sear diners' orders tableside. In between shuffling platefuls of scallops or 28-day-aged filet mignon across the steaming surface, the chefs entertain their hungry audience by juggling utensils, tossing small pieces of food into guests' waiting mouths, and correctly guessing everyone's least favorite astrological sign. Measured doses of housemade teriyaki sauce or herb-infused butter lend even more flavor to the carefully caramelized entrees. Meanwhile, the chefs behind the sushi bar avoid grills entirely as they roll specialty maki with premium ingredients, including tempura lobster and jalapeño.
1778 N Aurora Rd.
Naperville
Illinois
The aesthetically inclined chefs at Swordfish special order fish from overseas, then compose the fresh fillets into a variety of grilled entrees, sashimi, and artfully presented sushi. Colorful sauces and garnishes accent the gentle pastels of seafood dishes, and crunchy golden sprinkles attract desperate leprechauns from the tops of rolls such as the calamari tempura.
Swordfish's bartenders pour out warm sake or line stemware with one of the house's wines or signature martinis, encouraging the swelling sounds of conversation during evening dinners or weekday happy hours. The sounds of mingling patrons bounce off of the dining room's crimson walls, adorned with contemporary murals and artwork, as the crackling fireplace emits tendrils of heat.
207 N Randall Rd.
Batavia
Illinois
630-406-6463
---
---
Restaurant Deals - Recently Expired
---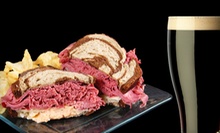 Authentic Irish dishes such as corned-beef boxty and shepherd's pie at a pub steeped in traditional decor
---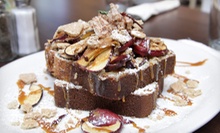 Skillets, crepes, sandwiches such as a buffalo-chicken wrap, chocolate-covered bacon, and pumpkin-cheesecake pancakes
---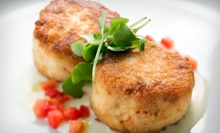 Traditional dishes such as cheddar-cheese grits, jambalaya, fried green tomatoes, and po' boys
---
---