Stores & Markets in Ottawa
---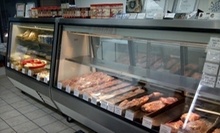 Vast selection of 100% halal beef, veal, chicken, lamb & goat.
Use Tuesday 11:00am - 5:00pm
---
Recommended Stores & Markets by Groupon Customers
---
Run by Bob Chinn's nephew, Chinn's 34th Street Fishery has made a name for itself with fresh seafood that earned a feature on ABC7's Hungry Hound. Tuna, king crab, and jumbo shrimp get flown in daily from Hawaii, Alaska, and Florida. Chefs prepare the oceanic delights in a variety of international styles, whether drizzling them with lemon butter and white wine, blackening them with Cajun spices, or tempura-frying fillets. They also pair fish with swirls of pasta al dente or a mound of filet mignon that's juicier than an orange wrapped in the National Enquirer. Diners can pair their seafood with signature dishes including garlic butter–dipped rolls, tall mai tais, or housemade desserts.
3011 W Ogden Ave.
Lisle
Illinois
630-637-1777
When Prisco's Fine Foods opened in 1926, there were no shopping carts rattling down its aisles; the store was housed in the first floor of Tony and Mary Prisco's home, where they won over customers with humor and personal attention. Today, the store has moved into a modern location, but continues to specialize in Italian cuisine and fresh produce. An array of olive oils, herbs, and tomato products is available from both domestic and overseas sources. The store's staff also makes pastas, sauces, and pizzas in-house, providing materials for easily assembled family dinners or at-home Double Dare competitions. Butchers prepare fresh meat that is cut or ground on the premises and never cryogenically preserved. They expertly slice up Aurora Angus beef, Seaboard all natural pork, and Amish chicken, as well as over 30 kinds of housemade sausage, including italian sausage and bratwurst.
1108 Prairie St.
Aurora
Illinois
Across four Chicagoland locations, Capitol Nutrition's capsule experts aid customers in selecting the ideal supplements to improve workout experience and bolster personal health. They steer clients towards body-building products sold at wholesale prices, as well as aisles brimming with the latest vitamins and supplements designed to bolster memory, energy, stamina, and overall well-being. Many goods on the shelf have enjoyed their 15 minutes of fame on the Dr. Oz Show, including raspberry ketones and saffron extract, both of which have memoirs coming out early next year. Before entering Capitol Nutrition's health-fostering confines, patrons can peruse a collection of diet tips to learn how to construct a dietary plan, pick supplements for weight loss, and pretend donuts are nothing more than miniature tires.
3344 S Rt. 59, Suite 112
Naperville
Illinois
Adi Mor opened the first Garden Fresh Market in 1980, selling fresh produce from a 1,000-square-foot lot in Skokie, which he would stock by taking 2 a.m. trips to Chicago's South Water market. Today, Garden Fresh Market sprawls over six suburban locations, where fresh produce from apples to zucchinis is still procured daily.
Grocery items range from fresh meat from Midwest famers to a wide selection of ethnic foods and national brands. The deli slices meats and cheeses both domestic and imported, and house-made seasonal salads and main courses make bringing dinner home easier than stealing it from a neighbor's windowsill. Many of the market's online recipes have even made it onto NBC5, giving its cooks their share of 15 minutes of fame.
955 West 75th St.
Naperville
Illinois
630-961-9204
In 1927, The Southland Ice Company's icehouses were one of the few refuges from the searing Dallas heat and marauding bands of tumbleweeds. That same year, the company's employees realized the frigid temperatures could also preserve items such as milk and eggs. Soon, as more items and services such as gasoline were gradually added to the operation, the company expanded to stores called Totem's. To account for the boom in popularity, the stores were kept open from 7 a.m. to 11 p.m., and to reflect these new hours, the store name was changed to 7-Eleven.
Today, 7-Eleven has nearly 50,000 locations in 16 countries. The stores are now open 24/7 and sell everything from iconic Slurpee and Big Gulp drinks to coffee, hot dogs, baked goods, and signature 7-Select products. The store's involvement in the community matches its commitment to convenience, with generous charity donations and a pledge to the safe sale of age-restricted products.
600 South Frontenac Street
Aurora
Illinois
630-820-6903
---