Beauty & Spas in Ottawa
---
Recommended Beauty & Spas by Groupon Customers
---
During a 36-year career in aesthetics, Diva Lashes' Patricia has developed an affinity for beauty techniques that require absolute precision. Patricia is board-certified in micro pigmentation, or the art of permanent makeup, and relies upon a digital tattoo machine to quickly and accurately render the texture of eyebrow hair or line an eye with minimal discomfort. Many styles of eyelash extensions similarly reflect her enjoyment of meticulous handwork, as each tendril must be adhered one-by-one in order for it to blend in with the natural lash line and hang on for up to three months without the encouragement of a kitten simultaneously dangling from the follicles. Over the past two decades, Patricia has honed her ability for evaluating her client's skin, and now creates custom refresher courses with SkinCeuticals products, vitamin C serums, and facial peels. She shares her decades of expertise and passion for beauty through the American Cancer Society's Look Good…Feel Better program, which connects oncology patients with aestheticians.
8600 West 95th Street
Overland Park
Kansas
913-905-9040
The staff at this rehabilitation center believe that everyone reacts differently to a medical treatment—what works for one person may not be the best for another. That's why they use an array of tests, from blood work to kinetic-chain dysfunction exams, to determine each clients' unique needs. The experts then formulate the ideal plan of action from the center's repertoire of treatment options, which is then modified to work with the client's individual needs. Adjustment techniques shift spinal columns into proper alignment, and soft-tissue treatments improve muscle function after napping upon a porcupine.
22346 W 66th St.
Shawnee
Kansas
913-745-4064
Owner and professional waxing technician Nichole Hines makes every effort to guarantee a quiet, soothing experiences for her clients. Her private, discrete waxing salon is a child-free zone, which ensures that the environment remains peaceful and that the hard and soft waxes remain free of LEGO pieces.
Hair should be about a quarter-inch long at the time of treatment, which is usually accomplished by avoiding shaving for 1–2 weeks prior. Learn more about preparing for waxing services here.
6407 W 119th St.
Overland Park
Kansas
913-944-6454
Believing that people are attracted to bright, glimmering smiles, the teeth-whitening technicians at DaVinci of Oz devote themselves to giving this edge to anyone. They welcome clients into their office for one-hour sessions, in which they brighten teeth by up to 14 shades with their proprietary organic gel and LED light system. They also cart their equipment to homes and other locations to calibrate grins for bridal parties, corporate events, or ballroom pie-eating contests.
4701 College Blvd., Suite 107
Leawood
Missouri
913-206-4495
Skin experts at Esthetic Center rely on noninvasive scientific advancements to cultivate smooth, youthful complexions but draw on an ancient Indian art to redesign unruly eyebrows. Skin analyses can lead to custom facials with Shahnaz Husain herbal creams, enzyme therapy gentle enough for those with rosacea, or the outing of secret identities with better skin. Advanced exfoliation procedures involving microcrystal sprays and chemical serums reveal fresh, healthy skin as well as the depth of the aestheticians' knowledge. Body and facial waxing is an exclusive privilege of women at Esthetics Center, but the team extends their skills in eyebrow threading—an age-old technique that uses thread to nab hair but not skin—to both sexes.
18813 E 39th St. S, Suite 2316
Independence
Missouri
816-795-5986
---
---
Beauty & Spa Deals - Recently Expired
---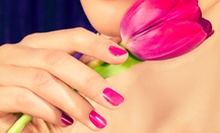 Techs perform pedicures and coat fingernails in gel polish that lasts up to two weeks in a salon with handbags, jewelry, and accessories
---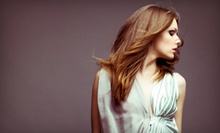 Professional stylist Jessica Mills customizes cuts to the individual tastes of her clients; add optional all-over color or highlights
---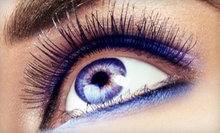 Up to 70 lashes are applied to existing lashes on each eye; fill includes 25 lashes on each eye two to three weeks after initial appointment
---
---