Ottawa, KS Outdoor Activities
---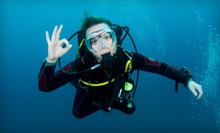 Use Tuesday 11:00am - 4:30pm
---
Recommended Outdoor Activities by Groupon Customers
---
Opened in 1989, Drop Zone Paintball Park's six fields sprawl over 89 acres of land, which play host to combat during sun or rain showers. In one field, a castle scenario corrals players into elevated turrets to defend against opponents who fire from surrounding towers across a makeshift moat. Elsewhere, trees lining ravines offer safe cover so shooters can take careful aim at their foes or draw their sweetheart's initials upon the trunks. Along with space for paintball and tournament-style speedball, the park's designers designated a special zone near the castle field where nonplayers can watch the action from a safe distance.
1224 N 1 Rd.
Overbrook
Kansas
785-841-1884
Boasting a combined resumé of 75 years of experience and more than 16,000 jumps, the members of Falcon Skydiving Team show off their aerial skills at exhibitions all over the states. They kicked off the US promotion of the latest Pokémon products with a whirling dive and perform as a highlight of the Richards-Gebaur air show. When not free-falling for audiences, they take up passengers with them and teach them the basics during low-altitude tandem dives.
7620 NW River Rd.
Waldron
Missouri
913-205-1224
Ibex Climbing Gym's 8,000-square-foot indoor facility is home to dozens of routes for all climbing skill levels. From clinging to overhangs or slowly trudging up slabs, climbers can hone their gripping skills with lead or top-rope climbing sessions. On a second-floor loft, bouldering challenges await rope-free climbers, with crash pads on the ground to soften falls and hundreds of multicolored holds offering varying routes. Ibex team members lead classes for all skill levels, from beginner to advanced, and also offer youth summer camps and recreational and competitive climbing teams. A wide variety of gear is available to equip students for climbing inside or outside of the gym. Prior to any rope climbing in the gym, beginners must undergo a belay class that teaches the fundamentals of belay safety, proper terminology, and the preclimb lasso dancing required for good luck.
801 NW S Outer Rd.
Blue Springs
Missouri
816-228-9988
Amid 20 acres of pastures and trails, the three barns and century-old home of Linden Hill Stables perch in the shade of mature trees, granting an idyllic setting for horse-riding lessons, birthday parties, and children's day camps. Property owner Lisa Hillmer tends to the horses each day, calling upon a lifetime of experience in training and showing American saddlebred horses. Through individually tailored riding lessons, Lisa helps students achieve personal goals, such as riding comfortably for enjoyment or participating in competitions. Her helpful staff also assists in boarding horses and monitoring kids at day camp. Students are required to wear long pants and closed-toe shoes while atop one of Linden Hills' well-trained steeds, their own horse, or a 1,000-pound housecat.
11601 92 Hwy.
Kearney
Missouri
816-628-3333
Horses prance across Timbermist Farm's stately 50-acre facility, where equestrians master the reins amid white plank fences, verdant grounds, and an ivory stable fronted by columns. The Farm's veteran instructors, Tina English and Chuck Browning, offer lessons to riders of all abilities, imparting knowledge gathered during nearly three decades of training, competing, and counting wooly horses just before bedtime.
Tina and Chuck specialize in the English riding discipline, a style that favors an upright riding posture made possible by a flat saddle. To spread their expertise, the duo shows students how to steer horses in the Farm's indoor training facility, which is heated during the winter. In addition to educating humans on the finer points of horsemanship, Tina and Chuck also train horses and ponies on proper equine behaviors, from confident show-ring trots to courteous, whispered conversations at the horse library.
18901 S State Rte. 291
Pleasant Hill
Missouri
816-540-1776
Eight outdoor tennis courts, five indoor tennis courts, and an eight-lane competition-size outdoor pool are some of the figures that contribute to the expansive facility of Clayview Country Club, the staff of which oversees programs and classes for all members of the family. Within the fitness center, Nautilus machines line up with free weights, treadmills, and ellipticals—all within eyesight of flat-screen televisions—that members use to crush calories on their own or under the guise of a personal trainer. At the outdoor pool, swimmers jump from 1- and 3-meter boards into the diving well or groove to DJ-spun tunes at one of three holiday swim parties. Before departing, they take advantage of locker rooms with showers and stop by the pro shop to re-string racquets or polish their dorsal fins.
7990 North Farley Avenue
Kansas City
Missouri
---