Restaurants in Ottawa
---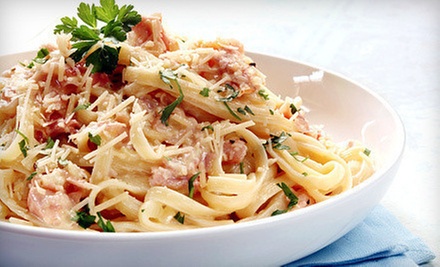 Byward Market - Parliament Hill
---
Recommended Restaurants by Groupon Customers
---
Ho Lee Pow's cooks pack a punch of flavour into each meal using fresh ingredients and not a pinch of MSG. Most entrees are built from a choice of chicken, beef, shrimp, or barbecued pork, which can be stir-fried with black beans, simmered in curries, or transformed into fried rice with eggs, peas, and green onions. House specialties range from beloved Chinese classics such as general tso's chicken to contemporary dishes such as lemon-chicken stir fry, which awakens the palate with a zesty blend of citrus, peppers, and onions. Beyond crafting made-to-order meals for restaurant guests, the kitchen builds catering platters of egg rolls, chop suey, and fortune cookies for groups of 12 or more humans or at least one famished Hydra.
E-1679 Carling Ave.
Ottawa
Ontario
613-725-3524
In the early 1900s, a small dairy farm occupied the land where the award-winning cabaret-restaurant Ferme Rouge now stands—but the mooing of cows has long since given way to the vibrato of singers and the smooth notes of saxophonist Jason Scott. Today the lively tunes of Las Vegas–style musical revues pay homage to the likes of Michael Jackson and Elvis Presley, and performers such as Boom Desjardins and Marie-Chantal Toupin have taken the stage for stunning solo performances. Before or while watching the troubadours, guests feast on à la carte entrees ranging from filet mignon and new york strip steak to lobster and Atlantic salmon. These dishes balance on the arms of waiters who double as performers in the shows, which often boast a cast of 20 on Saturday. Diners can also serve themselves at a buffet that tempts tongues with more than 25 varieties of seafood, taking a bit of everything instead of consulting their magic 8 ball to decide on just one entree.
Rivalling the seafood buffet and stage for guests' attention, a 1/2-scale replica of Columbus's Santa Maria docks beneath the chandeliers of the cabaret's maroon-walled and wood-panelled dining room. Commissioned from Seville to commemorate the 500th anniversary of Columbus's journey, the ship sprawls into the second floor and attic and is functional enough to sail across Poseidon's bathtub if given the chance.
1957 Chemin de Montreal
Gatineau
Quebec
819-986-7013
Ruhul Amin Chowdhury presides over The New Nupur's elegant dining room and kitchen, tapping into more than 20 years of business experience and a passion for Indian cuisine. His family members help wait tables and spice up authentic dishes such as chicken tikka, lamb curry, and vegetable biryani. White linen tablecloths, traditional wall hangings, and soft music help transport diners to New Delhi without the hassle of getting jet lag or selecting a sturdy enough migrating bird.
589 Bank St.
Ottawa
Ontario
613-230-4454
The kitchen at Wonton Mama teems with ingredients that range from hoisin sauce to lemongrass from such lands as China, Japan, Thailand, and Vietnam. Diners perched on sleek white banquettes can sample tempura-shrimp sushi rolls, chicken-fried rice flavoured with Thai basil, and vermicelli noodle soup with spicy scallops and shrimp. Drinks such as sangria and Sapporo complement each dish.
109 Clarence St.
Ottawa
Ontario
613-241-0990
Piccolino translates from Italian as "very little one." In this case, piccolino refers to the quaint vintage villa that houses the rustic Il Piccolino Ristorante. Grape vines wind around the sun-drenched patio framed by trellises that leads to an interior of stucco-textured walls offsetting leather chairs and paisley-print tablecloths. This homespun, Old-World ambiance reinforces a menu of made-to-order Italian comfort food. Chefs stuff manicotti with ricotta and blanket gnocchi in gorgonzola cream sauce. They also adorn pizzas with ingredients such as tiger shrimp, italian sausage, and chili-marinated eggplant for a take on Italian that is both familiar and surprising.
449 Preston St.
Ottawa
Ontario
Chefs Dominic and Mohamed draw their culinary inspiration from the Old World, crafting a menu of predominantly French cuisine with occasional Italian influences. Garlic-cream sauce lends a flavourful richness to orders of escargot, and tender filet mignon emerges from the kitchen decorated with sauce aux poivres and a latticework of freshly tattooed grill marks. The chefs embrace Mediterranean flavours by baking rustic pizzas and glazing penne and linguini pasta with bolognese or carbonara sauces. On Friday and Saturday evening, the dining room echoes with the live piano performances of Yvon Farmer, who effortlessly transitions between iconic standards and contemporary compositions.
392 Montée Paiement
Gatineau
Quebec
819-669-0251
---