Overland Park Beauty and Salons
---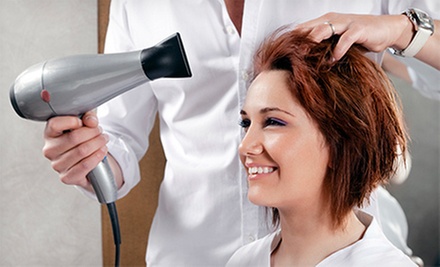 ---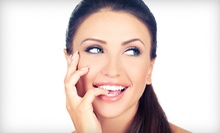 A beauty-industry veteran channels more than 35 years of experience as she tidies up unruly brows and removes unwanted hair with warm wax
Use Today 10:00am - 4:00pm
---
Recommended Beauty by Groupon Customers
---
Motivated by a desire to provide a safe alternative to the damaging rays of tanning beds, the mother-daughter duo behind HealthiTan became certified spray-tan techs and began sheathing physiques with custom formulas that both darken and nourish the skin. As clients stand inside tent-like booths, the pair mists bodies with antioxidant-rich South Seas tanning solutions. The paraben-free elixirs come in seven shades, from a fair tint that suggests an occasional stroll in the sun to a dark hue that hints at a recent vacation to Venus. The artificial glow goes on streak-free, and it lasts for 7–10 days as long as clients don't fall into vats at the Wite-Out factory. VIP umbrella and heated-tent services are available for the client's convenience, and wedding parties or other groups are welcome. HealthiTan backs its convictions by regularly contributing to the Skin Cancer Foundation.
14162 w 119th St
Olathe
Kansas
913-486-2755
Bronze Diva Tanning's mobile airbrush experts mimic sun-kissed glows with UV-free Norvell spray-tan products. The technicians travel to homes, spas, and coin-collecting conventions to summon coppery hues, swathing surfaces in natural-looking colors up to five shades darker than the client's original skin tone. Though the application process only takes about 15–20 minutes, results develop over the course of 16 hours and last up to seven days. An optional coating of One solution beckons golden hues within minutes and allows clients to shower within three hours of spritzing. Powered by DHA, a darkener derived from sugar, the spray is a safe alternative to tanning beachside and bathing in hot fudge.
412 C Delaware
Kansas City
Missouri
816-977-9599
Planet Beach Spa is a futuristic relaxation station where state-of-the-art machines administer all the spa and tanning services. These friendly automatons sometimes replace familiar treatments, as in the Luminous facial, a light-based service that delivers blemish-busting results similar to those of a conventional facial. But other equipment maps out new spa territory entirely: the Hydro-Derma Fusion chamber moisturizes the whole body with nutrient-rich steam in order to offset the effects of a dry climate or a rear-end collision with a salt truck. Other machines whiten teeth, spray tan skin, and massage muscles.
Planet Beach operates on a gym-style membership system, meaning that members purchase packages or pay flat monthly rates. As members spend more time at the spa, they get to know the helpful assistants who are always on hand to demonstrate how to use the equipment without activating its ability to cry.
14987 W. 119th St.
Olathe
Kansas
US
Penny the Peacock is positively brimming with confidence. As the logo of Refresh Medical Day Spa and Hormonal Health, Penny epitomizes Dr. Angela Garner's goal for her clients: that each will leave the cozy confines of her med spa feeling as renewed as a peacock, whose beautiful feathers fall out and regrow over the course of a year.
Dr. Garner, a hospice director and an internist with more than 20 years of medical experience, facilitates the renewal process with traditional spa services, including facials and massage therapy, as well as specialized treatments such as BioTE hormone replacement therapy.
13453 Switzer Rd.
Overland Park
Kansas
913-681-6200
Mega Tan opens its doors to customers seven days a week, helping patrons achieve warm summer hues with a variety of tanning methods and bronze-enhancing products. The spa's private treatment rooms come stocked with two levels of UV tanning beds, which build up golden deposits better than Fort Knox's team of alchemists. The salon's trained staffers can also fill airbrush-tanning wands with the patron's choice of hue, dispensing a custom mist that ensures every curve is colored with a natural-looking tan. Tanners can partake of the salon's services with individual visits or maintain consistent glows with packages that grant unlimited access to the spa's equipment.
4125 N. Oak Trfy.
Kansas City
Missouri
816-453-6342
Tasha Smith, the owner of Suite T Aesthetics, supplements her local client base with local celebrities, polishing the complexions of stars in independent films, the award-winning web series Unreal Housewives of Kansas City, and Orion's belt. When she's not on set, Smith works out of Suite T Aesthetics, a spa that specializes in waxes, custom facials, eyelash extensions, and makeup applications.
7313 W 79th St.
Overland Park
Kansas
913-927-2776
---