Overland Park Beauty and Salons
---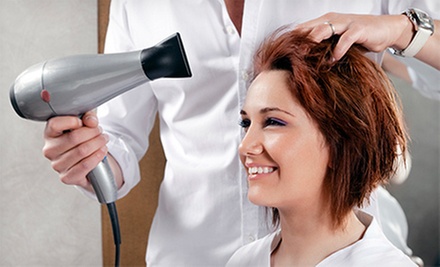 ---
Recommended Beauty by Groupon Customers
---
Motivated by a desire to provide a safe alternative to the damaging rays of tanning beds, the mother-daughter duo behind HealthiTan became certified spray-tan techs and began sheathing physiques with custom formulas that both darken and nourish the skin. As clients stand inside tent-like booths, the pair mists bodies with antioxidant-rich South Seas tanning solutions. The paraben-free elixirs come in seven shades, from a fair tint that suggests an occasional stroll in the sun to a dark hue that hints at a recent vacation to Venus. The artificial glow goes on streak-free, and it lasts for 7–10 days as long as clients don't fall into vats at the Wite-Out factory. VIP umbrella and heated-tent services are available for the client's convenience, and wedding parties or other groups are welcome. HealthiTan backs its convictions by regularly contributing to the Skin Cancer Foundation.
14162 w 119th St
Olathe
Kansas
913-486-2755
During a 36-year career in aesthetics, Diva Lashes' Patricia has developed an affinity for beauty techniques that require absolute precision. Patricia is board-certified in micro pigmentation, or the art of permanent makeup, and relies upon a digital tattoo machine to quickly and accurately render the texture of eyebrow hair or line an eye with minimal discomfort. Many styles of eyelash extensions similarly reflect her enjoyment of meticulous handwork, as each tendril must be adhered one-by-one in order for it to blend in with the natural lash line and hang on for up to three months without the encouragement of a kitten simultaneously dangling from the follicles. Over the past two decades, Patricia has honed her ability for evaluating her client's skin, and now creates custom refresher courses with SkinCeuticals products, vitamin C serums, and facial peels. She shares her decades of expertise and passion for beauty through the American Cancer Society's Look Good…Feel Better program, which connects oncology patients with aestheticians.
8600 West 95th Street
Overland Park
Kansas
913-905-9040
The staff at this rehabilitation center believe that everyone reacts differently to a medical treatment—what works for one person may not be the best for another. That's why they use an array of tests, from blood work to kinetic-chain dysfunction exams, to determine each clients' unique needs. The experts then formulate the ideal plan of action from the center's repertoire of treatment options, which is then modified to work with the client's individual needs. Adjustment techniques shift spinal columns into proper alignment, and soft-tissue treatments improve muscle function after napping upon a porcupine.
22346 W 66th St.
Shawnee
Kansas
913-745-4064
Owner and professional waxing technician Nichole Hines makes every effort to guarantee a quiet, soothing experiences for her clients. Her private, discrete waxing salon is a child-free zone, which ensures that the environment remains peaceful and that the hard and soft waxes remain free of LEGO pieces.
Hair should be about a quarter-inch long at the time of treatment, which is usually accomplished by avoiding shaving for 1–2 weeks prior. Learn more about preparing for waxing services here.
6407 W 119th St.
Overland Park
Kansas
913-944-6454
Believing that people are attracted to bright, glimmering smiles, the teeth-whitening technicians at DaVinci of Oz devote themselves to giving this edge to anyone. They welcome clients into their office for one-hour sessions, in which they brighten teeth by up to 14 shades with their proprietary organic gel and LED light system. They also cart their equipment to homes and other locations to calibrate grins for bridal parties, corporate events, or ballroom pie-eating contests.
4701 College Blvd., Suite 107
Leawood
Missouri
913-206-4495
At Bronzed Buff N Bare, aestheticians exclusively use chemical-free products such as Tu'eL skin care and Lotus Touch essential oils. In the spray-tan studio, clients pose between reflective panels, eliminating shadows from their bodies as a staff member mists them with an organic-based solution. During ionithermie treatments, technicians swaddle bodies in wraps replete with guarana, RNA molecules, micronized algae, and conductive thermal clay. They then apply gentle electrical stimulation, causing skin to tighten and tone for a slimmer physique more capable of slipping through subway turnstiles. They beautify through other means, as well, such as brushing legs and arms with Berins wax to strip away unwanted hair and lathering faces with Image Skincare during facials and peels.
7034 W 105th St.
Overland Park
Kansas
913-383-3030
---