Education & Classes in Overland Park
---
Education & Classes Deals
---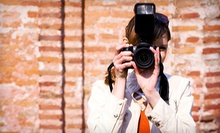 Central Industrial District
Veteran photographer demystifies various functions of cameras or photo-editing software such as Photoshop and Lightroom
---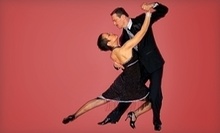 Classes torch calories and teach students the basics of salsa, mambo, cha-cha, foxtrot, and two-step
Use Monday 3:30pm - 6:30pm
---
Recommended Education & Classes by Groupon Customers
---
The instructors at Music House School of Music understand that music is a language and that languages should be used to express yourself. That's why they've abandoned prescriptive instruction in favor of collaborative learning in a community setting, placing the music that their students want to hear at the center of their teaching programs. During private lessons, students forge a path through the genres of their choice, from rock to jazz to classical to birdsong. They show off their progress during monthly club meetings, working with a tight-knit group of like-minded musicians until they feel confident enough for public performance. In group classes, kids as young as 6 get to tickle ivory, strum steel, and set their uvulas abuzz with their burgeoning baritones.
On May 4 from 12–4 p.m., Music House School of Music celebrates the grand opening of its Lenexa location, which will feature live music, free classes and lessons for ages 6+, surprise goody bags, and refreshments. All attendees will be entered in a raffle for a chance to win six months of free music instruction.
7465 W 161st Street
Overland Park
Kansas
913-562-4112
Many studios teach the art of social dancing, but often omit teaching the art of being social. The instructors at TC Dance Club ensure that guests spend as much time kibitzing as they do foxtrotting by hosting classes and open-bar club parties. Between soirees, they teach group and private lessons in dances such as ballroom, Latin, and swing, expediting the learning process by emphasizing the similar patterns across the range of styles. Dancers can dazzle their peers with their newly acquired fancy footwork during Friday night parties, Saturday socials, and member dance shows.
The studio transports students into an elegant dance-hall setting with softly lit chandeliers and a glowing fireplace. The expansive floating dance floor is surrounded by dining tables, sofas, and built-in bar, where patrons can mingle and pontificate on the evolution of the macarena.
9050 Metcalf Ave.
Overland Park
Kansas
913-642-7410
Current coach and former player Nick Nurse built his 25-year basketball career on a beautiful shot. He still holds the record at the University of Northern Iowa for highest three-point shooting percentage, and his fundamental approach to instruction led him to nine championships as a head coach in the Euroleague and the 2010-2011 NBA Developmental League championship, the same season he won Coach of the Year. His most recent accolade was an invitation to be an assistant on the Great Britain national team in the 2012 Olympics.
Coach Nick's formula for success has remained simple: work hard, practice, and live forever. He brings this philosophy to his shooting and point-guard academies. Boys, girls, men, and women of all ages and ability levels can improve their games by working on their basic skill sets. Shooting camps focus on the most underrated aspect of basketball, shooting, by forcing students to repeatedly hoist the "Pill" practice ball through the hoop. The "Pill" uses alternating color panels and bold, straight lines to help players see the backspin and release angle they put into each shot, making it easier to adjust where necessary. Point-guard academies take these skills to the next level by adding work with dribbling, passing, and on-court vision.:
11901 Wornall Rd.
Kansas City
Missouri
816-935-9195
The professional instructors of the Kansas City School of Music pass along musical torches to students learning the basics of strumming strings or tickling ivories during private and group lessons. Private studios insulated with soundproof walls ensure maximum concentration for students sight reading on acoustic pianos or turning the pages of sheet music with their minds. No more than six pupils attend each group session, which takes place in spacious, temperature-controlled rooms. Each instructor follows a comprehensive curricula and encourages students to participate in recitals.
12201 W 87th St. Pkwy.
Lenexa
Kansas
913-888-2444
The teaching staff of the Toon Shop, a former Kansas City fixture founded in 1948, now helms the newly inaugurated Village Music Academy. More than 40 independent instructors harness their combined 400 years of experience to immerse students of all levels in rock, classical, jazz, pop, and country techniques. 48 studio spaces—enough for each member of the Partridge Family to practice individually at once—nurture instruction in strings, woodwinds, and horns, and an auditorium showcases the results with appropriate reverence. The staff also helps prepare students for school band or orchestra. Sunny days might find an open-air audience gathered to watch the school's musicians performing in the plaza of the Prairie Village Shopping Center.
15 on the Mall
Prairie Village
Kansas
913-403-0400
Pam Rector picked up her first roll of wallpaper as a little girl. As the spark of passion for color and design ignited, her mother fanned the flames, letting Pam redesign her room as many times as she wanted. By age 14, she had mastered the techniques of sewing pillows and painting furniture, allowing her room to grow as an "extension of her true personality." As an adult, she temporarily put her design ambitions aside to begin a stint in the restaurant business, but she couldn't keep her creativity stifled. The hand-drawn fliers and holiday decorations that she worked on in her spare time opened up the window to her dream job, and she eventually quit the corporate world and became a full-time designer.
Founding Rector Studio in March 2012, Pam now works with clients on decorating projects that range from full home makeovers to color consultation. Armed with color swatches, fabrics, and a carpet-to-English dictionary, she adds small touches with custom-made pillows, draperies and blinds, or re-does larger decor from flooring to furniture. While working on redesigns, Pam also keeps budgets in mind, maintaining an artistic vision that won't break the bank.
Midwest Genealogy Center, 3440 S Lee's Summit Rd.
Independence
Missouri
816-352-3639
---