Overland Park Health and Fitness
---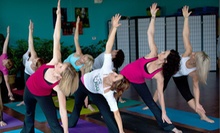 Room heated to 95+ degrees helps yoga students lose weight, increase range of motion, and improve cardiovascular system.
Use Sunday 3:00pm - 6:00pm
---
Recommended Health & Fitness by Groupon Customers
---
A Reformer machine utilizes reconfigurable resistance bands to build a rock-solid body without turning users into Rocky. Easy on the joints but hard on flab, a Reformer can be adjusted to fit any level of fitness. In Reformed's 50-minute circuit class, you'll blend sessions on the machine with light free weights, general resistance drills, and exercises on Bosu and Swiss balls. With experienced instructors as your guides and six classes a week to choose from, you'll soon be flawlessly flinging yourself over the hotdog carts that run amok in city streets.
7254 W 151st St.
Overland Park
Kansas
Doctor of Chiropractic Jessica Taylor and licensed massage therapist Ryan Newton team up to loosen achy human hinges and cultivate relief from a wide array of symptoms. During a 60-minute massage, Newton can employ the long, flowing strokes of a Swedish style massage to promote blood circulation, or call on deep-tissue bodywork to improve range of motion in struggling muscles, or range of emotion in soulless robots.
1520 Walnut St.
Kansas City
Missouri
816-471-7330
Crossroads Bootcamp's seasoned instructors challenge students to exceed their fitness goals at 60-minute boot-camp-style workouts and CrossFit sessions. In addition to teaching participants how to stop time with an intense stare, boot-camp classes sculpt the entire body with intense cardio and the strength-building power of barbells, kettlebells, and medicine balls. Like interpretations of traffic laws, no two boot-camp workouts are identical, which keeps minds and muscles on their proverbial toes. CrossFit sessions team small groups of exercisers with an inspiring coach to practice strength-and-conditioning exercises that, though challenging, can be scaled to suit any fitness level. The intense workouts and disciplined mindset of CrossFit training makes it a popular choice among police, martial-arts trainers, and cops who specialize in capturing rogue martial artists.
Each Crossroads class unfurls in a 4,500-square-foot loft studio, which provides ample room for Herculean barbell lifts and spontaneous zeppelin crashes. Classes are scheduled seven days a week.
516 E 18th St.
Kansas City
Missouri
816-842-2668
Dance Amore's chief instructor Deborah Loomis has been performing for more than 20 years, boasting a resumè that includes acting, dancing, and singing with the Massachusetts Allstate Choir and taking to the stage as a female lead in Bye Bye Birdie. At Dance Amore, she puts this experience to use helping children and adults alike tap into their melodious side through an eclectic curriculum. Her dance classes cover tap, ballet, jazz, and hip-hop for different age groups atop Harlequin floors. She also translates choreography into calorie-busting workouts with Zumba programs. At sessions for toddlers, she encourages freeform movement and the development of motor skills, outlining dance's foremost basics, such as refraining from repeatedly hitting the speakers to find the music inside. Deborah guides pupils in the process of making their own music, as well. She oversees beginner's flute, piano, and voice lessons that set the stage for future practice. Parents and loved ones keep abreast of their children's progress by attending yearly recitals, where each student showcases their burgeoning talent.
11800 Quivira Rd.
Overland Park
Kansas
US
As a registered yoga school with the Yoga Alliance and International Association of Yoga Therapists, KCFitnessLink regularly mints new instructors. The fitness company advances students through 200- or 500-hour programs that yield certifications in various styles including Hatha and Vinyasa. In addition to transforming students into teachers, KCFitnessLink empowers people to become healthier and happier. Corporate wellness programs bring relief to stressed-out employees by integrating massage, yoga, and retreats to naturally occurring water coolers. Alternatively, personal-training sessions tackle individual goals such as weight management and sports conditioning. Replete with drop-in yoga and boot-camp sessions, KCFitnessLink's class schedule caters to athletes of all abilities. Massage therapy, available in several modalities, keeps muscles limber and free of knots.
510 N 6th St
Kansas City
Kansas
US
Identical twins Kristie and Michelle put their heads, biceps, and 24 years of personal-training experience together to found Twin Fitness. Their nutrition-science education and professional experience in IFBB competition qualifies them to lead their clients to sturdier health and firmer physiques. Each program, overseen by one of the twins or their certified staff, kicks off with body-fat testing, a fitness evaluation, and a one-on-one goal-setting session to plot a training course and draft a map indicating where to bury all their junk food. Workout routines vary, incorporating dumbbells, target mitts, Bosu balls, and cardio work, performed outdoors whenever possible.
The studio's instructors excel both in giving one-on-one guidance and in forming motivating communities in small group classes of three to five people. Along the way, they recommend a menu of healthy meals and slimming television shows to supplement each trainee's fitness regimen.
7046 W 105th St.
Overland Park
Kansas
913-648-8946
---