Overland Park Health and Fitness
---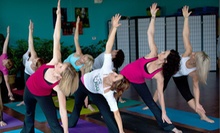 Up-beat music and convivial atmosphere infuses Friday-evening class with energy to motivate workout and kick-start weekend.
Use Friday 1:00pm - 4:00pm
---
Recommended Health & Fitness by Groupon Customers
---
Kids and parents zoom around the red-walled rink of Skate Zone, which provides a fun, safe atmosphere where children aged 3–12 can learn to skate. The facility's training walkers and specially designed tile floors help little ones to gain their skate-legs and minimize the pain of tumbles without the superhero-angering effects of donning an inflatable suit. Adjacent to the rink lies a game room stuffed with token-operated amusements such as video games, dance machines, and alley bowlers. To satisfy hunger pangs, Skate Zone welcomes customers to bring in their own pizza. The fun center also helps kids to celebrate the day of their wrapping-paper windfalls with birthday packages, including skating-rink games and activities.
20355 W 151st St.
Olathe
Kansas
913-568-2498
Crossroads Bootcamp's seasoned instructors challenge students to exceed their fitness goals at 60-minute boot-camp-style workouts and CrossFit sessions. In addition to teaching participants how to stop time with an intense stare, boot-camp classes sculpt the entire body with intense cardio and the strength-building power of barbells, kettlebells, and medicine balls. Like interpretations of traffic laws, no two boot-camp workouts are identical, which keeps minds and muscles on their proverbial toes. CrossFit sessions team small groups of exercisers with an inspiring coach to practice strength-and-conditioning exercises that, though challenging, can be scaled to suit any fitness level. The intense workouts and disciplined mindset of CrossFit training makes it a popular choice among police, martial-arts trainers, and cops who specialize in capturing rogue martial artists.
Each Crossroads class unfurls in a 4,500-square-foot loft studio, which provides ample room for Herculean barbell lifts and spontaneous zeppelin crashes. Classes are scheduled seven days a week.
516 E 18th St.
Kansas City
Missouri
816-842-2668
Dr. Geoffrey Riley seeks to cultivate the same friendly, familial atmosphere in his small practice that he remembers from his small-town upbringing. After extensive schooling, two years in a large group office, and a residency where he focused on dental implants and full mouth cases, Dr. Riley opened Advanced Dental Arts in June 2011.
His personable approach leads to appointments where he and his staff talk to each patient and get to know them, unlike at other dentists' offices, where patients are referred to by their social-security numbers. Whether he's whitening teeth, conducting a root canal, or straightening chompers with Invisalign, Dr. Riley always takes time to educate patients about the procedure and oral health in general.
4444 N Belleview Ave.
Kansas City
Missouri
816-452-1888
Drs. Bunde, O'Brien, and Larcom examine eyes and keep them healthy at two offices whose bilingual staffs welcome Spanish speakers and patients of all ages. A comprehensive list of services covers general wellness, disease care, trouble discerning the dolphins in Magic Eye books, and exams that land eyes behind contact lenses, designer frames, and Latisse-fortified lashes. As dedicated to its community as it is to its own patients, Fairway Eye Center supports the Children's Center for the Visually Impaired.
3414 Shawnee Mission Pkwy.
Fairway
Kansas
913-362-2323
Under the medical direction of cosmetic expert Dr. Sajadi, Image Aesthetics, LLC restores façades to their factory settings with SmartLipo laser lipo, Vaser ultrasound lipo, standard liposuction, varicose vein treatments, fat grafting, cosmetic injections, and laser skin-resurfacing services effective for most skin types. The doctor can customize laser treatments to focus on a specific area of concern, such as acne scars on the cheeks. Chemical peels and microdermabrasion treatments slough off dead skin cells to reveal the youthful layers below, and cosmetic eyelid surgery allows patients to speed up their transformations.
8164 W 135th St.
Overland Park
Kansas
913-402-1911
Under the guidance of an affiliated physician, the diet experts at Slimmer Image help patients safely lose weight with nutrition advice, meal plans, and counseling. The staff takes into account each patient's unique vital stats—including blood-pressure levels, blood chemistry, and blood color—to suggest diet guidelines and general habit reforms. By fighting obesity, the team aims minimize the risk of stroke, heart disease, and joint problems.
10709 Barkley St.
Overland Park
Kansas
913-339-6000
---