Overland Park Indoor Activities
---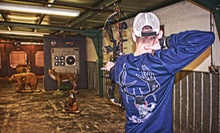 Havencroft Industrial Park
Two- and three-dimensional targets await arrows fired across 20–30 yard archery range divided into 12 lanes
---
Recommended Indoor Activities by Groupon Customers
---
A swarm of sock-footed kids climb up inflatable steps to reach the top of a rainbow-colored slide, sliding down in an orderly fashion before bouncing off and running back for another go. At Jumping Jax, children can safely expend energy with abandon, playing in air-filled structures that cushion them when they fall or work together to stage a production of the Icarus myth. The play arena sports a multitude of attractions including a bounce house with a Twister-board floor and two low-hanging ziplines.
12022 Blue Valley Pkwy.
Overland Park
Kansas
913-469-5867
Pow Wow School of Holistic Fitness' owner and lead instructor, Haley Zuvanich, began her yoga practice at the age of 12, when other kids were busy rescuing their baseballs from neighborhood boa constrictors. Over the next 14 years, her childhood experience with Bikram method expanded into trying a variety of yoga styles and spending 200 hours earning a teacher's certification from KC Fitness Link. Now, at the Unity Temple on the Country Club Plaza, Haley guides students of all experience levels through spiritual and physically challenging stretch sessions. In addition to the traditional Hatha and Vinyasa practices, Haley hosts creative classes where students follow guided relaxation with the artistic medium of their choice, such as journaling, painting, or sketching. Pow Wow School of Holistic Fitness also offers a variety of fitness and dance aerobics courses including Tai Chi and Qi Gong, Kung Fu, Zumba, and Nia.
707 West 47th Street
Kansas City
Missouri
855-966-9642
Fine Arts Theatres' four venues surround moviegoers with classic silver-screen ambiance as they present the latest independent and mainstream film offerings. Lovingly refurbished neighborhood movie palaces such as the early-20th-century Rio Theatre now boast surround-sound digital audio, high-backed rocker seats with arm-mounted cup holders, and movie trailers acted out by gregarious ticket takers. In addition to flicks opening each week, Fine Arts Theatres hosts screenings for the annual Kansas International Film Festival, voted the Best Local Film Festival by readers of The Pitch in 2011. The group also holds a Jewish Film Festival each spring and a Latin American Film Festival every September.
7204 W 80th St.
Overland Park
Kansas
913-383-8500
The newly renovated Ranch Bowl fuels friendly competition with fully automated lanes, flat-screen TVs, and on-site eats at Ranch Bowl bar and grill. Throughout the week, the alley's smoke-free policy encourages families to unwind and breathe deep as they roll their way toward pin-crushing dominance. The center hosts both casual and competitive leagues to keep bowlers on their toes. And to keep aliens confused and cooperative, Ranch Bowl maintains Kosmic bowling hours on Friday and Saturday nights.
5604 State Ave.
Kansas City
Kansas
US
913-287-6000
---