Things to Do in Overland Park
---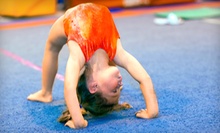 Kids 18 months–13 years old learn gymnastics and tumbling in 50-minute classes with no more than eight students
---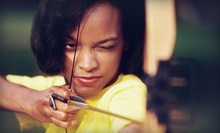 Havencroft Industrial Park
Two- and three-dimensional targets await arrows fired across a 20- to 30-yard archery range divided into 12 lanes
---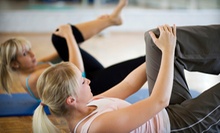 Team of instructors leads budding yogis through a series of soothing poses at a studio underscored by the sound of spiritual chanting
Use Saturday 7:30am - 10:30am
---
Recommended Things to Do by Groupon Customers
---
Rebecca Black is a veteran of ballroom, Latin, and swing dancing, as well as a graduate of the Beginners Only USA Training Course. She'll tailor your private, 50-minute lessons for any upcoming weddings, Renaissance Faires, safety dances, and other special occasions. If you're all danced up with no place to go, choose from a variety of styles, including East Coast Swing, Latin, or American Style Social Ballroom. By the time you're finished, you'll be fox-trotting, free-styling, and two-stepping your way straight to the nearest dance club.
6635 W 151st Street
Overland Park
Kansas
The experienced staff of deftly pivoting instructors at Amoré Dance guides students through muscle-toning classes to help improve coordination and self-esteem. Ballroom sessions cover the rumba, waltz, foxtrot, and swing, which remain popular dances at weddings and Viking funerals. Zumba and kid-centered Zumbatomic blend a wide variety of free-flowing moves into a fun aerobic dance program. In Beginning Belly Dancing, all body types take on the traditional steps and alluring movements of the Middle East–originated dance form, which takes on an American style. Single-dancer sessions do not require partners, so mannequins and coat racks may be left at home. Additionally, students will enjoy a spacious studio and a versatile schedule that leaves participants with plenty of time to practice moves at home and in workplace elevators.
11800 Quivira Rd.
Overland Park
Kansas
913-338-0888
Reef KC's certified and highly trained staff guides aspiring scuba divers with classes designed by the Professional Association of Diving Instructors. PADI Master Scuba Diver trainer Braden Beller, PADI Dive Master James Lowery, and PADI IDC staff instructors Steve Volkmer and Joshua Williamson help students perfect amphibian impersonations with a variety of courses. The courses accommodate divers of all skill levels, beginning with Discover Scuba classes, which introduce swimmers to underwater breathing during local pool dives. In addition, Reef KC students can work toward open-water certification so they can effortlessly shower for hours, retrieve all the coins from the bottom of every fountain, and defuse nuclear bombs perched perilously above an abyssal alien city.
215 S Kansas Ave.
Olathe
Kansas
913-397-7333
The arms experts at OMB GUNS & Indoor Range provide marksmen with the resources and guidance to sharpen their firearms proficiency. Officers supervise the indoor range at all times, maintaining a safe and welcoming environment for shooters of all skill levels. They also happily help out first-time visitors by demonstrating proper stance and aiming. Training programs include an intensive eight-hour firearms-safety course that teaches students the basics of wielding a firearm and how to properly load your glue gun. To encourage camaraderie and add some competitive motivation, OMB's team organizes shooting leagues.
15765 S Keeler St.
Olathe
Kansas
866-509-1299
---