Owatonna, MN Outdoor Activities
---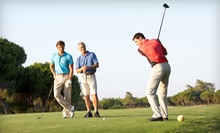 The grassy brainchild of architect Joel Goldstrand bobs and weaves across 6,540 yards of rolling countryside terrain
---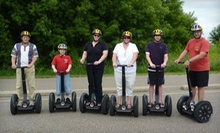 Self-balancing segways leave tread marks on dirt roads and scenic bike trails that meander through Mayo Park and Cascade Lake Park.
Use Wednesday 7:00am - 10:00am
---
Recommended Outdoor Activities by Groupon Customers
---
Drive A Tank teaches civilians how to handle tanks by placing them at the controls of an FV433 Abbot tank. Comprehensive tank experiences include lessons on the history of its use, from World War I up to its present function as the vehicle of choice for the most aggressive holiday shoppers. During certain packages, tanksters complete their militaristic forays by test firing WWII-era weaponry or crushing cars beneath behemoth treads.
550 W Cherry St.
Kasota
Minnesota
The Summit Golf Club's Championship Course sprawls with meticulously manicured fairways, tees, and greens composed of hearty bentgrass. Seasoned swingers and wobbly woods-wielders alike will find the course comfortably competitive as it rolls across elevation changes of up to 110 feet. This rise and fall also makes for exhilarating golf-cart rides between holes as you and your party rush through fully grown tree lines and evade booby traps set by herds of feral groundskeepers. Multiple layers of limestone throughout the course ensure that no dancing gopher puppets distract you from scoring a birdie, eagle, or albatross.
31286 Hwy 19 Blvd.
Cannon Falls
Minnesota
Cross Country Soaring owner Don Ingraham brings more than 4,000 airborne hours of experience to his sailplanes' controls, maneuvering the engineless crafts through the air with bird-like agility. Tow planes loft each passenger flight airborne, sending planes thousands of feet up into the sky before leaving pilots and their guests gliding through the atmosphere without the noisy distraction of a typical flight. Each flight is different—sailplanes may gain altitude in thermal updrafts before bottoming out stomachs with daring dives. Picnic tables and couches cluster around the hangar, giving friends and family a comfortable place to watch soaring flights. Students eager to earn their own glider rating and fly solo can take advantage of Cross Country Soaring's experienced instructors, learning the ropes under the hawk-like eyes of seasoned pros.
3401 Highway 21W
Faribault
Minnesota
---