Owosso, MI Outdoor Activities
---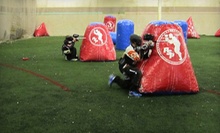 Red & blue obstacles shelter combatants littering 50,000 sq. ft. of indoor battlefield & eight outdoor fields with paint munitions
Use Wednesday 4:00pm - 8:00pm
---
Recommended Outdoor Activities by Groupon Customers
---
Since May 2008, Wheelhouse Detroit has been offering its customers a healthy and highly efficient new way to see Motown, with guided bike tours traversing the terrains and trails of Detroit. More than 80 bicycle tours are scheduled for the upcoming months, with new tours regularly added. On the Belle Isle tour on Saturday, May 21, pedaling explorers will cruise around Detroit's famed architectural archipelago, surveying sights such as the aquarium and Livingstone Memorial Lighthouse. Guides will discuss the history behind the area's famous statues, such as Alpheus Starkey Williams, who served as a Union general in the Civil War before tragically being turned to stone.
1340 E Atwater St.
Detroit
Michigan
The 200-foot straightaway comes to an end in one of six wheel-testing curves. The Honda 5.5-horsepower engine hums in anticipation. The moment foot touches pedal, hydraulic brakes give their answer and the racing wheels cling to the textured concrete as the go-kart deftly whips through the turn. Coming up on the end of an eight-minute streak of adrenaline, racers zip past the final stretch of the 1/5-mile race track, tearing ahead of each other as the computerized timing system clocks each score to fuel future bragging rights and rematch challenges.
From Kart 2 Kart's café and bar, applause rises as family, friends, and opponents sizing up the competition send their appreciation down to the track, which they've been watching as they nosh on a selection of snacks and beverages. Juniors, meanwhile, wait their turn to hit the blacktop in age-appropriate Formula-K karts. Before strapping in, all racers receive instruction and a safety lesson, during which they learn how to operate the equipment, then strive to set records that can earn them a spot on the website's scoreboard.
42705 Van Dyke Ave.
Sterling Heights
Michigan
US
586-997-8800
The year was 1975, and Wayne State University's David Mackenzie House was facing imminent destruction to make way for a new sewer line. Two university students rallied their peers to halt the demolition, simultaneously planting the seed that bloomed, like a flower bulb planted in radioactive dirt, into Preservation Detroit. Over the past three decades, the architectural preservation organization has become a leading advocate for the protection and rehabilitation of Detroit's historic abodes, skyscrapers, and culturally rich sites. Preservation Detroit's staff, composed primarily of volunteers, continues to nurture their community's passion for historical treasures through lectures, seasonal newsletters, and tours.
From May to September, tour guides usher pedestrians through the bustling streets of Detroit, weaving narrative tapestries about the century-old cultural center and, on the Auto Heritage tour, Henry Ford's flagship factory, birthplace of the Model T and the concept that assembly lines are useful for more than just completing the Sunday crossword. During a special yearly boat tour, guides unravel the Detroit River's seedy past as a conduit for Prohibition-era bootlegging while passengers dig into dinner.
4735 Cass Ave.
Detroit
Michigan
313-577-3559
Looking to put a new spin on a classic family activity, the minds behind Glowgolf decided to give the game a phosphorescent update. Incandescent courses place friends and family amid a tropical-fantasy golf world of neon orange, green, and violet surroundings. Players putt luminous orbs through vibrant treasure chests and glimmering windmills while negotiating tricky obstacles near walls portraying black-light-lit aquatic scenes. With more than 20 locations spread over 10 states, Glowgolf's fluorescent labyrinths challenge human players and traveling gnomes.
1982 W Grand River Ave., Suite 437
Okemos
Michigan
Although their name fondly alludes to Michigan's proudest industry, the Detroit Pistons rolled off the assembly line in a different state entirely—Indiana. Automobile-part mogul Fred Zollner founded the team as the Fort Wayne Zollner Pistons, joining the young National Basketball League in 1941. Under Fred's direction, the Pistons immediately found success on the court, winning back-to-back NBL titles in 1944 and 1945 and amassing 166 wins in just nine seasons. As the sport grew, so too did the team. In need of a bigger audience, the Pistons left Fort Wayne for the Motor City, where they continue to challenge Eastern Conference opponents in the NBA. Throughout the years, the team has claimed three NBA championships—most recently in 2004—produced hall of fame players, and earned the record for the highest-scoring game in NBA history—a 186–184 triple-overtime win over the Denver Nuggets in which both teams accidentally scored touchdowns for a whole quarter.
6 Championship Dr.
Auburn Hills
Michigan
248-377-0100
After buying their first canoe in 1942, Chester and Stella Heavner were hooked. So were their friends. After constantly loaning out their red-canvas Old Town canoe, the pair invested in two more and started charging a nominal rental fee. In 1953, they made it official with a patch of lakefront property, eight canoes, and a trailer.
Today, Heavner Canoe & Kayak Rental is run by Chester and Stella's eldest son, Alan. He and his staff manage an inventory of more than 200 canoes and kayaks, which they rent at three lakes along the Huron River. In addition to hourly rentals, they teach beginning kayak lessons led by instructors certified by the American Canoe Association and the American Red Cross. The sessions cover water safety, stroke techniques, and how to play dead when being attacked by a bigger kayak.
2775 Garden Rd
MIlford
Michigan
---