Oxnard Health and Fitness
---
---
Oxnard Health And Fitness Guide
Oxnard has a lot to offer residents who are seeking places to work out and get in shape. The weather makes outdoor sports ideal, but for those who prefer a more traditional workout environment, there are gyms and fitness centers to meet the needs of Oxnard fitness buffs.
For those looking to build muscle, Gold's Gym offers weightlifting, powerlifting and a variety of aerobic classes. Annual memberships are available, or for those who want to try before they buy, a seven-day VIP pass can help determine if Gold's Gym is a good fit.
For those who prefer a team sport or activity to burn fat and calories, LA Fitness offers basketball and racquetball courts. LA Fitness also offers a full fitness center with activity courts, machines, aerobic classes and a swimming pool. After a workout, try out the sauna.
Some people want the added accountability of a personal trainer to help with their health goals. Fitness 19 offers personal trainers for every fitness level. Gym memberships are offered on both an annual and a month-to-month basis, and members can choose from free weights, machines and classes to help meet weight loss goals.
For those who want to work out but find normal gym hours don't fit their busy lifestyle, 24 Hour Fitness can help. These centers are open 24 hours a day, seven days a week, and offer classes, machines and free weights. Customized fitness plans can be created by 24 Hour Fitness personal trainers to ensure members gain the maximum benefit from their workouts no matter what time of day or night they exercise. Annual or month-to-month memberships are available.
It is important to remember that a physician should be consulted to rule out any conditions that might make exercising dangerous before starting a new Oxnard fitness routine. Any number of Oxnard doctors can approve an exercise regimen to meet a person's needs.
Gym memberships are offered on both an annual and a month-to-month basis, and members can choose from free weights, machines and classes to help meet weight loss goals.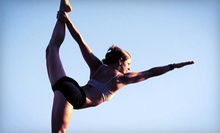 Instructors trained by Bikram Choudhury fill 90-minute routines with 26 traditional poses and 105 degrees of stress-melting heat
---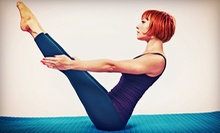 Husband-and-wife team of yogis guides students through series of poses in a Mission-style mansion once owned by Charlie Chaplin
---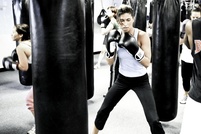 Use Saturday 9:00am - 12:00pm
---
Recommended Health & Fitness by Groupon Customers
---
Lisa Babiuk spent 20 years getting clients into shape before discovering yoga held the complete package for her. In addition to healthily strengthening the body and increasing flexibility, she uses yoga because it's fun. When speaking of exercise, she says, "We need it for our soul, too. If it isn't fun, you won't go back."
She and her staff impart their light-hearted yet dedicated approach to yoga in classes seven days a week. They teach in dual studios under one roof, with one studio specifically engineered to host hot yoga classes.
6591 Collins Dr Suite E-9
Moorpark
California
US
Dr. Michael McMurry has his hands full. When he's not realigning askew spines as a chiropractor at Optimal Health and Wellness Center, he's putting teams of boot-campers or personal trainees through their paces as part of his insanely intricate body transformation system. With the help of nutritionist and certified group fitness instructor, Cori Newman, the two tag-team lethargy and help their clients beat back the usual obstacles that get between people and their exercise routine.
Each client leaps into the fitness fray with a personalized health assessment, cardiovascular screening exam, and measurements to pinpoint the most effective use of the ensuing six- or twelve-week program. Before the first personal training or bootcamp session starts, clients begin boosting healthy metabolism and cutting out extra calories with simple meal plans, recipes, and a detox diet that takes the guesswork out of going to the grocery store and helps avoid the temptations of travelling frosting salesmen.
Over the ensuing weeks, exercisers cycle rapidly through a dynamic interval training program designed by physicians that replaces reams of weight with lean muscle. A constantly changing roster of exercises, including cardio, plyometrics, and speed drills, keeps muscles on their toes to burn more fat than the first bacon grease-powered locomotive.
650 Hampshire Rd., Suite 104
Westlake Village
California
805-497-0106
California board-certified acupuncturist and clinical Chinese herbalist Jennifer Rose assists her patients with such concerns as pain management, digestion, and sleeping difficulties. Before commencing any service, she conducts a consultation with the patient to ensure the chosen treatment, whether it be acupuncture, cupping, or moxibustion, is appropriate. She assesses the individual's medical history, answers any questions, and ascertains goals for the treatment. Rose also offers nutritional and herbal counseling, and she teaches people how to meditate and breathe properly through all six orifices.
850 Hampshire Rd., Suite P
Westlake Village
California
818-297-8510
Dr. Paul Peterson runs the show at Peterson Center for Dentistry, which was started by his father, Dr. Roger Peterson, more than 30 years ago. As a second-generation dentist, Dr. Peterson understands the importance of family, brightening the smiles on both adults and children. He even carves out some office space for a kids' corner with toys to keep tykes entertained. In addition to routine exams, Dr. Peterson also keep mouths safe when they're at their most vulnerable, crafting custom-made athletic mouth guards, snore guards, and tiny scarecrows that frighten away overzealous tooth fairies.
400 W Ventura Blvd., Suite 165
Camarillo
California
US
805-482-1558
---