Oxnard Outdoor Activities
---
---
Oxnard Outdoor Activity Guide
Oxnard is blessed with a gentle Mediterranean-like climate, which means almost any time of the year is a good time to tour around and enjoy this south-coast gem. Summertime ushers in free Oxnard concerts in the park while the Channel Islands, just an hour off the coast, are a great place to take whale-watching tours.
The City of Oxnard Parks and Recreation manages its Summer Concerts in the Park series every year. The event showcases at Heritage Park in downtown Oxnard and features rock, salsa, R&B, big band, and reggae shows. The concert series usually runs from mid-June until the end of August and is a highlight every year for those who love outdoor activities and a sense of community. Best of all, it's free for lawn seating. But for $60, families can pay for a table that sits up to six people. This is a good option for people who find it hard to stand or sit low to the ground.
The Channel Islands is a stellar spot and a great place to take a whale-watching tour when the blue, humpback, and grey whales make their yearly migrations north and south through the channel. The Island Packers run regular tours in Oxnard and are experts having led tours since 1968. Mid June to mid September sees the blue and humpback whales running while grey whales make their appearance from December 26th to mid-April. They also do island landings on Anacapa islands where one can explore the unique beauty of these protected state parks. And for the more adventurous, Island Packers does sea kayaking and camping tours on the island as well.
Oxnard is a place to get outdoors and soak up the clean air of this coastal town. From checking out a swing band in the park to checking out the whales on the water, there's plenty for the family to do.
Summertime ushers in free Oxnard concerts in the park while the Channel Islands, just an hour off the coast, are a great place to take whale-watching tours.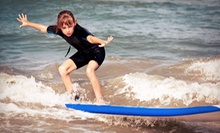 Taught at Leadbetter Beach or Campus Point, lessons cover surfboarding basics and include all necessary gear
---
Outdoor Activity Rewards Deals - Use Anytime
---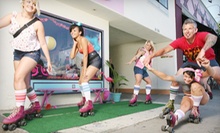 Retro-style roller skates in pastel suede or leopard print glide atop colorful, swirly urethane wheels; store also hosts skate classes
---
Recommended Outdoor Activities by Groupon Customers
---
Compete Green's endurance events, from 5Ks to marathons, revolve around sustainable practices and an engagement with the outdoors. Cofounders Tom Taylor and Ben DeWitt honed their hamstrings and toughened their hooves while churning up trails from the South Shores of Lake Michigan to Xterra's off-road triathlons in Maui. Tom and Ben found more common ground in their interest in environmentally conscious event management. Compete Green initiatives furnish their 100% free-range participants with sustainable awards such as tree seedlings and organic and recycled apparel. Race-day amenities include prevalent recycling bins, recyclable race numbers, and an athletic-shoe-recycling program.
1101 Navigator Dr.
Ventura
California
GolfTEC has thirteen convenient locations in the Los Angeles area, all staffed by experienced golfing professionals and computers who've sworn allegiance to the Three Laws of golfing robotics. Motion sensors and high-speed cameras monitor your swing and break down your form on a high-definition video display. GolfTEC's PGA specialists point out your flaws, strengths, and coach you on how to permanently improve your game, from tee to green. Sensors chirp with approval when you've executed a perfect stroke or cracked an especially witty golfing joke.
441 W Esplanade Dr.
Oxnard
California
As the inventor of the Swing Thing training aid, PGA professional Dennis Dawson often uses the device during lessons to correct imbalanced swing mechanics and develop consistent, successful swings. Drawing on 35 years of instruction, Dennis focuses on the fundamentals of a fluid swinging motion, particularly the importance of spinal angle, balance, and a follow-through that includes a seamless pirouette. While students hit shots during a lesson, Dennis diagnoses particular maladies responsible for undesirable flight patterns. Students first practice swinging without the ball or a caddy on their shoulders to get a feel for correct mechanics and then repeat the motion until proper form is built into muscle memory.
15187 Tierra Rejada Rd.
Moorpark
California
805-341-0323
Within Bogey Bob's Golf Center's indoor studio, golfers improve their skill sets with indoor practice, instruction, and merchandise to pair improved swings with the latest clubs and equipment. Once a decorated player on the junior circuit, resident ace and owner John Cummings imparts hard-won golf wisdom to clients in lessons conducted within the center's indoor driving range, practice green, and rabid-turtle-infested water hazard.
The center boasts video swing-analysis technology, which allows pupil and pedagogue alike to study the science of their swings as computers provide data such as swing tempo, launch angle, distance, and club-head path. With a slew of clubs from the game's top brands, clients can find a much-improved replacement for the rusting short irons and oversize bananas currently populating their golf bags.
1560 Newbury Rd., Suite 5
Newbury Park
California
805-498-9116
Rising like an ivory and adobe mirage amid the towering hills of Southern California, Ojai Valley Inn & Spa curates recreation and relaxation across stately grounds that date back to 1923. Guests can trade forehand hits on one of the resort's four lighted tennis courts or hunt for birdies across the acclaimed 18-hole golf course that has hosted seven Senior PGA Tour events and welcomed rarefied guests such as Bob Hope, Will Smith, and the mashie niblick from a bygone era.
Massage therapists and aestheticians tend to weary travelers at the resort's sprawling spa, which instills tranquil thoughts with everything from plush massage beds to the ornately patterned tiles in the Kuyam chamber room dedicated to mud- and clay-mask treatments.
Locally sourced produce and herbs harvested from the inn's garden are infused into dishes at the inn's restaurants, which feature both indoor and outdoor dining experiences. The resort also encompasses 308 guest rooms that embody the rustic refinement of Spanish colonial style for those looking for a relaxing weekend or a romantic getaway with their beloved tennis racket.
Course at a Glance:
18-hole, par 70 course
Length of 6,292 yards from the farthest tees
Course rating of 71.0 from the farthest tees
Slope rating of 132 from the farthest tees
Three tee options
View course layout
905 Country Club Rd.
Ojai
California
805-646-2420
The rink at Channel Islands Ice Center is a space for public skating, a classroom for skating school, and a frozen venue for hockey and figure skating. Operated by the Channel Islands Figure Skating Club and Channel Islands Riptide Hockey Club, the ice center has a stake in varied community endeavors. The center also hosts ballet, tap, and jazz classes designed to complement ice-skating skills and teach students how to evade a would-be attacker with a graceful plié and well-timed pirouette.
830 Wagon Wheel Rd.
Oxnard
California
---