Ozark Gyms and Fitness
---
Gym, Exercise, Weightloss Deals
---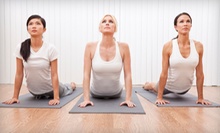 Experienced yoga instructors lead a collection of more than 10 different classes, with sessions available every day of the week
---
Recommended Gym, Exercise, Weightloss by Groupon Customers
---
Dream Valley Golf Course's 18-hole layout unfurls across 6,255 yards of pristine fairways kissed by seven ponds amid a farmland perimeter teeming with lush foliage. Though mostly characterized by forgiving, tree-lined fairways, the course's inventive layout requires adept course management with many twisting hole designs and flagsticks that double as jousting sticks during golf-cart battles. A dramatic dogleg right on the par-4 fourth forms the course's hardest-rated hole, wherein golfers must either attack the 365-yard corridor by crushing a forced carry over a large pond or lay up about 160–180 yards for a safer but less rewarding tee shot. Clubbers can careen across the emerald meadows on their own spiky-soled feet or enlist the help of the club's stock of rental carts, which help loop the links efficiently while insisting on being called a Mars rover-in-training.

Course at a Glance:
18-hole, par-71 course
Length of 6,255 yards from the farthest tees
Course rating of 68.5 from the farthest tees
Slope rating of 113 from the farthest tees
Three tee options
Click here for scorecard
90 Golf Course Rd.
Buffalo
Missouri
417-345-4653
Though the instructors and music selections rotate at My Hot Yoga, guests can bank on a steady temperature of 105 degrees Fahrenheit. This warmth is less cloying than it is liberating, loosening muscles so that students can ease into more pronounced poses during class. It also encourages a cleansing sweat, clears the mind, and boosts heart rates, providing a more focused substitute for traditional cardio workouts such as running or blinking very fast. Sessions range from the Vinyasa flow sequences of Hot 60 to the long holds of Deep Stretch, and they're suited for all ages and fitness levels. This flexibility is what fuels the staff's overarching mission: to turn a hobby into a personalized lifestyle choice. Instructors further promote a comfortable, custom atmosphere by modifying poses and even allowing guests to submit song requests.
3014 C E Sunshine
Springfield
Missouri
Celebrated by Golfweek as one of the 40 Best New Courses of 2010, the site where Civil War–bushwhacker Alfred Bolin and his gang once ambushed unsuspecting travelers is now John Daly's Murder Rock Golf and Country Club. The 18-hole course plots an oscillating, 6,727-yard path over the foothills of the Ozark Mountains. The first hole sets the tone for the round with an elevated tee box that looks out 363 yards downhill into the mountainous contours that ripple against the horizon. The par 71 course concludes at the daunting 18th hole—the course's longest par four and most difficult hole—where an aggressive drive can cut off the corner of a dog-leg right on the way to a severely sloped green and portal into Space Jam.
Legs weary from ascending steep hills or squat-thrusting golf carts can take a load off at Glenn's at Murder Rock. Amid dark-stained wood paneling and leather-upholstered chairs, the eatery serves an inventive grill menu including steak flatbread sandwiches and pitas stuffed with Cajun-seasoned chicken or shrimp.
Course at a Glance:
18-hole, par 71 course

Length of 6,727 yards from the farthest tees

Course rating of 72.0 from the farthest tees

Slope rating of 129 from the farthest tees

Four tee options

Scorecard
1250 Golf Club Dr.
Hollister
Missouri
417-332-3259
For more than 20 years, Ozark Mountain Gymnastics has cultivated balance in its students. Though its classes for toddlers to 18-year-olds impart cheering, tumbling, and competitive skills on the physical level, instructors also focus on a healthy equilibrium between mental and visible strength. They emphasize sportsmanship and teamwork, building character traits in their pupils that translate to finesse both on and off the parallel bars. Additionally, they recognize the importance of familial support: parents are welcome to observe classes and always participate in those for children younger than 3.
As a professional member of USA Gymnastics, OMG recruits USA safety- and CPR-certified coaches. In the interest of personalized instruction, its classes typically admit 10 or fewer students, though birthday parties can accommodate up to 15 so kids can switch in and out of the host's human-pyramid throne.
2910 S Fort Ave.
Springfield
Missouri
417-882-5311
With more than 1,800 gyms in 10 countries around the globe and 24/7 access, Anytime Fitness makes it as easy as possible for its members to get in shape. Multiple strength-training and cardio machines can build stamina, increase agility, and tone limbs to rival the crisp bicep lines of statues in a nearby park. The center's virtual classes teach fitness disciplines such as yoga, cycling, and kickboxing. Group training brings those disciplines into 3-D. As far as amenities, private showers and HDTV are just two of the many additional touches that make Anytime Fitness a welcoming workout arena.
2767 W Republic Rd.
Springfield
Missouri
417-887-2348
For the past 11 years, Robert Cassity has channeled a passion for fitness into his personal bodybuilding pursuits and his training business. His boot-camp classes torch calories and tone muscles with a high-energy cardio and strength-training routine performed by a group of exercisers who motivate each other to work hard and keep their shoelaces tied tightly. For a custom-crafted workout regimen, Robert also serves as a personal trainer and will travel to peoples' homes. Those interested in enlisting in either program can call ahead to reserve a spot in class, schedule a training slot, or ask Robert how to do a no-handed pushup.
107 W Aldersgate
Nixa
Missouri
417-848-9921
---