Restaurants in Ozark
---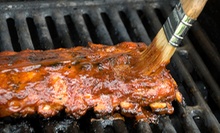 8-ounce catfish fillets, heaps of smoked spare ribs, and succulent chicken-strip sandwiches
---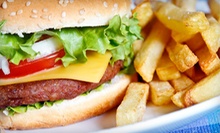 Chili dogs and burgers topped with habanero sauce add heat to a classic menu of meaty cheesesteak sandwiches and catfish po' boys
---
Recommended Restaurants by Groupon Customers
---
The scent of freshly baked biscuits, peppery gravy, and fried potatoes waft out of Republic Cafe's kitchen 24 hours a day. Like the red, white, and blue of the French flag, the diner's housemade breakfasts pay homage to Americana, especially the country-fried skillet—a mound of hashbrowns topped with sautéed peppers and onions, cubes of country-fried steak, two eggs, and country gravy. Comfort-food classics populate the lunch menu as well, which stars BLTs, chicken-fried chicken, and open-faced beef sandwiches floating in a pool of savory, brown gravy.
1230 US Hwy. 60 E
Republic
Missouri
417-732-1233
The Alli's Family Restaurant building has been refilling tanks along Historic Route 66 for 80 years. It began as a gas station, but then took on the mantle of restaurant and has never looked back or at the sun. The eatery's Facebook page contains sneak peeks from the full menu and includes breakfast, lunch, and dinner dishes. Chicken-fried chicken and its menu companions are hearty enough to sustain patrons on road trips, whether their road trips are from Chicago to LA or the result of a stick in the middle of the highway.
4525 W Chestnut Expy.
Springfield
Missouri
417-864-7378
As Quizno's toasted subs emerge slowly from the oven, guests first sense a toasty aroma, followed by a glimpse of artisan bread crisped to a golden brown, with cheese bubbling over meat such as all-natural chicken, tender prime rib, and italian meatballs. Next, sandwich-smiths layer on fresh veggies and top culinary creations with pestos, sauces, and premium spreads.
The menu's first-rate ingredients form a fleet of classic and signature subs, including the baja chicken, which comes adorned with bacon, cheddar, onions, and a drizzle of sweet and spicy sauces. Savory grilled flatbreads and vegetable and meat combinations form fresh salads, which staffers can easily metamorphose into wraps by cocooning them inside Italian-herb tortillas. Customers can stop in for lunch, dash in and out to enjoy a park-bench dinner, or bring their unicycle to juggle their meal home.
2043 E Independence St.
Springfield
Missouri
417-877-0606
Outback Steak & Oyster Bar allows diners to experience Australian-style steaks and seafood, whether they are lodging at the adjacent Outback Roadhouse Motel & Suites or just passing through. Fresh shrimp and seasoned white-meat alligator tail accent a menu of Down-Under delights, alongside Australian wine or beers also available at the Outback Pub. Thursday through Sunday evenings, live musicians accompany the sounds of diners crunching into coconut shrimp, while outside on the veranda, patrons dine under the moonlight and await sightings of Branson's indigenous kangaroo population.:m]]
1914 W Hwy. 76
Branson
Missouri
417-334-6306
The Back Yard Burgers story begins more than 25 years ago in the small town of Cleveland, Mississippi. It was here in 1987 that Lattimore Michael first began making homemade burgers in his grocery store. Before he knew it, the popularity of his burgers began to skyrocket, and a year later Lattimore was able to open the flagship Back Yard Burgers location. Fast forward to present day, and the crew at each Back Yard Burgers still serves up 100% North American Black Angus beef burgers and sandwiches cooked to order. They charbroil signature creations such as the barbecue bacon cheeseburger, a 1/3-pound patty topped with hickory-smoked bacon, american cheese, and barbecue sauce, as well as signature chicken sandwiches. Angus beef chili and 100% beef hot dogs round out the menu, complemented by hand-dipped shakes and malts just like grandma used to make and grandpa used to hide in his underwear drawer.
4301 PLEASANT CROSSING BLVD
ROGERS
Arkansas
US
---