Things to Do in Pahrump
---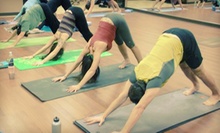 The yoga class mixes styles based on students' abilities; a single class may include sun salutations, core work, and standing asanas
Use Friday 6:15am - 9:15am
---
Recommended Things to Do by Groupon Customers
---
King Putt takes the rigors of an outdoor ground game and translates them into an indoor glow-in-the-dark experience. The ultimate mini golf package spoils players with two rounds of mini golf, two glow-in-the-dark necklaces, and one game of air hockey. King Putt's northwest course encourages birdies and eagles amid a jungle environment of jolly, golf-enthused animals. The southeast locale near Henderson provides an Egyptian backdrop, with Anubis heads and black-lit sarcophagi setting the scene for each stroke. Mini golfers can also celebrate the earth's habit of walking in circles by purchasing a birthday package ($215, not included with the cost of this Groupon), then use this deal to invite two additional friends after filling the allotted 10 spots. Partiers enjoy 18 holes of putting-green navigation, a magic show, pizza and beverages, and a private party room.
7230 W Lake Mead Blvd.
Las Vegas
Nevada
The soaring peaks and red-rock lava flows of the River Mountains. The snaking gravel paths that form a ghostly memorial to a Hoover Dam railroad. The rippling waters of Lake Mead. At All Mountain Cyclery, these local sights headline daylong bike and kayak tours of the wilderness surrounding Boulder City. Located only a 30-minute drive from the famed Las Vegas strip and 10 minutes from Lake Mead, the cyclery rents out Specialized bikes and sells two-wheelers by big other big names, including KHS and Redline. With a fresh set of pedals beneath their feet, cyclists can confidently cruise down the manmade Bootleg Canyon single track. Gravity tows bikes down the steep path at full throttle, leaving riders free to focus on navigating the challenging terrain and throwing their sneakers at distracting birds.
1404 Nevada Hwy. , Suite C
Boulder City
Nevada
702-453-2453
The finale of Campus MovieFest features screenings of more than 250 student films; industry workshops; guest appearances by directors, actors, and screenwriters such as Mark Boal and John Ortiz; and the national grand finale of the College Battle of the Bands. All student movies were made in just one week and span the entire country, drawing around 75,000 participants. Bus explosions and spontaneous implosions are left for hubris-heaped Hollywood as these low-to-no-budget films explore the full spectrum of film, from comedy to drama to llama. The $29 ticket avails you of the final 16 films, beginning at 8 p.m. on Saturday, featuring door prizes, guest presenters, and awards for the winners.
3131 Las Vegas Blvd. S
Las Vegas
Nevada
Madame Tussaud began crafting wax likenesses in 1770s Paris, and a sense of history clings to her wax museums around the globe today—according to the Travel Channel's Ghost Adventurers, the location is haunted by unsettled spirits. By day, the collection of wax sculptures fills the serene exhibits with characters ranging from daredevil Evel Knievel (complete with his original Harley Davidson and good-luck teddy bear) to Lady Gaga and Whoopi Goldberg. A Hugh Hefner figure, wearing the Playboy magnate's signature smoking jacket, reclines on a bed, and a nightclub-themed section of the museum honors Las Vegas's entertainment history with a waxen Elvis and Wayne Newton.
Velvet ropes no longer cordon figures off from the public, granting guests up-close-and-personal photo ops. Madame Tussauds Las Vegas honors its spooky roots with special late-night Scream events, a shriek-inducing tour through a maximum-security prison set interspersed with ghoulish wax figures and live actors.
3377 Las Vegas Blvd. S , Suite 2001
Las Vegas
Nevada
European Formula EK20 karts whiz by on Pole Position Raceway's quarter-mile track, cruising at speeds of up to 45 miles per hour. Spectators crank their heads to keep up. There's no wind to battle against, no sun blinding the drivers' eyes, and no birds rigging the race by dropping smoke bombs because all of Pole Position Raceway's competitions happen inside. This is thanks to a fleet of electric-powered karts, which accelerate more quickly and hug curves more smoothly than gas-powered karts without dumping out clouds of exhaust.
To sate speed cravings, drivers simply arrive and drive—show up and nab one of 13 spots in the next race. Then with a DOT-approved racing helmet, they push the pedal to the floor for roughly 10 minutes, drafting their opponents to fly past them near the finish line. At the end of each race, drivers receive a SpeedSheet that displays their race results, fastest lap time, and the likelihood of getting their own action-movie franchise. For those seeking to dive deep into the world of racing, Pole Position Raceway offers driving clinics and youth racing camps, where younger racers pilot EK10 karts that peak at 20 mph.
7350 Prairie Falcon Rd.
Las Vegas
Nevada
702-227-7223
The Las Vegas Hilton tennis facility is staffed by professional, USPTA-certified tennis coaches and features six first-class courts. Hopeful tennis-ball bashers of all ages, skill levels, and backhanded brutalities can practice lobbing, drop shotting, and overhead smashing. Adult classes operate from 9 a.m.-10:30 a.m. daily. Every Monday through Wednesday (4 p.m.-5 p.m.), kids ages 4-12 practice volleys and learn how to return deviously whirling asteroid chunks to the galaxy from whence they came.
3000 Paradise Road
Las Vegas
Nevada
---