Beauty & Spas in Palatine
---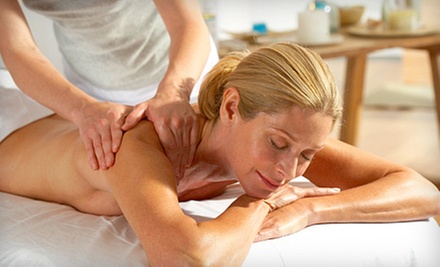 ---
Recommended Beauty & Spas by Groupon Customers
---
A wildly successful alternative to traditional day spas—its more than 300 locations blanket 36 states and half a dozen countries—Planet Beach Contempo Spa is a futuristic relaxation station where state-of-the-art machines administer all of the spa and tanning services. These friendly automatons sometimes replace familiar treatments, as in the Luminous facial, a light-based service that delivers blemish-busting results similar to those of a conventional facial. But other equipment maps out new spa territory entirely: the Hydro-Derma Fusion chamber moisturizes the whole body with nutrient-rich steam to offset the effects of a dry climate or a rear-end collision with a salt truck. Other machines whiten teeth, spray tan skin, and massage muscles.
Planet Beach operates on a gym-style membership system, meaning members purchase packages or pay flat monthly rates. As members spend more time at the spa, they get to know the helpful assistants who are always on hand to demonstrate how to use the equipment without activating its ability to cry.
20330 Deer Park Boulevard , Suite 118
Deer Park
Illinois
US
847-726-8262
At The Body Repair Shop, licensed massage therapist Robin dedicates herself to helping clients achieve relaxation. Beneath her nimble fingers, tension melts away via a wide range of massage styles, from the long, flowing strokes of Swedish massage to hot stone, which, despite popular belief, is not a pickup line from one geologist to another.
6007 North Sauganash Avenue
Chicago
Illinois
773-332-3103
Nirvana Boutique and Spa's team of stylists and aestheticians helps recharge aesthetic and spiritual batteries amid burnt-orange and sunflower walls. Alongside shelves that overflow with colorful fashions—such as dresses, jewelry, and accessories—a tranquil Buddha statue rests under shady bamboo shoots and urges patrons to trade their anxiety for enlightenment. Once guests settle in, staffers get to work polishing exteriors via an array of skincare, nail, and threading services, many of which come with complimentary perks such as berry smoothies and manicure-protecting chain mail.
4843 Oakton St.
Skokie
Illinois
847-674-4330
English, Ukrainian, Russian, Yugoslavian, Bosnian, and Croatian. These are the languages aestheticians Lesya and Helena can use to communicate with their clients, virtually ensuring that no beauty wish goes unheard. The duo consults with each client to determine the best course of action to tackle skincare problems ranging from fine lines and age spots to acne and large pores. Using Image Skincare products, the aestheticians perform chemical peels, microdermabrasion sessions, and three types of facials, including European and anti-aging varieties. Lesya and Helena care for skin below the neck with body wraps and waxing services in a private treatment room, where clients can recline on a plush white leather chair and describe skincare woes or confess suspicions that the cat may be seeing another family.
1101 Arlington Heights Rd., Suite 109
Arlington Heights
Illinois
773-934-4048
During free one-hour consultations at the Chicago Center for Anti-Aging, licensed nurses sit down with patients to help them choose among an immense array of treatments. The staff brings diverse specialties to the table, from plastic surgery and psychology to acupuncture and massage therapy. This eclecticism points to the center's philosophy, which holds that health is not simply the absence of disease and excessive body glitter, but the aligning of one's physical and mental well-being. That's why the sprawling service menu places nutrition counseling and body wraps beside cosmetic surgery, vision care, and spa treatments such as facials and Botox injections.
950 N Northwest Hwy., Suite 102
Park Ridge
Illinois
847-696-9900
Round decorative mirrors add dimension to the interior of Valentine Nails, where lights hang from the ceiling like golden roses. Amid these elegant trappings, expert technicians buff and beautify nails with a wide array of mani-pedi services. Patrons can recline in a charcoal leather pedicure chair while feet steep in a warm bath, or peruse purses and custom jewelry. Specialty acrylic or gel nails are applied in cozy manicure seats, upholstered in vivid fabrics such as leopard print, zebra stripe, or superhero costume.
228 McHenry Road
Wheeling
Illinois
847-229-6121
---