Golf in Palatine
---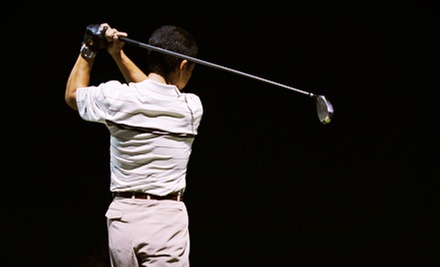 ---
Recommended Golf by Groupon Customers
---
Par-King Skill Golf has been churning out rounds of family-friendly fun for the Chicagoland area since the 1950s. With two separate 18-hole courses, six water challenges, twelve moving obstacles, numerous curbs, and surprising elevation changes, Par-King is a step up from the flat mini-greens of yesteryear, and 3 club-lengths more entertaining than the regulation-sized greens of normal-sized golf. Play a full 18 holes as you gape and gander at twirling clowns, roller-coaster ramps in the vein of Rube Goldberg, elaborately-painted totem poles, and recreations of famous landmarks such as Mt. Rushmore and the Sears Tower. This colorful landscape of golf-based adventure is refurbished and repainted every winter to provide a consistently-beautiful, clean, and safe experience during April to October operations. Although the park is family-oriented, they maintain a stout 48-inch height requirement to play or playact in the playing area; this is enforced purely with safety in mind, as the challenging course terrain may prove hazardous to the diminutive.
21711 N Milwaukee Ave.
Lincolnshire
Illinois
Old Orchard Country Club is tucked behind a wall of thick, mature trees that ensconce guests in a serene golfscape highlighted by a well-manicured driving range and scenic 18-hole course. Golfers can warm-up drivers and stretch-out irons while pelting practice balls down a range bound to the rear by a small creek that doubles as a practice water hazard and stage for tadpoles to rehearse future roles as eventual princes. The range is maintained by a diligent ball collector and hugged to the right by a rolling fairway that prompts range balls to dream of one day being promoted to a tournament ball, and one day retiring on a mini golf course.
700 W Rand Rd.
Mount Prospect
Illinois
847-255-2025
Whisper Creek's visionary architects, Greg Nash and Billy Casper, and Orchard Valley's architect, Ken Kavanaugh, present two championship-style courses of verdant, undulating terrain, flecked with challenging features. Golfers traverse Whisper Creek's 240 acres of protected wildlife sanctuary in GPS-enabled golf carts that provide yardage measurements, record scores, and eliminate the need to ask tiger-head club covers for directions. During an 18-hole round (up to a $68 value with cart), clubs send dimpled orbs hurtling past imported white-sand bunkers, pristine waters, and more than 5,000 character hardwoods. Over on Orchard Valley's 6,800-yard, par 72 grounds, manicured practice facilities conduct dress rehearsals for the course's 18 holes (up to a $76 value with cart), which span sand traps and wetlands, including the expansive water hazard on the aptly named "All or Nothing at All" second hole.
2775 Ela Rd.
Hoffman Estates
Illinois
Dynamic Golf Institute spurs golfers' pin-hunting prowess with all-encompassing training strategies that tackle both conventional swing analysis and golf fitness. The institute enlists the latest in training technology, using high-frame-rate cameras and the K-Vest 3-D system to further dissect swings, Titleist Performance Institute software to assess any swing-inhibiting fitness factors, and time-machine prototypes to erase the day a client learned what a mulligan was. Instructors integrate all of the teaching aids into one seamless approach, developing a nuanced understanding of each golfer's unique abilities and forming achievable goals based on their findings.
1201 Saunders Rd.
Riverwoods
Illinois
773-316-6693
Slice-prone swings and inconsistent putting strokes meet their demise at Green Valley Golf Range, where guests crush golf balls at an 80-station driving range and sends putts through a tricky mini-golf course. The range boasts towering lights and 20 covered, heated hitting stalls to furnish practice at night, during inclement weather, and through the eternal ice age of the future. The practice facility—which also encompasses a putting green, chipping area, and sand trap—replaces its golf balls every year, ensuring quality equipment for players' enjoyment.
A lighthouse, a pint-sized car, and other old-fashioned obstacles await players at the mini-golf course, a circuit best conquered with laser-like focus attained with the help of Green Valley's complimentary coffee. Clubbers can replenish energy stores zapped after a long day of practice or bench-pressing their driver with a soft-serve ice-cream cone, a slice of Rosati's pizza, or a hot dog, all of which are sold in the Green Valley Ice Cream Shoppe.
26 West 101 Lake Street
Hanover Park
Illinois
630-289-6600
LPGA Class A member Rachel Teresi chips away at learning blocks and corrects crooked swings during private lessons and group classes at four Chicagoland golf facilities. Rachel's swing tutorials emphasizes sound fundamentals designed to enhance all areas of one's game, including driving, pitching, chipping, and shouting at opponents during critical shots. When they aren't honing the focus and discipline necessary to excel at the mental aspects of golf, students learn important techniques for fitting clubs and maximizing the efficiency of their training. In addition to her work with students, Rachel has contributed to the overall advancement of the game by developing the downloadable iPhone app GolfPro911, which assists with shot selection and offers advice on wooing feral golf carts into sand traps.
900 Wood Dale Road
Addison
Illinois
773-386-4653
---