Auto Repair in Palatka
---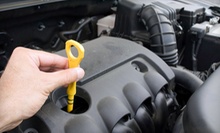 Oil changes include up to 5 quarts of standard oil and a 25-point inspection; tire rotation and nitrogen inflation ensures a smooth ride
---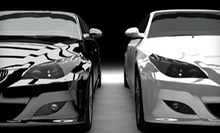 Techs fit coupes, sedans, or SUVs with tints from Global Window Films
---
Recommended Auto Repair by Groupon Customers
---
At Sal's Automotive, ASE-certified technicians diagnose and cure ailing vehicles of all makes, models, and origins with contemporary equipment and top-shelf parts. Services range from preventive oil changes to towing from roadside spots or the bottom of a YMCA pool. Each repair is backed by the Napa AutoCare Peace of Mind Warranty, which covers auto services for 12 months or 12,000 miles.
The shop's technicians swiftly tackle even the most complicated issues, sometimes completely reworking what's under the hood using Jasper engines and transmissions. Bonus services include after-hours drop off and pre-trip inspections.
3650 NW 97th Ave.
Gainesville
Florida
352-332-4338
Grown from two small shops to 28 locations by the sweat equity of a hard-working father-and-son team, McGee Auto Service & Tire's open-air bays now proudly display the cobalt and maize décor signifying their status as authorized Goodyear dealers. Skilled hands outfit hoisted cars with conventional and standard oil while computerized systems recalibrate tires, brake service secures stoppers, and transmission tune-ups correct gear-bound problems. At the core of full-scale commercial fleet services, a specialized shearography machine helped earn McGee Auto Service & Tire a mention on Modern Tire Dealer's Top 100 Retreaders in the U.S. list. Oversize vehicle service also caters to recreational drivers, with RV service including repairing electrical systems, recalibrating drive trains, and restocking the feedback of the horn's onboard bugler.
680 N Spring Garden Ave.
DeLand
Florida
386-740-8996
With a team of ASE-certified master technicians, Bell's Automotive Service has been treating vehicles for more than 50 years. Cars of every make and model slip into its seven bays, where John, Brian, Don, and Evan check them for problems. These technicians take the time to explain any repairs they are going to make in layman's terms, and offer a 12-month, 12,000-mile warranty on all parts and labor. In the parts department, Tim watches over a huge stockpile of gadgets and greasy potions; anything not in stock he can order or borrow from Robosaurus, who lives in the backyard.
3536 Morrow St.
Jacksonville
Florida
904-733-0407
Since 1988, Auto Care Super Saver has been helping car owners save cash with maintenance punch cards redeemable at local auto shops throughout the course of a full year. These cards come loaded with all kinds of prepaid services, including at least three full-service oil changes with up to 5 quarts of oil, lube, and a new filter. Depending on the location, punch cards may also feature tire rotations, brake inspections, engine-light readings, air-conditioning performance tests, and other repairs and inspections essential to a car's well-being. Customers can transfer the punch card's benefits to any ride, ranging from station wagons to sports cars to feral merry-go-round mounts.
14026 Beach Blvd.
Jacksonville
Florida
904-992-4176
With participating locations nationwide, Auto Care Special lets customers reach out to their local garages for a grab bag of free and discounted maintenance services. Cards may be redeemed for multiple vehicles over the course of one year for services such as oil changes, safety inspections, and engine-light diagnoses. Those who move or create alter-egos over the course of the year can scan the locations page for participating garages in their new cities of residence to receive a complimentary maintenance bundle.
9896 San Jose Blvd.
Jacksonville
Florida
For more than three decades, Soundcrafters has enhanced vehicles and homes with the latest audio, video, and navigational technology. Original owners Paul and Maryellen Papadeas still preside over eight skilled technicians, who draw on more than 150 years of combined experience as they equip cars, trucks, flat boats, and yachts with devices such as GPS systems and iPod interfaces. Whether outfitting a jalopy with power door locks or jazzing up a gingerbread house with a home-theater system, the professionals pay attention to every detail and don't cut corners. They'll tackle the installation of equipment from any quality brand, standing behind their work as confidently as a pop star's swagger coach.
2200 S Ridgewood Ave.
South Daytona
Florida
386-761-8800
---