Palatka, FL Drs and Health Practioners
---
Drs & Health Practitioners Deals
---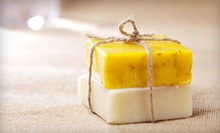 Registered nurse, medicine woman, and herbalist Dawn helps clients concoct soaps and scents for soothing and healing aromatherapy products
Use Today 6:00am - 9:00am
---
Recommended Drs & Health Practitioners by Groupon Customers
---
Benefits of acupuncture are broad and offer relief from many conditions, including fibromyalgia, migraines, imaginary-friend wedgies, osteoarthritis, lower-back pain, and stress. During your visit, the professionals at Jacksonville Chiropractic and Acupuncture will give you a comprehensive exam, including a discussion of pain and other symptoms from which you seek relief. After your acupuncturist has evaluated your needs, the treatment begins, and hair-thin needles are inserted into the body at specific points. According to ancient Chinese medicine, these points correspond to convergences in the body's meridians and hold the mystical crystal-skull key to unlocking the body's life energy, unleashing a swirling maelstrom of relief and healthful ardor.
7860 Gate Pkwy., Suite 106
Jacksonville
Florida
Board-certified plastic surgeon Dr. Michael J. Duffy—who received his plastics and reconstructive training at the Mayo Clinic—and his experienced team revitalize guests with surgical and nonsurgical cosmetic services at the Cosmetic & Reconstructive Surgery Center. Dr. Duffy draws from his 20 years of experience to perform reconstructive and cosmetic surgeries such as face-lifts, liposuction, and breast augmentation. He also noninvasively beautifies faces by topping them with chemical peels, injecting them with Botox, and glazing them with a fresh coat of paint.
6867 Belfort Oaks Pl.
Jacksonville
Florida
904-296-2008
Pacifica Care––headed by Dr. David Moss––strives to keep patients in strong physical and mental health with a wide variety of services, including nutritional counseling, massage therapy, psychiatric treatments, and emotional and behavioral counseling. Committed to spending more time with each patient than most facilities, the doctors, physician's assistants, counselors, and massage therapists aim to see new clients within 72 hours of the initial request, and they maintain later hours to accommodate those who have daytime responsibilities, such as spying on the sun. The facility's stock of nutritional supplements packs active phytonutrients ground from fresh, organically grown plants such as alfalfa and beets, as well as animal-extracted vitamins and minerals scraped from Mount Rushmore's last group facial.
13121 Atlantic Blvd., Suite 100
Jacksonville
Florida
904-221-2232
For more than 20 years, Dr. Brett Hirsch has studied advanced treatments to restore lush heads of hair to men and women. Among the most advanced treatments he performs, NeoGraft hair-transplant therapy reduces the recovery time and scarring of traditional hair therapies. A completely noninvasive option, low-level laser therapy attempts to bolster the growth of thicker, more robust hairs by promoting blood flow to the scalp. More dramatically, Sensigrafts, Virtuesse, and Reallusions hair-restoration treatments outfit sparse scalps with realistic locks available in many colors, textures, and rainbow-fro styles.
11363 San Jose Blvd., Suite 103
Jacksonville
Florida
800-992-4477
Dentist Patti Webb, an erstwhile chemistry teacher and plant pathologist, found the independent science of dentistry compelling enough to switch careers and return to school. She began tending to teeth at Gentle Dental Care just after graduating, and soon took over the practice. Now, 20 years later, she is still at the helm, alongside two of her sons, Dr. Austin Webb and Dr. Jordan Webb.
The trio of mouth maestros assesses overall oral health, fills in cavities, and fits crowns. In addition to general dentistry, the team delves into cosmetic dentistry with implants, Invisalign teeth-straightening, and teeth-whitening treatments that employ custom trays and gel to brighten smiles until their owners can grin their way through dark corridors.
3655 SW 2nd Ave.
Gainesville
Florida
352-378-2555
At First Coast Plastic Surgery, board-certified surgeon David N. Csikai and his team of specialists perform an array of aesthetic treatments. Among their specialties are surgeries such as browlifts and liposuction and non-invasive treatments that include Botox, Radiesse, and laser resurfacing.
3616 Cardinal Point Dr.
Jacksonville
Florida
904-730-5052
---