Restaurants in Palatka
---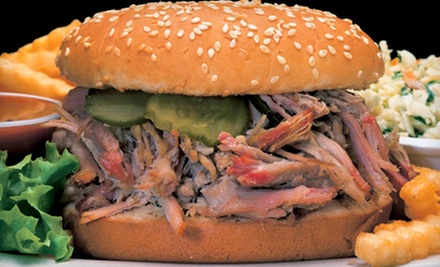 ---
Recommended Restaurants by Groupon Customers
---
Hurricane Grill & Wings showcases its library of more than 30 sauces in dishes that blend American, Mexican, and tropical influences. Their sauces' level of spiciness mimics hurricane intensity ratings, from the honey or mango barbecue options occupying Category 1 to the Ridiculously Hot Hurricane sauce in Category 5. In between sit flavors of ancho chili and lime, Jamaican jerk, chipotle raspberry, and spicy sweet chili. Baskets of jumbo or boneless wings come tossed in guests' sauces of choice, as do grilled chicken or mahi-mahi sandwiches.
Elsewhere on the menu are tropically themed selections such as firecracker shrimp tacos, Southwest-style churrasco steak, and Monterey jack–filled quesadillas. The to-go menu can accommodate large gatherings, such as sports-watching parties or jury-duty reunions. Meanwhile, the full bar features island cocktails and bottle and tap beers from a variety of microbreweries to help subdue roaring mouth fires.
1810 Town Center Blvd., Suite 1
Fleming Island
Florida
Behind Matsuya Sushi & Grill's sparkling L-shaped sushi counter, succulent fillets of tuna, salmon, and white fish succumb to chefs' keen knives before joining rice in bite-sized nigiri or tempting rolls. Collective gasps of admiration—usually reserved for the unveiling of a child's macaroni self-portrait—leap from the lips of patrons as a chef taps and tosses shrimp, chicken, filet mignon, and lobster on the hibachi grill. Dressed in traditional Japanese robes and hats, waiters ferry plates decorated with carrot roses and artful splashes of sauce across the dining room, where screens and blond woods cultivate a peaceful atmosphere. Chefs reveal their sushi secrets every Sunday, bestowing their knowledge upon students during four-hour all-you-can-eat sushi-making classes.
11380 Beach Blvd., Suite 8
Jacksonville
Florida
904-996-0008
From cracking eggs in the morning to oven-baking chicken at night, the staff at Tapestry Café do it all with a smile, earning the eatery a customer-satisfaction award from Talk of the Town in 2012. The scent of freshly brewed coffee permeates the quaint storefront, filtering through the air and out onto the patio where diners bite into sandwiches layered with high-quality Boar's Head meats and cheeses. Pastries and ice cream round out the café's offerings, ending meals with a sweeter finish than a noogie from the Stay Puft Marshmallow Man.
9823 Tapestry Park Cir.
Jacksonville
Florida
904-329-4380
A massive big-screen television casts a festive glow across Wing City's dining room. Pitchers of beer slosh atop tables next to sizzling plates of finger food, including wings doused in 20 types of sauce. Specialty sandwiches, such as classic burgers and philly cheesesteaks, provide filling meals or tasty footballs in case patrons are inspired to go long.
2223 County Rd. 220
Middleburg
Florida
904-264-3322
The tables inside The Good Food Company's 150-seat dining room are filled with artful meals that pile up as mini sculptures on plates drizzled with sauce. Though the menu changes seasonally, it's sure to highlight inventive flavor combinations such as their filet with wild rice and a lemon and basil sauce or duck with garlic potato cakes. Lighter lunch fare comes in such forms as grilled salmon served in on a salad or french baguette and a burger whose meat is freshly processed in-house. Behind the 18-seat bar, a wine connoisseur fills glasses with an extensive list of squeezed grapes.
Additionally, the chefs freeze a menu of take-and-bake entrees made from organic and seasonal ingredients whenever possible, from chicken or beef pot pie to scoops of mac 'n' cheese. Each dish comes in a variety of sizes, such as a medium portion, which serves four to five diners, or a large tray, which sates the appetites of six to eight people or 0.4 Mark McGwires.
13475 Atlantic Blvd., Suite 32
Jacksonville
Florida
One could travel across the world and still not taste as many wines as Corner Bistro has. Sourced from France, Italy, Portugal, and across the United States, the list of more than 100 wines pairs equally with light lunch cuisine such as vegetarian Corner sandwiches or dinner offerings that include braised short ribs and scallops Victoria with truffle-lobster mac 'n' cheese. On Sunday, the bistro unveils a brunch menu populated by an enormous spread of crab cakes benedict, omelets stuffed with bacon and brie, and belgian waffles topped with berries, maple syrup, and Grand Marnier cream. On Tuesday, Friday, and Saturday at 9 p.m., guests can join Matt "Piano Man" Hall as he croons about rieslings and recounts the time he thumb-wrestled Billy Joel for his nickname.
9823 Tapestry Park Cir.
Jacksonville
Florida
US
904-619-1931
---