Things to Do in Palm Bay
---
---
Palm Bay Things To Do Guide
Florida's cities offer a wealth of recreational opportunities, ranging from theme parks to fishing piers to outlet shopping. The state's smaller cities, such as Palm Bay, offer opportunities to enjoy activities that are significantly more unique than those that might commonly be associated with Florida. Things to do in Palm Bay include dining at restaurants, enjoying nature at parks, and relaxing at luxurious resorts.
Food lovers will find that some of the most interesting Palm Bay attractions are restaurants. One establishment worth seriously considering is La Estancia de Luisa, which specializes in food from South American countries. There, tasty entrees, including grilled pork chops and sauteed fish, are paired with refreshing beverages like sangria. The employees will even go out of their way to prepare dishes for guests who crave specific foods that might not appear on the menu. Another jewel in the Palm Bay restaurant scene is The Shack Seafood Restaurant. Delicious menu items at this location include king crab legs, rare Ahi tuna and Louisiana-style seafood gumbo soup. The relaxed pace at this establishment allows guests to enjoy their meals and the scenic views of the Indian River.
When thinking about stuff to do in Palm Bay, parks and recreation come to mind. The city's location on the water allows residents to spend ample time outside enjoying aquatic activities, such as swimming and fishing. A more structured activity option is a visit to Turkey Creek Sanctuary, which features exquisite scenery along a number of boardwalks and trails. A camera is definitely a must at this park, as sightings of wildlife, such as turtles and manatees, are common.
Activities in Palm Bay can also include relaxation at the city's hotels and resorts. The Jameson Inn is one property that offers a calming atmosphere and gives visitors the chance to spend time reading or relaxing by the pool. Given the range of restaurants, attractions and hotels available, local residents should have no trouble finding enjoyable things to do in Palm Bay.
Things to do in Palm Bay include dining at restaurants, enjoying nature at parks, and relaxing at luxurious resorts.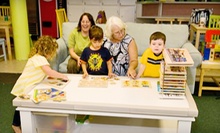 Babies 9 months old to kids 9 years old enjoy play floor, equipped with indoor treehouse, bounce house, dress-up area, and toddler's corner
Use Wednesday 9:30am - 5:30pm
---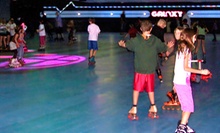 Roller-rink racers glide through neon lights & disco-ball reflections on rental skates
Use Sunday 1:00pm - 4:00pm
---
Recommended Things to Do by Groupon Customers
---
A 200-foot man-made alligator flashes his brace-free grin as visitors pass through the gates of Jungle Adventures' lush wilderness to meet the myriad creatures that call it home. From exhibit to exhibit, rare beasts including Florida panthers, black bears, tropical birds, and wolves exchange salutations with their visitors. Knowledgeable experts navigate jungle terrain during guided tours and VIP adventure tours, and at live exhibitions, such as the Gator Jamboree Feeding Adventure, experienced handlers coax shy critters from their hiding places. The park also explores the area's human history in replicas of a 16th-century Spanish fort and Native American village, where authentic recreations of ancient artifacts, decorations, and brick-sized cell phones shed light on lifestyles from centuries ago.
26205 E. Colonial Dr.
Christmas
Florida
407-568-1354
Although the 1960s was an era of change, children were still not allowed to pick their own produce at Milwaukee-area farms. This seemingly minor policy was the spark that began Green Meadows Farm, Kissimmee's family-oriented petting farm populated by 300 animals. Bob and Coni Keyes started with a hog and cattle farm in Waterford, Wisconsin. Believing farms were places where kids could learn and interact with animals, the couple converted their 80 acres into a raspberry and veggie patch that also featured a handful of friendly farm animals to welcome kids. The petting farm was born in 1965 when a local teacher asked if her youngsters could drop by to visit the animals and give the roosters mop-top haircuts.
More than 40 years later, the Keyes are still at it. Over the years, their quest to enrich the education of children with a "low-tech" farm experience has taken shape in Texas, Illinois, and Florida. The owners live right on the Green Meadows acreage with their small village of cows, pigs, sheep, goats, and other barnyard citizens. Bob and Coni lead hands-on daily tours for visitors and facilitate pony rides, along with a host of other seasonally varied activities offered 363 days a year.
1368 S Poinciana Blvd.
Kissimmee
Florida
407-846-0770
Sister ships Orlando Princess and Canaveral Star II disembark from Cape Canaveral for daily fishing trips. The 80- and 85-foot vessels set sail with an experienced crewmember and soon-to-be seafarers equipped with fishing licenses, rods, reels, tackle, and bait. Full- and half-day excursions let fisherpeople hunt for mangrove snapper, grouper, and sea bass, and nighttime shark-fishing trips give them the opportunity to seek out bigger game. After catching a respectable haul, patrons can relax on the sun deck or in air-conditioned cabins and indulge in included hot meals. They'll also get unlimited beer or soda that tastes better than seawater, which is mostly made up of mermaid spit.
650 Glen Cheek Dr.
Cape Canaveral
Florida
321-784-6300
Cocoa Beach locals know that it's rare to spot Bill Kowalik on dry land. The Puerto Rico–born seafarer is at home on the water, constantly surfing, kayaking, or leading tours across the Florida Space Coast. Bill's as passionate about the environment as he is about watersports, enthusiastically exploring the area's diverse waterways while taking pains to leave the least impact on the protected waters. Along with his team of trained instructors, he leads individuals, groups, and families on kayak tours through lush mangroves and island channels, pointing out dolphins, manatees, and exotic birds.
401 Ramp Road Pk.
Cocoa Beach
Florida
321-480-8632
Space Coast Segway Tours' battery-operated two-wheeled segway machines turn palm-tree-lined pavement into a playground during guided trips through Port Canaveral and Cocoa Beach. Starting at the Ron Jon Cape Caribe resort, experienced segway savants lead upright wheelers on a voyage that explores the Port Canaveral cove, passing scores of envious segwayless humans along the way. Manatees and dolphins cheer on riders from the water as the group makes its way to Bluepoints Marina, stopping at Auddino's Italian Bakery for a quick cookie refuel. Cocoa Beach trips leave from the Hilton and meander across the boardwalk, testing out wheel-legs as they pass by the Ron Jon Surf Shop and make the trek off the beaten path in Lori Wilson Park. Additionally, mini segway tours offer 20-minute footless treks that can be scheduled during your lunch hour or your boss's naptime.
1550 N Atlantic Ave.
Cocoa Beach
Florida
321-652-4169
The Indian River Queen is a 99-foot boat that can comfortably take on up to 230 people. It has played host to every kind of event, from weddings, field trips, cocktail parties, and eco-tours to the filming of the movie Out of Time starring Denzel Washington, as mentioned by PRWeb. After the boat's film debut, Penny Sheridan Flaherty recognized the Southern-style paddle-wheel boat's star power and took over ownership. Since then, both owner and boat have celebrated an array of special occasions from the Indian River Queen's decks.
The plush riverboat's main deck comes equipped with all the amenities, including air conditioning and a full-service bar complete with Beck's Dark beer, Tullamore Dew Irish whiskey, and Patrón tequila. Live music and the ship's second full-service bar are tucked onto the second deck. Though both the main and second deck are outfitted with large viewing windows, the top-level deck is where guests can truly soak in idyllic views of the Indian River and the Indian River Lagoon, along with their manatee and dolphin inhabitants.
On Friday nights and Sunday afternoons, public cruises ferry passengers lazily down the river as they dine on catered food from Black Tulip Restaurant. If needed, owner Penny is also the boat's party planner, and she can provide a comprehensive list of party services including videographers, fresh flower arrangements, and live music performed by steel-drum bands or the crew harmonizing on water jugs.
90 Delannoy Ave.
Cocoa
Florida
321-454-7414
---