Auto Service in Palm Beach Gardens
---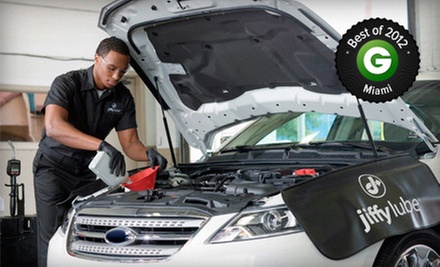 ---
Recommended Auto Service by Groupon Customers
---
Mr. Clean Car Wash's mud-loathing machines and talented technicians work together to restore allure to road-weary wagons. Wash tunnels delicately swallow vehicles during the Gold package, massaging away exterior grime with soft cloths and tickling underbodies with a rust inhibitor. An application of tire shine and triple-shine polish works to imbue autos with the regal glow of Louis XIV's nightlight. Along with a spot-free rinse and blow-dry, the wash lathers steely steeds with Mr. Clean Surface Protectant and Wheel Guard to defend newly primped exteriors from the bad-boy appeal of dirt. Fast and effective, the gentle machine finishes cleanly deeds in about eight minutes. Mr. Clean's technicians constantly strive to protect natural resources by recycling and filtering water as much as possible, protecting the livelihoods of whales and whale-to-English translators.
3007 Yamato Rd
Boca Raton
Florida
USA
A business has to have something special to survive for more than half a century. For Mr. Magic Car Wash, perhaps that thing is a signature blend of nine cleaning solutions that work together to cut through tough road grease and leave vehicles with a glimmering luster. Or perhaps it's the business's attention to detail, manifested in its soft-cloth hand washes. Either way Mr. Magic has not only survived the passing decades and the end of the DeLorean, it has thrived and expanded, now boasting five Pittsburgh-area locations. Even when sending cars through the automated car-wash tunnel for a quick rinse, Mr. Magic keeps auto owners' interests in mind, spraying fiberglass surfaces with only fresh water and drying them to a spot-free shine with hot air. Extra services, such as underbody flushes and interior and exterior detailing, help enhance each wash, and coats of Magic Repel surface protectant deflect new smudges and wizard spells.
3007 Yamato Rd
Boca Raton
Florida
USA
Attendants at Signature Car Wash hand dry vehicles fresh from a trip through the drive-through cleaning station. There, the rotating cloth side wraps and brushes as it cuts through dirt, dust, and grime for a cleaning that's strong, yet gentle—like the six-million-dollar man's bionic puppy. Jets also squirt cars with clear-coat protectant, and brushes wipe wheels with DuraShiner tire-shine treatments. To finish, attendants clean out auto insides with vacuum cleaners and carefully wipe exteriors with soft drying cloths for signature and platinum washes.
While their wagons are being pampered, owners may opt to kick back outdoors under umbrella-topped tables or browse the internet at the iPad bar.
3007 Yamato Rd
Boca Raton
Florida
USA
Main Street Car Wash has been owned and operated by the same family for more than a quarter century, adding pizzazz to rides with sudsing and detailing services. With names honoring the owner's children, Amy and Max, the service menu includes three to four tiers of washing and detailing treatments, whether for a vehicle looking to dust off for the spring or inconspicuously crash a limo's birthday party. Drive-thru or hand-washing treatments can be augmented with add-ons such as leather cleaning and conditioning, triple-foam wax treatments, Rain-X application, and vacuuming. Hand-applied wax treatments envelop automobiles in paint protection for three to six months, and each receipt comes loaded with $25 in coupons for future services, allowing guests to extend their car's sparkling façade well into the future.
201 E Boynton Beach Blvd.
Boynton Beach
Florida
561-734-7608
Man and machine mingle at WadaWash, where the area's only flex-service car washes incorporate automated exterior scrubs augmented by professional attendants trained in tidying up interiors. This express approach does not mean WadaWash cuts corners when it comes to water conversation: H2O is reclaimed, filtered, and sterilized after each use, and green soaps and waxes lend credence to the business' eco-friendly agenda. Inside, a flickering television enraptures waiting eyeballs, and free WiFi enables guests to upload photos of their car's freshly scrubbed exterior or photos of themselves watching car commercials on TV.
4400 Okeechobee Rd.
Fort Pierce
Florida
US
772-460-1010
---