Bootcamp in Palm Beach Gardens
---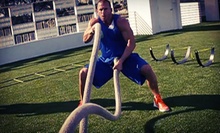 Boot-camp instructor Manning Sumner leads drills that mesh distance running, strength training, and team exercises with diet monitoring
Use Wednesday 3:30am - 6:30am
---
Recommended Bootcamp by Groupon Customers
---
Start 2010 with a kick in your pants from yourself using the foot of someone else with today's side deal: for $65, you get a four-week boot camp session at South Florida Fitness Boot Camp. You'll also get 20% off your next session should you choose to return. Each session meets three days a week, with each class lasting about 45 minutes. That's more than two hours of dedicated team fitness per week for a month, about the same amount of time as the average person spends reading cereal boxes.
16500 Nw 87th Ave
Miami Lakes
Florida
US
During Coconut Creek Adventure Boot Camp, the staff lead students through energetic workouts held in local parks and outdoor venues. They keep sessions interesting by constantly varying exercises, featuring running and boxing one day and obstacle courses and jumping rope another. The fitness specialists also provide students with dietary advice.
Lyons and Wiles Road
Coconut Creek
Florida
954-732-0137
Certified personal trainer Jared Lopez and his team of instructors work to tone muscles and fire up metabolisms during their boot-camp program that incorporates plyometrics, kickboxing, functional strength training, and calisthenics to get healthy and safe results. The team now host fitness sessions at their new indoor and outdoor 7,000 square foot facility.They change up their routines on a daily basis to prevent clients and their muscles from becoming bored. To cultivate a supportive environment, the instructors motivate students without yelling at them. They further help to overhaul unhealthful habits by posting in-home workouts, recipes, and healthful eating tips on their website.
11850 Lake Victoria Gardens Ave.
Palm Beach Gardens
Florida
At MimsFit, certified personal trainer Chris Mims nudges exercisers toward their fitness goals during boot-camp classes and personal-training sessions. Whether his clients want to lose weight, build strength, or run through the grocery without being caught by the store manager, Mims's full-body workouts include body-weight, kettlebell, rope, tire, and sledgehammer exercises. To fortify newly formed muscles, Mims also sheds light on what to eat during nutritional-counseling sit-downs.
3479 NE 12th Ter.
Oakland Park
Florida
954-895-5834
Hard Exercise Works helps clients improve their physical health with intense total-body workout regimens for all fitness levels and sage nutrition advice within a supportive fitness community. Dedicated coaches push attendees to reach their goals in classes that accommodate up to 50 students, ensuring pupils' safety by demonstrating proper technique. Each workout consists of an ever-changing sequence of intense exercises, intended to improve strength and stamina over a five-week period. In addition to a vigorous fitness regimen, the gym's nutrition philosophy promotes well-being outside of class sessions by either prescribing a five-week diet for students or teaching them how to photosynthesize their own food.
10358 Riverside Dr., Suite 140
Palm Beach Gardens
Florida
561-627-7277
Camp Gladiator founder Ally Davidson's childhood obsession with the outdoors and sports led her to pursue a degree in exercise physiology from Texas State University. After her 2008 win on the TV show American Gladiators, Ally decided to share her love of fitness with the world at large. Camp Gladiator reflects Ally's passion for fitness in its mission, which espouses their desire "to positively impact the physical fitness and ultimately the lives of as many people as possible." Her boot camps have since expanded to 17 U.S. cities, with each hosting multiple training locales. The upbeat staff of certified trainers lead patrons of any age and fitness level through four-week outdoor boot camps, earning Camp Gladiator a Hot Spot title from Women's Health Fitness Awards in 2013, Best Boot Camp from Rare magazine in 2010, Best of Big D 2010–2012 from D magazine, and Best Outdoor Bootcamp 2012 from Austin Fit Magazine .
1560 W Indiantown Rd.
Jupiter
Florida
---