Palm Beach Gardens Gyms and Fitness
---
Gym, Exercise, Weightloss Deals
---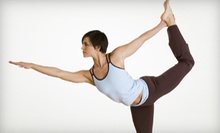 A class for all levels uses a sequence of poses and meditation to engage connective tissues and cultivate balance, flexibility, and strength
Use Friday 8:00am - 10:00am
---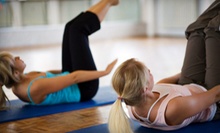 Use Thursday 11:00am - 5:30pm
---
Recommended Gym, Exercise, Weightloss by Groupon Customers
---
Team Move's instructors specialize in private and group training sessions. The collective—which takes its name from the motto "motivating others via exercise"—offers group fitness classes such as yoga and its signature Move camp. Routines are supplemented by equipment, such as resistance bands and weighted balls, for best results. All classes are held outside on the beach; Wednesday classes can stay for sunset, while Saturday classes are invited early for sunrise. Customers are also encouraged to gather groups and create their own class schedules and workout routines.
410 Evernia St. #109
West Palm Beach
Florida
US
561-290-0511
Move Fitness founder and native Floridian Amy Walker was a born dance fitness guru, lacing up her first pair of dancing shoes at age 6 and earning her first fitness certification shortly after finishing high school in 1993. In 2010, Amy finally realized her dreams of fusing her two passions together and owning her own studio. Today, Amy and her team continue to guide students through classes that range from indoor cycling bouts to aerobic dance classes, keeping sessions small to ensure each practitioner uses proper form and well-oiled armor plating while exercising. During fusion classes, they address multiple aspects of fitness in a single session. They also treat guests to well-maintained equipment, complimentary towels, and water service.
410 Evernia Street
West Palm Beach
Florida
561-290-0511
Individuals or full teams of friends play volleyball, softball & other sports in leagues of likeminded athletes, then retire to happy hours
1220 10th St
North Palm Beach
Florida
US
The staff at Metabolic Weight Loss Solutions takes to heart the old saying that people come in all different shapes in sizes. Rather than put each patron on the same weight-loss plan, they tailor their methods—detoxes and cleanses, in-office weight-loss programs, at-home weight-loss programs—to each person's specific needs. The staff includes a dietician, exercise physiologist, medical assistant, and behavioral coach who all work together to coach clients toward success.
6230 W Indiantown Rd., Suite 9
Jupiter
Florida
561-277-9557
Hard Exercise Works helps clients improve their physical health with intense total-body workout regimens for all fitness levels and sage nutrition advice within a supportive fitness community. Dedicated coaches push attendees to reach their goals in classes that accommodate up to 50 students, ensuring pupils' safety by demonstrating proper technique. Each workout consists of an ever-changing sequence of intense exercises, intended to improve strength and stamina over a five-week period. In addition to a vigorous fitness regimen, the gym's nutrition philosophy promotes well-being outside of class sessions by either prescribing a five-week diet for students or teaching them how to photosynthesize their own food.
10358 Riverside Dr., Suite 140
Palm Beach Gardens
Florida
561-627-7277
The doctors at Diet & Weight Loss Centers tap into their nutrition and weight-loss training to build customized weight-loss programs for each patient centered on low-calorie, carefully monitored diets. After analyzing each patient's body composition metabolism, and spirit animal, the physicians craft a plan that will help whittle away pounds, bearing in mind contributing factors to weight-loss obstacles such as diabetes or thyroid problems. They'll also meet with clients on a regular basis to discuss how to break habits that might be interfering with weight-loss goals or how to tactfully break up with pairs of pants that are now too large.
2513 Burns Rd.
Palm Beach Gardens
Florida
561-235-0100
---