Palm Beach Gardens, FL Indoor Activities
---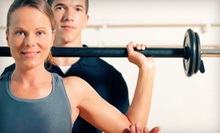 Decorated bodybuilder John King and his staff of experienced trainers help clients reach their individual fitness goals with custom workouts
---
Recommended Indoor Activities by Groupon Customers
---
Jupiter Farms Yoga's instructors outline the many benefits of the age-old art of yoga, which they teach inside an airy, wood-floored studio. Students who follow them through classes can enjoy mood regulation, weight management, increased flexibility, and straightened posture. Yogis of any skill level can confer with an instructor at the start of class to make sure the session, which can come in more advanced Vinyasa, Hatha, and power styles, is a good fit. The center also schedules classes for beginners to ease newbies into harder poses without needing to swallow motor oil to lube their joints. Jupiter Farms' spa branch requires less athleticism from clients during massages that help them to reach a similar state of relaxation. Therapists specialize in such styles as Swedish, deep tissue, hot stone, and body lifting, during which a therapist slathers the skin with a firming cream that plumps dimples so effectively that it was used on Shirley Temple during her adult career as an undercover cop.
10064 West Indiantown Road
Jupiter
Florida
US
561-745-2662
Opened in January of 1959 by Hazel Verdes, Verdes Tropicana Bowl features 32 lanes, a snack bar, and a lounge with billiard tables and a fully stocked bar. The alley offers open bowling until midnight or later, hosts parties, and oversees bowling leagues and tournaments. In addition to offering shoe and equipment rental, the pro shop supplies bowlers with gear of their own, so they can personalize bowling balls with tick marks indicating the number of pins they have knocked asunder.
2500 N Florida Mango Rd.
West Palm Beach
Florida
US
561-683-5424
Cardboard cutouts clad with cartoon superheroes and banners featuring beloved Hollywood starlets bedeck the walls of the Movies at Wellington lobby, reminding patrons why film viewing has become such a time-tested American pastime. Buttered popcorn kernels glint through front counters like diamonds in a jewelry-store case, luring those who want a snack while watching the newest releases in digital projection or innovative RealD 3D display. Guests can also question ticket takers about birthday-party packages for 25 guests, which offer unlimited popcorn, soda refills, and a tour of the attic, in which the projectionist stores his hand puppets.
13881 Wellington Trace
Wellington
Florida
561-792-7334
Aerial Bodies eschews the crowds, loud music, and sweaty equipment often found in larger gyms for an intimate, boutique studio that conjures a quiet, relaxed setting in which to exercise the mind and body. In the Pilates room, owner Lydie Robsham guides students through core-bolstering moves on Reformer machines that utilize the body weight of the exerciser to sculpt lean muscle, increase flexibility, and improve posture. In addition to a plethora of athletic accomplishments and teaching certifications, Lydie also boasts a license in massage therapy and can work out her clients' kinks with kneading techniques from a dozen different modalities. After a yoga or Pilates class, guests can unwind with coffee or tea.
605 Belvedere Rd, Suite 8
West Palm Beach
Florida
561-856-0131
---