Schools & Tutors in Palm Beach Gardens
---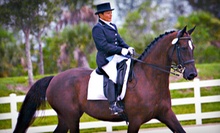 Private dressage lessons taught by a USDF Qualified rider
---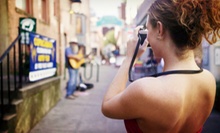 Up to 10 students learn to operate aperture, shutter speed & ISO on DSLR camera at 2.5-hour outdoor class taught by expert shutterbug
---
Recommended Schools & Tutors by Groupon Customers
---
Rick Eggert can take the heat. During his daily labors in front of a 2,400-degree furnace, he gathers wads of molten glass on a metal rod in order to stretch, cut, and bend the glowing silica into eye-catching forms. Eggert received his BFA in glass sculpture over a decade ago, and has since traveled from his native New York to Tahiti, New Zealand, Thailand, and finally Florida, where he founded Lotus Design Group. There, he oversees a small production line where he practices both centuries-old Venetian techniques and more modern approaches to the form to create pieces both for commercial sale and to fulfill his own artistic inspiration. Additionally, Eggert leads a variety of classes that explore these techniques through a hands-on approach, where students learn to craft their own bowls, vases, and stone-proof glass houses.
4745 De Soto Ave.
Stuart
Florida
772-214-2103
Matthew Altbuch started learning the art of circus performance at the tender age of eight, quickly mastering the unicycle, juggling, and the trapeze. Throughout school, he performed in talent shows, ultimately going on to spend time with the Florida State Flying High Circus after college. Eventually, he realized his passion lay in sharing the circus arts with others, so he founded Aerial Trapeze Academy to carry out his mission of training performers around the world. He now lives his dream, joined by three other teachers as he holds trapeze classes for the next generation of gravity-defiers.
13087 40th St. N
Royal Palm Beach
Florida
828-989-0229
Under the leadership of Andy Raffa, the expert staff at Players Edge Academy teach the American pastime in a 20,000-square-foot indoor baseball mecca that shields players from heat, rain, and UFO abductions. Lessons and camps dispense expert advice from an all-star team of instructors, including former Yankees pitcher Jay Tessmer, who was with the team for the 1999 and 2000 World Series victories.
Taking to the indoor infield, students learn to hit, field, and pitch during lessons, clinics, and camps. Six batting cages sling fastballs, curveballs, and sliders to hitters, and in four of the cages, ProBatter PX2 pitching machines project a digital, life-size image of a pitcher onto a screen. The DVD-quality pitcher, synchronized with the incoming pitch, can be adjusted to the batter's height, skill level, and speed.
11411-C W Palmmetto Park Rd.
Boca Raton
Florida
561-672-7474
Keep your eye on the ball. Rotate your hips. Swing through the ball. These are just some of the many instructions that run through batters' heads as they stand over home plate. ProSource Baseball Training Center helps players work through their thoughts and calibrate their swings before game day with batting cages that pitch baseballs or softballs. An available ProBatter Professional PX2 baseball simulator features an 8'x10' screen, where a virtual pitcher throws one of nine pitches at up to 100 miles per hour. Players may also enroll in one of many training programs focused on other aspects of the sport, ranging from running biomechanics to throwing footwork.
Along with multiple batting cages and training programs, ProSource Baseball Training Center's 15,000-square-foot indoor facility houses a turf training field and four multi-use tunnels—from 35–70 feet long—that players can use to practice pitching, fielding, and calling for the help of angels in the outfield. The center's lobby entertains waiting and non-participating patrons with WiFi Internet and DirecTV programming.
7624 Northwest 6th Avenue
Boca Raton
Florida
561-443-5558
"Every garden begins with a seed, and every seed needs a dedicated gardener for optimal growth." This concept poetically sums up the idea behind Playing the Game of Life, a community center that brims with a bevy of preschool, after-school, and adult programs led by motivating teachers. Under their tutelage, younger students combat obstacles such as stress, bullying, and obesity while flourishing in an arts-based education. Through classes such as jewelry making, nutritional education, speech therapy, and ballet, participants learn to build social skills, increase their confidence, and communicate feelings more effectively than stealing someone else's journal and passing it off as their own. Playing the Game of Life also hosts cognitive-therapy classes to aid older pupils suffering from memory loss.
7144 Byron Ave.
Miami Beach
Florida
305-864-5237
At Boca Beauty Academy, clients aren't just getting pampered; they're helping future beauty professionals hone their skills. At the waterfront campus, students take in thorough classroom instruction, then use what they've learned during hands-on hairstyling, massage, skincare, and nail treatments. Rather than absorbing knowledge in stuffy lecture halls or through uncomfortable naps on textbooks, the licensed vocational school lets students loose in a real salon replete with styling chairs, nail stations, and a spa treatment room, where their clients bask in low-cost indulgence with products from Matrix, OPI, Pevonia, and Biotone.
7820 Glades Rd,
Boca Raton
Florida
US
561-487-1191
---