Theme & Amusement Parks in Palm Beach Gardens
---
Theme & Amusement Park Deals
---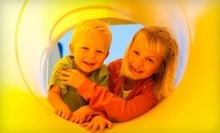 Kids 12 and younger bounce, slide, and jump to their hearts' content at a safe, clean fun center
Use Monday 10:00am - 6:00pm
---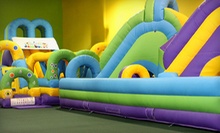 A supervised facility offers an inflatable playground with obstacles and slides for kids 12 and younger; parents get free admission and WiFi
Use Thursday 10:00am - 7:00pm
---
Recommended Theme & Amusement Parks by Groupon Customers
---
Xtreme Indoor Karting's 90,000-square-foot facility buzzes with the energy of Bowman Arrow karts as they whiz between the checkered flags that line the railing of the indoor go-kart track. All sporting Honda engines, three kart models take to the half-mile asphalt stage where child and adult racers show off their skills, reaching speeds of up to 45 miles per hour. The racing theme pervades the facility, including the 18 holes of the indoor miniature golf course, which are peppered with half tires and watered with tears of joy from past Indy 500 winners. More than 100 different interactive games—including racing simulators—flicker inside the arcade, and rows of billiards tables line the black-and-white checkered floors of the Finish Line Sports Bar. Charged with fueling all of these activities, the kitchen staff at the Fast Track Café whip together burgers, wraps, and pizzas. For kid's-only entertainment, the staff supervise a day camp throughout the summer months, when all of the country's teachers traditionally lose their keys to the school.
5300 N Powerline Rd.
Fort Lauderdale
Florida
954-491-6265
Zombies created by an old factory's chemical spill roam through the darkness, carnies banished for animal abuse and torture scream in the distance, and a murderous Santa greets visitors with a wicked grin and a bloody ax. These are just snapshots of the horrors awaiting visitors to Fright Nights at the South Florida Fairgrounds. Hair-raising creatures and the souls of murder victims lurk throughout five haunted mazes. But those who wander into these haunts aren't always helpless. At Kill Shot, victims running through an old factory must find an ammo closet and arm themselves with rifles to shoot free of zombie hordes. The Creature, on the other hand, leaves people little time before it swallows them whole.
Screams echoing out of the Carnival of Creeps' tattered red-and-white-striped tents pierce the air of Santa's Workshop and join shrieks coming from the midway itself, where 13 rides, such as the High Flyer and Zero Gravity, whip passengers through the air. Food stalls nestle amid the attractions, tempting guests with hot dogs, tacos, funnel cakes, and tufts of cotton candy, which patrons can use as hair for the decoy body they place in their bed later that night.
9067 Southern Blvd.
West Palm Beach
Florida
Lion Country Safari is a zoo with no cages. Instead, more than 900 animals, including the largest zebra herd outside of Africa, roam its 320 acres freely. During drive-through safaris, cars tour seven sections of the preserve—which represent different areas such as western Zimbabwe and the Serengeti—to see llamas, asiatic water buffalo, chimpanzees, and white rhinoceros. Lions have a section all to themselves so that they don't prey on other animals or disturb them with giggles from the pride's late-night slumber parties.
In addition to the four-mile drive, Lion Country Safari's Safari World allows guests to explore rides and attractions as they visit with animals on foot. They can feed giraffes, practice animal-massage techniques at the petting zoo, or hop on the carousel next to Lake Shanalee's paddleboat rides. After kids splash through the interactive Safari Splash waterpark, they can hop onto the ferris wheel or ask exotic birds for advice on how to fly.
2003 Lion Country Safari Rd.
Loxahatchee
Florida
Bounce U envelops kids in a colorful indoor playground populated with inflatable slides, tunnels, and jump houses. Kids can bounce and boomerang about the clean and monitored environment, which is also climate controlled to fend off the summer heat and a fleet of winter snowmen. Parents may jump along with tots during open-bounce times, as well as reserve bounce rooms for private parties of up to 25 people.
582 US Highway 1 North
Jupiter
Florida
561-744-5867
Sock-footed children scamper around 7,000 square feet of indoor space that, like most office buildings, has specified zones for different age groups ranging from infants through preschoolers. In the back area, older kids strengthen eye-hand coordination with video games such as Madden NFL, while bounce houses help youngsters expend their boundless energy. In the playset area, kids can play house in a pretend kitchen, play train engineer on kid-sized railroads, or play Godzilla by sticking their hands in dollhouse windows. Infants and toddlers wander around a simpler play area near the parents' lounge, where guardians can keep one eye on their kids and the other on a TV or computer screen. At the end of the day, all surfaces are purified by a professional cleaning service with hospital-grade disinfectant.
12399 SW 53rd St. , Suite 103
Cooper City
Florida
The only exit from Leapin' Lizards' treehouse is down a slide, but those leaving fall only to a cushioned pile of stuffed jungle animals. Across the facility's indoor playgrounds, kids bounce on inflatable obstacles and test Newton's laws of motion on a tire swing. Other entertainment takes place in the music room, where they don costumes and belt out melodies or play musical instruments. A separate playroom for toddlers and infants displays walls hand-painted by a local artist to resemble a peaceful aquarium or terrifying dining room. Nearby, parents lounge at the café with a cup of coffee and access to free WiFi. They can also participate with their kids in the center's music and movement classes.
416 Clematis St.
West Palm Beach
Florida
561-832-8140
---