Professional Services in Palm City
---
Professional Service Deals
---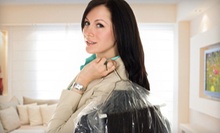 Accredited cleaners have worked for Breakers hotel and resort as well as Donald Trump's Mar-A-Lago resort
Use Today 7:00am - 9:00am
---
Recommended Professional Services by Groupon Customers
---
The frock fixers at Aloha Dry Cleaners, established in 1964, cleanse garments onsite using environmentally friendly dry-cleaning processes. They also perfect alterations for all garments ranging from draperies and upholstery to dresses and suits. The 13 trained staff members help to preserve wedding gowns and keep everyday wear stain-free. As a courtesy to their customers and community, they clean any American flag or stuffed animal for free, so long as teddy bears are registered to vote.
401 W Atlantic Ave., Suite R10
Delray Beach
Florida
561-276-9264
Save Million Trees Organization works to reduce waste and protect the environment by helping Americans stop junk mail, and by promoting recycling programs in elementary schools and preschools. Along with donating small, desk-side recycling bins—color-coded to make it easier for young students to recycle—the organization hosts recycling workshops at its partner schools.
P.O. Box 531133
Lake Park
Florida
The fastidious crew at Tropical Cleaners, a commercial endeavor dating back to 1995, offers same-day service for most garments, cleaning everything from men's slacks to women's dresses with thorough speed. Particular care is taken with dress shirts, which are prespotted, checked for any damaged buttons, and treated with special additives to remove body oils. The cleaners also keep home furnishings spiffy by performing rug and comforter cleaning. Alternatively, by cleaning leather, staffers ensure that audiences don't get distracted by mustardy dots during Fonzie impressions. The staff also helps nuptial memories last longer than nuptial cake by cleaning, preserving, and boxing wedding dresses, which Tropical Cleaners double boxes to ensure that moisture cannot damage the precious fabric. Unlike those who sell dirt to pro baseball teams, Tropical Cleaners is a member of the National Cleaners Association.
178 N County Rd.
Palm Beach
Florida
561-833-9673
Save the Chimps was originally founded by Carole Noon in response to an announcement from the US Air Force that it would no longer be conducting research on chimpanzees. The chimps were subsequently donated to a biomedical laboratory. Save the Chimps sued the Air Force on behalf of the chimps, and after a year of legal battles, gained custody of 21 chimps descended from forebears who had participated in the NASA space research program. Save the Chimps then purchased a 150-acre sanctuary where it built a 3-acre island with hills, shelter, and climbing structures for the chimps.
Today, Save the Chimps maintains a permanent sanctuary for the care of approximately 300 chimpanzees rescued from research laboratories, the entertainment industry, and households where they were kept as pets. The chimps live on a series of 12 interconnecting islands where they can roam freely. Caregivers come in to feed them, engage them in play without physical contact, and clean their living spaces. Because it does not endorse captive breeding, Save the Chimps performs vasectomies and employs female birth control with its animals. It also limits access to the chimps, only allowing visits from the board of directors, people who are working with the chimps, and specially invited members of the public.
16891 Carole Noon Ln.
Fort Pierce
Florida
Growing up, Sean Michael Casey nourished his passion for photography by snapping shots for his high school's yearbook and weekly newsletter. A hobbyist for years, Sean Michael was finally able to showcase his skills by taking wedding photos for a friend of a friend. These nuptial photos served as his calling card, and generated a lot of interest from potential clients. Seeing an opportunity to pursue his lifelong passion as a career, Sean Michael decided to up his credentials with a bachelor's degree in photography from Florida Atlantic University.
For more than 10 years, Sean Michael has artistically captured memories, armed with his keen eye and an arsenal of Nikon bodies and lenses. He's worked with a wide assortment of clients, covering shoots ranging from wholesome family portraits to destination weddings in Costa Rica. Though Sean Michael is able to carefully plan out portraits, he also enjoys just letting things happen and capturing candid shots of his subjects' laughter, smiles, and maniacal laughter sans smile.
172 SE Kitching Cir.
Stuart
Florida
US
772-919-5428
With 10,000 square feet of space to operate, the Ambassador Dry Cleaning & Laundry team is equipped to handle batches of clothing as small as a single shirt, or as large as a bulk of wait-staff uniforms, with timeliness and ease. The laundry experts clean everyday clothing, suits, linens, and drapes with a turnaround of three days to one week. Additionally, they alter clothing and preserve sensitive relics such as wedding dresses and heirloom prenuptial agreements. Clients can drop off their clothes at one of three locations Monday–Friday, including the new one in Port Salerno.
11708 SE Dixie Hwy.
Hobe Sound
Florida
772-245-8594
---