Restaurants in Palm City
---
Recommended Restaurants by Groupon Customers
---
Chef Fritz Cassel constantly imagines up creative dishes to complement his eclectic, ever-changing menus. Servers transport his small plates and inventive gastro-pub dishes—such as mussels, gourmet sandwiches, and cheesy grits—to tables already supplied with complimentary baskets of housemade potato chips. Beneath a lofted ceiling lit by artistic pendant lamps and chandeliers, bartenders pour craft beers and mixed drinks as well as concoct potent adult milkshakes that pair perfectly with a copy of the latest _ Hardy Men_ mystery novel.
125 Datura St.
West Palm Beach
Florida
561-833-5300
"It took them five years before they would let me handle the fish," says sushi chef Jo Clark about his extensive training. He began his culinary journey at 13 years old and spent a decade in an apprenticeship at the Japanese restaurant Yama. There, he honed an ability to prep rice and sauces, wield a knife, and select sushi-grade fish while shadowing chefs from different regions of Japan. In his spare time, Jo enjoys paddle-surfing and once skillfully maneuvered alongside a lively school of sharks.
At the restaurant, however, he deftly manages cuts of salmon, flounder, hamachi yellowtail, and shellfish to craft more than 40 inventive sushi rolls. He toys with the traditions of sushi, wrapping some rolls with thin slices of European cucumber and creating a sashimi pizza on a tortilla crust. The aromas of ginger, eggplant, and garlic wander from pots of Thai-style dishes in the kitchen and out into dining rooms. Though each location has distinct decor, diners mingle among elements such as exposed-brick bars, hardwood floors, and hanging Japanese paper lanterns in the exciting bright colors of a furious traffic cop viewed through a kaleidoscope.
640 E Ocean Ave., Suite 4
Boynton Beach
Florida
561-737-0606
Orchids are, in general, delicate and colorful flowers, concepts appreciated by Japanese and Thai chefs. Orchids of Siam brings the two schools of cuisine together under the flower's banner, serving colorful curries, stir-fried medleys with noodles, and, of course, sushi. The chefs draw flavors from all over the map, though, in their quest to create memorable dishes, infusing shrimp tempura sushi with the flavors of roasted garlic or enriching pad thai with eight ounces of fresh lobster.
3027 Forest Hill Blvd., Suite A1
West Palm Beach
Florida
561-969-2444
Cooks stoke brick ovens to bake specialty pizzas crowned with roasted red peppers, prosciutto, and gorgonzola cheese in the kitchen at Carmela's Brick Oven Pizza and Wine Bar. Their darting hands scatter cheese, ladle on sauce, and gently rest sheets of pasta as they craft lasagna. The murmur of conversation drifts from the high-topped tables in the dining room, where glasses clink together making the sound of a knight trying to get out of a Volkswagen. Behind a bar hewn from gleaming wood, bartenders reach up to shelves stacked high with bottles of wine, pairing vinos from the extensive list with lobster ravioli or signature white pizzas topped with mozzarella, ricotta, and garlic.
2311 SE Ocean Blvd.
Stuart
Florida
772-286-0877
New England–style fresh seafood items, such as carpetbagger oysters and lobster rolls, accompany pork rib chops and brisket tacos to tables at Longboards Restaurant and Bar. Inside, hanging longboards and flat-screen televisions unite in their skinniness to forge a laid-back yet entertaining setting, similar to a monk's cabin placed in the middle of a red-light district. Behind the longboard-shaped bar, a libation wizard concocts house-made juice-infused cocktails and doles out craft brews to supplement a list of 16 bottled beers such as Shock Top and Kalik Gold. Porters, pilsners, IPAs, and ciders further solidify the eatery's credibility as a haven for hops.
Since no surfing-styled venue would be complete without an alfresco component, Longboards Restaurant and Bar also maintains an outdoor patio replete with a mini wooden walkway and picnic tables nestled atop a bed of sand, where a gaggle of plastic flamingos hones yoga skills. Trees, lights strung overhead, and colorful longboard murals ensconce patio denizens in an atmosphere utterly bereft of dullness.
519 Clematis St.
West Palm Beach
Florida
561-833-4660
Brick walls, wooden shutters, and a color scheme as warm and red as the homemade tomato sauce—Buongiorno Pizza & Pasta's decor really sets the stage for a homey Italian meal. The home-style approach extends well into the kitchen, where chefs craft gourmet pizzas from scratch in both New York and Sicilian styles. They toss and top them to order, strewing them with a medley of guests' favorite toppings or whipping up one of their inventive signature pies, such as a pizza topped with a penne à la vodka sauce. Wines culled from Italy and California pair well with Mediterranean-inspired entrees such as chicken parmigiana heroes and veal marsala, while also facilitating conversation between a couple on their first date or a poet and his muse.
4379 Northlake Blvd.
Palm Beach Gardens
Florida
561-799-2686
---
---
Restaurant Deals - Recently Expired
---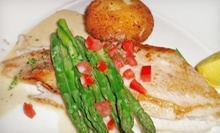 Sesame-seared tuna preempts entrees of imported Dover sole at a Zagat-rated eatery
---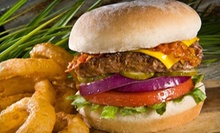 30+ different flavors enhance a menu of American and tropical food, which includes boneless wings, quesadillas, salads, and steak burgers
---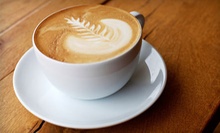 Roasters identify quality beans through rigorous tests, then fire each batch to order to ensure freshness and flavor
---
---