Golf in Palm Coast
---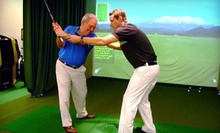 Swing- and putting-analysis sessions use JC Video and Tomi technologies to capture techniques so instructors can diagnose poor tendencies
---
Recommended Golf by Groupon Customers
---
The golfing gurus at Edwin Watts Golf Academy diagnose and correct their students' poor swing and putting habits in an effort to help them improve their shots and lower their scores. In one-on-one swing-analysis sessions, students learn a repeatable swing that eliminates tendencies they may have to slice, hook, push, or pull the ball. A special laser attaches to the end of the player's club and tracks the swing path while JC Video swing-analysis software records the session from two separate angles, lest analysis be thrown off by only looking at the golfer's good side. Putting analysis employs Tomi technology to measure eight separate parameters of the putting stroke, from clubhead orientation at address to swing path and tempo. After swing and putting lessons, students may access the recordings on a password-protected website, so they can forward videos to friends or sports-documentary filmmakers.
7111 Bonneval Rd.
Jacksonville
Florida
904-425-4653
At the tee box on Cimarrone Golf Club's 12th hole, golfers face a dilemma: play a drive safely out to the right—where, at worst, the ball may stray into the rough—or attempt an aggressive shot over the water on the hole's left side, cutting off much of the dogleg and setting up a closer approach. With multiple bending fairways, deep bunkers, and a water hazard or marsh feature on every hole, the 18-hole, 6,891-yard course presents high-risk, high-reward scenarios at nearly every turn, delighting golfers who like to live dangerously and favoring those whose sand wedge moonlights as an actuary.
Before rounds, golfers can warm up swings at the club's driving range, a much-needed confidence booster before taking to the water-laden course or betting that they can outdrive the staff's resident T-shirt cannon.
Course at a Glance:
18-hole, par 72 course
Length of 6,891 yards from the farthest tees
Course rating of 73.5 from the farthest tees
Slope rating of 137 from the farthest tees
Five tee options
Scorecard
2800 Cimarrone Blvd.
Jacksonville
Florida
Renowned golf-course architect Bobby Weed aims to fill his courses with the kind of rich details typically produced only by Mother Nature herself. His 2008 overhaul of The Deltona Club completely transformed the course: today, blowout-style native-sand bunkers bear roughly scalloped edges that call to mind a raw desert landscape, and the elevation rises in craggy steps as the course progresses, giving players a sense of conquering the land itself. The course's resulting beauty, sense of challenge, and secret bonus level snagged the club a spot on Golfweek's list of best Florida courses in 2012.
1120 Elkcam Blvd.
Deltona
Florida
386-789-4911
Nestled in the scenic shadows of the Smoky Mountains, Bent Creek Golf Course's 18-hole layout stretches across 6,182 yards of fairways that rise and fall among rolling foothills and pristine valleys. Golf legend and course designer Gary Player made deft use of a babbling mountain stream by running it through the course and seamlessly uniting two distinct nines: a front nine that sprawls across the valley floor and a back nine that roams the hilly mountainside like a forlorn sasquatch. The overall effect is a course that does justice to both the sheer scope of the rising peaks with bottom-up views and the panoramic splendor of Great Smoky Mountains National Park when seen from the cresting hilltops of the back-nine. The inventive layout is perhaps best characterized by the 11th hole, a 362-yard par 4 where a 90-degree dogleg-left plays into a green completely surrounded by the creek's rippling waters. A blend of bent and bermuda grasses grows resiliently for golfers striving to play all year-round, and fragrant wildflowers blossom at every tee to warm the hearts of world-weary nine-irons.
Bent Creek bolsters the pin-hunting prowess of its golfers with a staff of PGA-certified instructors that conducts lessons and presides over the domain of their full-service pro shop. A practice putting green helps players trim their score by reading dicey slopes, and the Creek Side Grill hosts postround revelry and community gatherings to decry the historical hardships of the mashie niblick.:m]]
Course at a Glance:
Designed by three-time Masters and British Open Champion Gary Player
Bermuda-and-bent-grass combination
18-hole, par 72 course
Length of 6,182 yards from the farthest tees
Three tee options
Link to scorecard
10440 Tournament Ln.
Jacksonville
Florida
904-779-0800
The needles of pine trees brush together softly in the forests that line St. Johns Golf & Country Club, mimicking the bated breath of golfers as they wait for a ball to fall on the bunker-speckled 18th hole. The undulating green caps the 7,250-yard Clyde Johnston-designed course, where golfers unleash their swings from one of five tee distances. The course has served as host of the PGA Tour Q-School for five consecutive years, and a practice facility with a 10,000-square-foot putting green and double-sided driving range allows golfers to work on their grip or stop yelling a childhood secret every time they swing the club. Chatter and the sound of clicking margarita glasses drift down to the course from a restaurant with views of the 9th and 18th holes, and a banquet hall hosts wedding receptions and other gatherings.
Course at a Glance:
18-hole course
Total length of 7,250 yards
Course rating of 74.7 from the back tees
Course slope of 132 from the back tees
Five tee boxes at each hole
205 St. Johns Golf Dr.
St. Augustine
Florida
904-940-3200
My Jax Golf operates on the philosophy that there are many ways to swing a club. Each lesson and teaching approach strive to help students develop a consistent, dependable swing true to their form and athletic abilities. The junior academy focuses on educating students in the fundamentals of golf while developing skills in a safe and fun environment. Not to be confused with Purchasing Golf Accessories, adult lessons adhere to the PGA process of acquiring a perfect swing—correct Posture, club Gripping, and body Alignment—while emphasizing the putting, chipping, and wedging maneuvers of the short game.
The learning center also offers specialized lessons with TPI-certified professional Tom Long, who employs the use of video analysis while conducting swing-sequencing lessons. This technology displays an unwavering digital perspective on the student's swing while churning up a custom report that analyzes fitness levels, posture, and movement. An accompanying fitness regimen sculpts mortal physiques into golf-ball-swatting machines and golf-cart-racing iron men.:m]]
1285 Loch Tanna Loop
Jacksonville
Florida
904-343-6213
---