Professional Services in Palm Desert
---
Professional Service Deals
---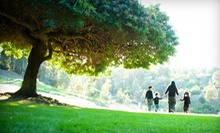 Use Today 10:00am - 6:00pm
---
Recommended Professional Services by Groupon Customers
---
Photo shoots can cost hundreds of dollars and millions of dollars. When you factor in the cost of prints and the valuable time spent poring over complicated print packages, the loss of money and sanity adds up. Today's Groupon delivers you from such woes with an unbeatable package from Life by Kate. For just $50, you get a one-hour photo shoot and a DVD of more than 60 high-quality digital images for you to keep and make prints of as you please. Schedule that long overdue family portrait or get your modeling portfolio off the ground with today's deal. Mark your high-school senior photo session off the to-do list, get your engagement photos without the inflated cost, or capture the memories of your dog learning to read without borrowing from the dog's college fund.
136 Via Morella
Encinitas
California
US
The laundry gurus at relaxx Dry Cleaning remove stains and freshen fabrics with eco-friendly Green Earth Cleaning. Opt for free pickup and delivery, and gallant raiment rescuers will swoop in to retrieve soiled duds such as business shirts ($2.10), blouses ($4.45), coats ($7.45), and gravy-stained suits of armor, or whisk away household linens such as duvet covers ($19.95) and comforters ($19.95+) for a restorative trip to the laundry spa. Later, garments reappear on clients' doorsteps on recyclable hangers, looking bright, smelling fresh, and humming Ethel Merman show tunes. In addition to laundry services, relaxx Dry Cleaning cossets clothes with full tailoring, shoe-repair, and leather-cleaning services.
2240 San Diego Ave.
San Diego
California
US
619-233-0980
Backed by decades of squeaky-clean tradition, both locations boast services for a range of fabrics and garments. Drop off a shirt ($1.95+), a slick pair of pants ($4.95+), a manly matching tie ($3.95+), or a womanly dress aching for a breezy spin on the dry-cleaning carousel ($9.95+). To view a complete pricing breakdown, click here.
2221 Las Palmas Dr. , Suite F
Carlsbad
California
US
Time can warp our memories, just as proximity to an active volcano can warp treasured collections of action figures. That's where DVD Your Memories comes in to permanently preserve photos, videos, film reels, or cassettes in a variety of high-quality digital formats. When customers step into any California or Colorado DVD Your Memories location, a lab coat–clad technician gently walks them through the preservation options, which include CDs, DVDs, Blu-ray discs, or hard drives. As per company policy, that very same technician will return the original source material, along with a digital replica of the customer's choice. DVD Your Memories can also take media to the next level with additional services, which include basic video editing, photo restoration, chapter creation, and superimposing your favorite president into your birthday party.
8305 Vickers St., Suite 206
San Diego
California
Oh My Dog!'s experienced photographers know just how to coax the stateliest pose from even the most mischievous of mutts. They'll capture the personality of your pet in just a few clicks. Sessions last up to an hour, providing plenty of time for water and snuggle breaks. Post-session, there will be a viewing session in which you will decide which picture is the most adorable. In addition to the included print, you can buy additional prints or upgrade to larger sizes. Check out some recent snaps on the Oh My Dog! blog. Bring in your four-legged friend for a shoot that will give him or her a chance to receive all the attention—in other words: business as usual.
816 S Coast Hwy 101
Encinitas
California
Green Acres Nursery maintains more than 600 varieties of plants and trees on more than 15 acres, most of which are tailored to southwestern landscapes. White, ornamental star jasmine bushes ($9.78 for 5 gal.) will withstand drought while inviting visiting noses to whiff their ambrosial scents, while vibrant, purple bougainvillea ($4.20 for 1 gal.) will florally fill gaps in any fence to keep opossums from trespassing. Since the ordinary backyard aquascape has deflated Mylar balloons for lily pads and aged pitas for skipping stones, make your pond superb by adding naturally luscious philodendrons ($49.40 for 15 gal.). Green Acres Nursery cultivates each greenling on-site in its nursery, caring for them from the time they're a tiny bud to their first day of kindergarten. Click here to see what plants are currently available.
2600 Ramona Dr.
Vista
California
---