Palm Harbor, FL Drs and Health Practioners
---
Drs & Health Practitioners Deals
---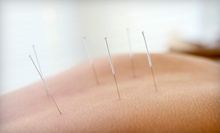 Consultation with an exam and electro-meridian test precedes personalized acupuncture treatments
---
Recommended Drs & Health Practitioners by Groupon Customers
---
Let your vertebrae breathe easy and experience the infectious sense of well-being that radiates from a relaxed and aligned spine. With today's Groupon, $40 gets you a full chiropractic wellness exam from CoreHealth, a $265 value. Your visit includes a full physical examination with digital range-of-motion tests (a $172 value), which are the chiropractor's way of finding out if you're computer animated, followed by a chiropractic adjustment (a $45 value); then enjoy a 15-minute hydrotherapy or trigger-point therapy session to further work out tension and kinks (a $30–$50 value).Follow @Groupon_Says on Twitter.
11010 N Dale Mabry Hwy #102
Tampa
Florida
US
From his three offices, board-certified dermatologist Dr. Christopher Ewanowski and his knowledgeable staff help restore epidermises with cosmetic, medical, and surgical skin treatments. With a stable of seven lasers, including the Candela GentleLase, Palomar StarLux IPL, and the 2,940-nanometer Whisper, Suncoast's trained technicians rid skin of unwanted hair, sun damage, broken blood vessels, and tattoos of broken blood vessels. For more invasive procedures, including eyelid-lifting blepharoplasty and Dr. Ewanowski's specialty, the cancer-ridding Mohs micrographic surgery, the doctor treats clients in the in-office surgical suite. Suncoast's resident aesthetician pampers with medical-grade spa services, using products from such skincare brands as SkinMedica, Avène, and glo.
4651 Van Dyke Rd.
Lutz
Florida
813-321-1786
High-fashion frames from Prada, Cartier, and Michael Kors line the walls at Absolutely Optical and Eye Trends. The 3,000 designer-quality frames in stock on any given day include an extensive selection crafted from long-lasting materials such as titanium, stainless steel, or virgin zyl plastic imbued with fade-proof color. Technicians wander through the shop, waiting to fit the frames with distortion-free sunglass lenses, the newest generation of antireflection lenses, or googly eyes so it seems like you are awake while guarding a boring art museum. For prescriptions, patrons can consult the onsite optometrist, Dr. Jay Weil, who not only tests vision but also bolsters eye health with procedures ranging from hydrating treatments for dryness to LASIK surgery.
2223 N West Shore Blvd., Suite 169-B
Tampa
Florida
The trio of board-certified eye surgeons at The Weinstock Laser Eye Center combines specialties in cataract surgery, LASIK, and corneal surgery to treat a full range of ocular ailments. Each of the doctors' prestigious training is evident in the extensive curriculum vitae, which includes post-graduate studies, residencies, and fellowships at such institutes as Johns Hopkins and The Eye Institute of West Florida. The team's eyesight-sharpening offerings include the LASIK procedure and corneal transplants, along with astigmatism correction that defuzzes views with toric-lens implants. Surgeons also utilize 3-D-guided microsurgical systems in the operating room for the precision removal of cataracts and particularly small monocles.
148 13th St. SW
Largo
Florida
727-518-2020
---