Palm River-Clair Mel, FL Beauty and Salons
---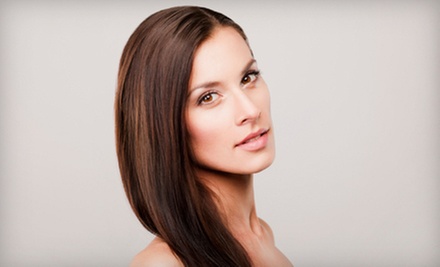 ---
Recommended Beauty by Groupon Customers
---
Stationed behind a quaint storefront, the friendly and experienced staff at Polish Nail and Day Spa beautifies finger shingles and their hand-homes with a variety of manicure services. Pamper calcium-rich clipper tips with the relaxing and anti-aging powers of a specialty manicure. The treatment begins with an organic chocolate-shea-butter scrub before upper extremities are lavished with a moisturizing lavender-lemon-grass mask. Hands and arms are luxuriously massaged and hugged with steamed towels that soothe, replenish, and cause bashful dermises to blush. Nails are then trimmed, shaped, and lacquered with the polish of your choice. This specialty treatment is served with a complimentary choice of an herbal tea, a revitalizing water infusion, or a glass of wine. Alternatively, the spa manicure treats mitts to exfoliation, cuticle care, nail-shaping, and polish, and the signature manicure trades out exfoliation for a coat of soothing lotion. All services are available with regular polish or free french polish upgrades, encouraging clients to wear miniature berets on their fingers during the winter.
609 S Himes Ave., Suite C
Tampa
Florida
US
When in the presence of an apparition, the hairs above the lip and between the brows will stand on end. Quell paranoia by eliminating these ghost detectors with today's deal. For $6, you get either an upper-lip or eyebrow wax from Salon Lavish, a $12 value. This moderately upscale salon in Grey Gables/Bon Air employs an army of skilled hands to carefully and professionally execute delicate waxing services (among others).
3401 Henderson Blvd.
Tampa
Florida
Mane master Scott "Scotty" Bentley is the owner and creative director of the forward-thinking strand shop. The visionary behind the B-Concept Artistic Team and creator of the annual Always Moving Forward hair show, Bentley's knowledge of head trends is more on-point than his beloved styling shears. Stylists at his namesake salon undergo an extensive education before taking on their own clients and working on the floor full time. Prices here vary according to stylist skill level, with women's cuts starting at $44 and going up to $65 for the highest level. Men's cuts begin at $37 and go up to $58. Bentley also offers a full menu of coloring services, from partial highlights ($72–$93 on short to medium hair) to full highlights for Rapunzel-length locks ($106–$127). Color changes start at $63 and color retouch at $49. Book any service and receive a complimentary deep therapy treatment ($12 value) and style-out.
3228 West Kennedy Blvd.
Tampa
Florida
Signature Spa is a full-service salon nestled on scenic Harbour Island. Top-of-the-line products, complimentary WiFi and beverages, and expert aestheticians give Signature an edge over other nail-niceifying establishments. The process includes the standard shaping, filing, polishing, and softening aesthetic process for all 30 of your nails. Like an everlasting birthday candle or sweet-toothed possum that the neighbor child once fed candy, nails always come back. Regular appointments to the salon tame wayward cuticles and transform overgrown talons into holdable vessels fit for princely palm kisses and kite sailing.
711 Harbour Post Drive
Tampa
Florida
Playing with ice is generally safer than playing with fire, though nothing melts away stress like a relaxing, therapeutic mask of both. Your skin will relish an intensive resurfacing mask to smoothen fine lines and force crow's-feet back to the telephone wire. Your friendly aesthetician will move from sculpting to soothing with a follow-up rejuvenating mask designed to pad the skin with a softly served layer of hydration, leaving your outer layers moist and your inner beauty tender.
8557 W Linebaugh Avenue
Tampa
Florida
Since 1986, Shear Art Salon & Spa has provided professional, talented stylists who carefully help achieve their clients' beautifying objectives. If you have an unwanted shade of hair on your head, Shear Art Salon will color it (starting at $49). If you don't have enough hair, Shear Art can give you extensions (prices determined per consultation). If you have too much hair, Shear Art can cut it in a way that makes you feel content (starting at $35 for women, $28 for men). If your hair already makes you feel content, Shear Art will give you a manicure (starting at $25) or pedicure (starting at $42) to make your fingers and toes content enough to match your highly contented hair. Sometimes, when the tides of stress rise, you need a firm pat on the back to sooth your pains, preferably from experienced hands. Shear Art spa services include therapeutic treatments for your body, such as seven distinctive massages (starting at $48), facials and peels (starting at $63), spray tanning (starting at $34), professional makeup application (starting at $40), and bridal packages (starting at $180 per person).
13110 North Dale Mabry Highway
Tampa
Florida
---