Education & Classes in Palm Springs
---
Education & Classes Deals
---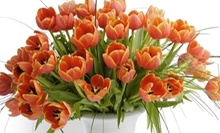 Colorful flowers, such as tangerine daisies, baby-blue hydrangeas, and pink and yellow roses, are arranged to your liking
Use Sunday 11:00am - 5:00pm
---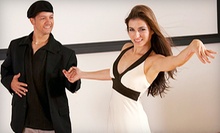 A Broadway vet spices classes with fiery sidesteps set to pulsing latin beats
Use Sunday 11:30am - 1:30pm
---
Recommended Education & Classes by Groupon Customers
---
Master craftsmen lead the production team at McMow Art Glass, bringing experienced craftsmanship to each new project that the 9,000-square-foot studio takes on. A group of 25 employees with art degrees from all over the country assist the veterans, and together they produce an array of fine glass items that range from classic stained windows to carvings, etchings, and mosaics for residences and commercial buildings. When not combining liquid bits of color into cold plates of art for clients, the staff teaches classes to students of all skill levels. Class topics start with the basic skills of fusion and slumping, and ultimately cover more advanced techniques such as how to repair a broken vase after using it as the ball in a harmless game of rugby.
701 N Dixie Hwy.
Lake Worth
Florida
561-585-9011 x100
Guitars, banjos, and mandolins hang like artwork from Penny Lane's red walls, immediately capturing the eye with names like Santa Cruz, Eastman, and Gold Star, and indicating the shop's specialty in repairing, selling, and teaching a range of stringed instruments. Within this musical gallery, a deft staff lends its melodic expertise to fixing broken instruments—from guitar strings to bass necks—and promises to tackle any repair no matter how big or small.
Budding musicians—equipped with their own instrument or one from the emporium's vast stock—an sit down with a distinguished instructor, who teaches players of all ages and experience levels how to play classical instruments such as the piano and violin, or more obscure music machines, including the banjo and ukulele. The shop also hosts monthly jam sessions, allowing students to gather on the store's plush red couch and learn first-hand the important factors of group play, from keeping on beat to smashing guitars an arm's length away from others.
3045 N Federal Hwy., Suite 60F
Fort Lauderdale
Florida
954-566-8141
The sound of little limbs cutting into clear water with increasing confidence fills Quality Swimming's facilities, where instructors keep class sizes small in order to give individual attention and encouragement to each student. All instructors bear Red Cross certifications in CPR, standard first aid, and general lifeguard skills, and some hold additional honors such as degrees in infant teaching from the United States Swim School or certifications in instruction for developmentally disabled students. The trainers also undergo extensive training in Quality Swimming's in-house program, which includes observational sessions, seminars, and shadowing with senior teachers. Despite this intensive program, they continue to hone their skills year-round with local and national workshops, regular in-house refresher training, and international Marco Polo tournaments.
Students of all experience levels slowly grow to revel in the dreamlike effortlessness of movement through water in outdoor pools at three locations. Instructors pass on basic water-safety skills and more advanced swimming techniques, always with the principal aim of teaching students to exist comfortably within water and respect the pool noodle's natural ecosystem.
8500 Jog Rd.
Boynton Beach
Florida
561-487-8276
StatusAir's Discovery Flight lessons grant spectacular views of South Florida as experienced instructors rated by Certified Flight Instructor-Instrument (CFII) school potential pilots and otherwise first-time flyers in the art of running a Cessna 172 plane. Along with comprehensive ground lessons, they'll also supervise the flights and end with a debriefing on the ground, gently reminding participants that capes are optional.
2600 S University Dr., Suite 315
Davie
Florida
954-990-3373
FLA Aquatics owes its growth from a 65-member operation to the home of multiple state, national, and international champions to 2000 Olympic coach Duffy Dillon, who—as noted in the Sun Sentinel—was recently inducted into the Broward County Sports Hall of Fame. Dillon has amassed an experienced staff of certified instructors who have passed a national level-two background screening, including head coaches with level-five certification from the American Swimming Coaches Association. The company's multiple locations offer programs for all ages, including very young children learning to safely enter the water, competitive high schoolers, and adults seeking to train for a triathlon or start a floatie-based fashion trend.
2503 Seacrest Blvd.
Delray Beach
Florida
954-468-5590
For more than 35 years, Palm Beach has seen flocks of Tradewinds Flight School's students soar into its clear skies and over its blue-green waters. The company's certified flying instructors unlock the secrets to navigating aviation landscapes. Nestled within the cockpits of single- and multiengine aircraft, they send prospective pilots soaring toward private licenses and professional careers farming cotton candy from the clouds. Using an FAA-approved curriculum, the pilots operate out of Fort Pierce International Airport, and can cater their lessons to a student's desired pace. The veteran pilots also charter flights, leaving passengers free to relax and give directions to lost birds.
2982 Curtis King Blvd.
Fort Pierce
Florida
772-460-7766
---