Palm Valley, FL Health and Fitness
---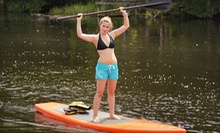 Paddleboards meander through scenic Big Pottsburg Creek, with instructors giving safety and paddling tips as kayakers take off on their own
---
Recommended Health & Fitness by Groupon Customers
---
The seasoned instructors at Timed Exercise propel clients through a one-month program of 30-minute workouts designed to tone muscle and roast calories. During timed workout sessions, exercisers enter a designated workout pod—a personal workout space—where a monitor displays the day's regimen, demonstrates proper exercise form, and flashes the latest prices for whey-protein futures. Each day of the month features a different workout to keep muscles guessing; clients will balance cardio and strength training and learn body and free-weight movement for resistance, making workouts easy to replicate at home. With a clock keeping track of the 30 minutes of exercise, clients dart through spare tires and sweat at their own personal pace; each exercise can be modified to accommodate any age or fitness level.
7643 Gate Pkwy., Suite 108
Jacksonville
Florida
904-551-6998
At First Coast Plastic Surgery, board-certified surgeon David N. Csikai and his team of specialists perform an array of aesthetic treatments. Among their specialties are surgeries such as browlifts and liposuction and non-invasive treatments that include Botox, Radiesse, and laser resurfacing.
3616 Cardinal Point Dr.
Jacksonville
Florida
904-730-5052
Although the various therapists at Beaches Rehabilitation Center focus on a variety of specific body parts—the brain, the muscular system, and even the mouth—they share a single commitment to restoring wellness. But unlike a vindictive swarm of bees, wellness cannot exist in a vacuum. That's why the center ensures that returning clients can see the same therapists for each visit, creating working relationships and informed treatment plans adjusted to suit ailment and age.
The team members work to counteract the effects of several types of injuries. Their sports and orthopedic medicine department addresses aches that impact athletic performance with hands-on techniques to improve joint and muscle function. Industrial rehab programs alleviate work-a-day pain and prevent future discomfort through ergonomic inspections, which promote better posture by adjusting chairs and cutting the neckties of workers caught in paper shredders. Founder and president Anya Johnson, a speech and language pathologist, helps her patients with conditions from stuttering to facial paralysis and the effects of neurological disorders. The center's myriad other services include therapies for arthritis, prosthetic training, and preoperative and postoperative rehabilitation.
700 3rd Street, Suite 202
Neptune Beach
Florida
904-249-5020 x11
Clarence L. Jorif Jr. didn't become a personal trainer just because of his passion for fitness; he wanted to make a difference in people's lives. Today, as the founder of San Marco Training Studio, Inc, he enjoys watching his clients transform physically and overcome difficult mental obstacles, such as can't-do attitudes or fear of a bodybuilder showing up in every mirror. Clarence encourages clients to have fun, regardless of the rigor of their regimens. He and his team of fitness experts offer both custom personal-training sessions and boot-camp classes—packed with pushups, squats, plyometrics, and suspension training—with the goal of having a long-term impact on each client's personal health.
1543 San Marco Blvd.
Jacksonville
Florida
904-773-5495
---