Restaurants in Palmer
---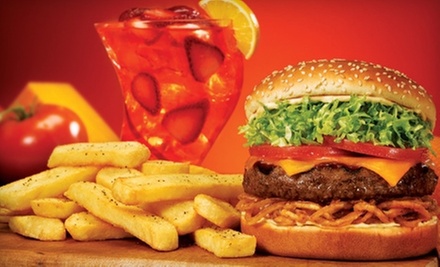 ---
Recommended Restaurants by Groupon Customers
---
At Horizons Restaurant & Bar, owner and classically trained chef Mark Melikian uses farm-fresh ingredients to craft his seasonal menu of upscale American and European-inspired cuisine. He loads Maine lobster onto a plate of baked mac and cheese and pairs oven-roasted Atlantic cod with scampi-style shrimp and roasted baby red potatoes, which should be eaten quickly before they start teething. Other dishes include fried Camembert cheese with honey Dijon mustard for dipping and a nine-ounce, pan-blackened filet mignon with melted gorgonzola and a marsala-accented demi glaze. Each of Chef Melikian's artistic plates complements the elegant ambiance of his dining room, where stained glass chandeliers and fresh flowers create a gentle, romantic environment.
2200 Boston Rd.
Wilbraham
Massachusetts
Though he's a graduate of the Culinary Institute of America whose resumé spans stints across the U.S., Brian Treitman has never lost his affinity for one food—roadside barbecue. At B.T.'s Smokehouse, Brian pays homage to multiple styles of Southern barbecue, starting with dry rubbing each cut of meat, from the pork shoulder and beef brisket to both types of ribs, in a blend of spices. He then places the slabs into a Southern Pride smoker, where the velvety plumes from local apple and hickory wood slowly cook the meat for up to 14 hours.
The cuts emerge with a crisp, blackened exterior surrounding a juicy, fall-apart-soft interior, and are plated with cornbread and sides such as collard greens and mac 'n' cheese. Brian's approach has earned him a loyal following, a spot on Worcester'sBestChef.com's 2011 People's Choice Awards, and at least two awkwardly long hugs from diners.
392 Main St.
Sturbridge
Massachusetts
Drive-in movies. Car hops. Rock 'n' roll. Though human nature compels us to view the past in varying shades of gold, the 1950s almost transcends nostalgia. For those who were there, the smallest of triggers can set off waves of fond memories: a ringing bell leads the mind's eye back to the polished counter of a soda fountain, and an oldies radio station evokes weekends spent passing quarters through the jukebox slot.
On September 11, 2001, in the midst of tragedy and after 19 years as a flight attendant, Brenda Stranberg decided that she was tired of playing back memories of America's greatest decade in her head. Looking around her at a cultural landscape that her childhood self would hardly recognize, she teamed up with old friend Naif Makol Jr. and founded Skooter's, an old-fashioned diner and coffee shop inspired by the simple pleasures of life more than half a century ago. Though somewhat of an anachronism, the diner's open kitchen has proven wildly popular among the various generations that frequent the sit-down counter to sample thick milk shakes, loaded hot dogs, and burgers topped with fried onions. Between bites, guests can toss coins into the antique jukebox or admonish the diner's soda jerks for callously dousing their friends with fountain drinks.
365 Boston Rd.
Springfield
Massachusetts
413-796-1625
Umi Japanese Steak House & Sushi Bar's chefs sling hot meat and veggies across tableside hibachis in showy displays of culinary prowess. As chopsticks busy themselves with vegetables and fried rice, meat such as lobster and filet mignon sizzles on grills just barely out of reach. Chefs also arrange sushi rolls on beds of seaweed in ribbons of eel, red snapper, tuna, and other raw or tempura-battered seafood. Blond wood inlays and sleek glass panels encircle the dining room, whose walls are sprinkled with shadowboxes of traditional Japanese art.
1168 Boston Rd.
Springfield
Massachusetts
413-782-8888
Although it may have fallen out of Top 40 rotation in the 70 years since it was sung by a burger-shop owner's barbershop quartet, the song "When the Red, Red Robin (Comes Bob, Bob, Bobbin' Along)" lives on in the legacy of a Seattle-based burger joint. The Red Robin franchise has spread its wings far and wide, now serving locations throughout North America with sustainably grown, environmentally conscious burgers and sides that marry classic American flavors with savory twists such as onion straws or bruschetta. Most of the shop's fire-grilled burgers, chicken sandwiches, and entrees come with a side of bottomless steak fries, allowing patrons to soak up the juicy Whiskey River barbecue sauce, melted blue cheese, and edible fedoras that top the menu's varied eats. The staff are happy to help patrons pair their sandwiches with one of the full bar's microbrews or specialty mixed drinks, keeping glasses filled while athletic superstars battle it out on the eatery's big-screen TVs.
15 Hazard Ave.
Enfield
Connecticut
Domino's has been decorating dough canvases with flavorful sauces, an assortment of cheeses, and high-quality toppings that range from classic to unconventional since 1960. Domino's dough is tossed daily and stretched by human hands, not by clumsy catapults and model airplanes flying in opposite directions. Treat friends to a tasteful feast by checking the online menu and crafting a custom masterpizza with Domino's wide range of ingredients. Famished diners too starved to choose their own toppings can select from Domino's American Legends, featuring signature flavors from throughout the land. Pizzas such as the Pacific Veggie, Honolulu Hawaiian, or Wisconsin 6 Cheese impart all the delicious diversity of a road trip without the hassle of decoding an atlas. Nonpizza fare includes pastas, sandwiches, and breadsticks.
309 Center St.
Ludlow
Massachusetts
413-589-1900
---
---
Restaurant Deals - Recently Expired
---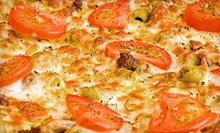 Deep-dish pizzas made to order with choice of up to three toppings
---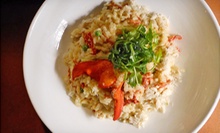 Baked stuffed lobster, filet mignon & grilled salmon sate duos and quartets; the wine dinner pairs four courses with chef-selected varietals
---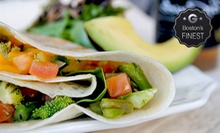 Sweet and savory crepes prepared in the Parisian tradition pair with smoothies, lattes, and coffee
---
---