Shopping in Palmer
---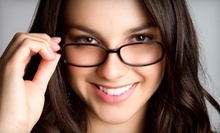 Prescription lenses fit into Versace and Bolle sunglass frames, and indoor styles from Ralph Lauren, Gucci, and Oakley
Use Tuesday 10:00am - 6:00pm
---
Recommended Shopping by Groupon Customers
---
Andy's Sport Shop draws upon four generations of expertise in peddling and maintaining gear for skiers, snowboarders, and scuba divers. During the winter seasons, the staff buffs and waxes snowboards and skis, reducing friction that can melt the snow surface and limit traction while careening downhill. The shop also stocks aqua-ready gear, including scuba fins and weight belts, which provide a useful dive-descent alternative to cement shoes. Outfitted explorers can enroll in a vast offering of scuba courses to pursue sundry certifications ranging from open-water diving to wreck diving to ice diving.
216 Daniels St.
Fitchburg
Massachusetts
978-343-6330
The rigid heddle loom is a relatively simple machine. Jennifer Baum, The Weaving Shed's owner and a juried fiber artist, likes it because a beginning student can set it up and start a scarf within 45 minutes. Along with the loom's simplicity, Jen appreciates the therapeutic value of its rhythmic, back-and-forth cadence. As students work the loom to steadily pull fiber threads into a hand-woven item, they also shed the stress of their day. Jen sees these transformations—both in the progress of the project and the demeanor of the student—as she guides the technique and lends tips to the up to eight students that attend each class in the newly-expanded studio.
Along with classes, The Weaving Shed also spearheads a Farm to Yarn program with local farms. The natural or hand-dyed sheep's wool or alpaca fleece becomes a sustainable, specialty fiber for weaving, knitting, felting, crotchet, and spinning projects. This interest in cultivating local fibers hits especially close to Jen's home, AKA Sunny Knoll Farm, where, with her husband and children, she helps raise an ever-growing alpaca herd. She describes the alpaca as a very "zen-lifestyle animal," even though scientific journals refer to them as "respiring shag carpets." Along with laughing at the "fun family adventure" that the experience has been, she also praises the hypoallergenic qualities of the fleece and its 22 naturally occurring colors.
15 Waushacum Ave.
Sterling
Massachusetts
774-364-2154
Glitter flashes on a set of rainbow-hued fairy wings. A pale pink peony headband adds a splash of color to infant ensembles. Whimsical and feminine, Gigi's Glitzy Boutique's collection of apparel and accessories appeals to the fairy-tale sensibilities of many young girls. The boutique reflects the vision of its owner, Angela, a mother of two who grew weary of searching the Internet for fashionable children's attire.
Angela strives to create a playful, tyke-friendly environment at Gigi's Glitzy Boutique: the walls are bright pink, and tissue-paper flowers hang from the ceiling. Her shop also hosts princess-themed birthday parties, replete with storytelling and seminars on how to negotiate interest rates with the tooth fairy. Additionally, the boutique houses Shear Glitz Salon, which offers kid-friendly treatments including feather extensions and temporary glitter tattoos.
85 Sandy Bottom Rd.
Coventry
Rhode Island
Nestled in the historic jewelry district in Providence, Domaine Designs Outlet has been earning its prime location for the last 7 years. The unique loft space glistens with a wide range of accessories to attract those of any age and style. Weekly deliveries of sparkling wearables quickly find their way into the hands of fashion-forward visitors. Items such as faux antique baubles, statement necklaces, and hammered-gold rings catch the eye of any passerby. A large selection of earrings are available, and visitors garb their wrists in gleaming bracelets to see which best accents their favorite ensemble or draws attention to their newly tie-dyed hands.
18 Imperial Pl.
Providence
Rhode Island
401-490-4751
Annie's Book Stop of Worcester fills its shelves with new and pre-read tomes for adults and children alike. Though the inventory constantly changes as books are bought or exchanged for store credit, popular titles include classics by the likes of Ray Bradbury, Evelyn Waugh, and Madeleine L'Engle, which Annie's stocks alongside gifts and toys. The shop also hosts special events such as readings by local authors and poetry nights.
65 James St.
Worcester
Massachusetts
Since its humble beginnings in 1935 as a small health-food store that specialized in yogurt, GNC has evolved into the world's largest specialty retailer of nutritional products. The chain's more than 4,800 retail locations throughout the country stock numerous vitamins and supplements, all of which meet the company's strict standards for truthful labeling, ingredient safety, and product potency. They carry supplements that aid in sports nutrition, protein intake, diet, digestion, and beauty. Equally as dedicated to customers' shopping experiences as it is to product quality, the company created GNC University, an online learning platform, to help staff members bone up on nutrition and fitness knowledge. The knowledgeable sales associates field questions about everything from weight-management plans to stacking supplements for optimum earlobe strength.
123 Farmington Ave.
Bristol
Connecticut
---