Palmetto Bay, FL Indoor Activities
---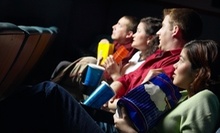 Use Monday 10:00am - 10:30pm
---
Recommended Indoor Activities by Groupon Customers
---
Lucky Strike throws state-of-the-art bowling and a pinch of swanky atmosphere into a blender, presses "puree," and serves you a thrillciting bowling smoothie. Saddle up to one of 14 lanes and spend two full hours basking in bowling-induced merriment ($45 per hour). Lace up the Louboutin-designed foot coverings (shoe rental is $4.95 per person) to achieve the ideal footing for perfecting your roll, bagging some turkeys, and settling a long-running score with a shifty-eyed mail carrier. Included in the deal is a $10 food voucher, so when stage fright results in trembling limbs and fingers, you can quell the shakes with some homemade roasted-garlic hummus or mac 'n' cheese bites.
1691 Michigan Ave.
Miami
Florida
305-532-0307
Achieve a rock-solid body without feeling like Rocky with today's eye-of-the-tiger side deal: for $90, you get five Gravity Power Pilates classes at Pilates One in Coconut Grove, a $200 value. These classes are structured in a group setting and led by certified and dedicated instructors.
3100 S Dixie Hwy., Suite 401
Coconut Grove
Florida
Ever since football became too rambunctious for the limited confines of mess halls, it has been performed in stadiums. During this year's Pro Bowl weekend, celebrate the only sport legally allowed in football stadiums with today's Groupon. For $7, you get a single-day entry to the South Florida FanFest at the Miami Beach Convention Center—tickets normally cost $15 at the door. The exhibition, a 200,000-square-foot sports-memorabilia and card show, is the largest of its kind in Florida and is open from 10 a.m. to 8 p.m. on January 29–31. There is no purchase limit, so pick up a few to attend all three days. Gift a few to your old high-school football teammates to relive the glory days of the Bash Brothers.
1901 Convention Center Dr.
Miami Beach
Florida
US
Forrest Pilates's full-service staff looks after patrons' holistic well being with Pilates workouts, yoga classes, PowerPlate sessions, prenatal classes, massage, and theta healing sessions. Studio owner, certified instructor, and medical intuitive Maria Forrest began practicing Pilates while pregnant with her daughter, discovering that the strengthening classes prepared her body and mind for the rigors of labor and new motherhood.
Now in her own studio outfitted with specialized Pilates equipment and a serene practice space, Maria helps clients of all ages and experience levels to achieve their personal health and wellness goals with a cornucopia of sessions, from kids yoga classes to private Pilates sessions for advanced-level adults. After class, clients can relax with a warm cup of herbal tea and a hug from their abdominal muscles, still hot from their workout.
936 NW 9th Ct.
Miami
Florida
305-606-2448
The Miami Art Museum houses an ever-growing collection of more than 600 works of art, with pieces by such art-world luminaries as Chuck Close, George Segal, and Robert Rauschenberg. Spend 12 months getting physically lost and emotionally found in abstract landscapes of paint and perspective with a one-year membership. Individual memberships grant unlimited free admission to one person. The dual membership is ideal for families because it admits two individuals in the same household and any children under the age of 18. The one-year membership also includes invitations to exclusive members-only events and preview parties at the Miami Art Museum, without the need for a Members-Only jacket.
101 West Flagler Street
Miami
Florida
Seating will be assigned on a first-come, first-served basis at will call.
1300 N Biscayne Blvd.
Miami
Florida
---