Palo Alto Gyms and Fitness
---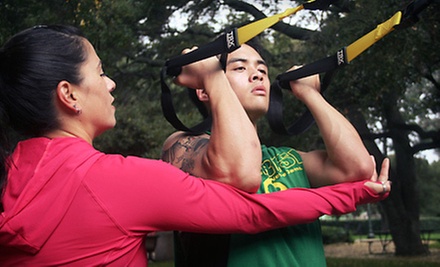 ---
Gym, Exercise, Weightloss Deals
---
Recommended Gym, Exercise, Weightloss by Groupon Customers
---
Resort Fitness eliminates the superficial atmosphere of a giant fitness club by limiting membership, keeping instructors and students on a first-name basis. College-educated, nationally certified trainers lead class sizes of 24 people in a studio with limited mirrors and warm lighting, creating a relaxed environment for working out. Inside the brick-walled, fully ADA-compliant fitness area, a state-of-the-art, 30-foot TRX training rack, resistance bands, kettlebells, and rows of dumbbells replace heavy weight machines to help patrons burn off calories. Resort Fitness focuses on high-intensity interval training that challenges and targets the whole body to achieve faster results.
113 S B St.
San Mateo
California
650-344-3575
Fit For Life's seasoned instructors replace drill-sergeant screams with encouraging mantras in their one-hour indoor classes that welcome clients of all fitness levels. During sessions, trainers round out weightlifting sessions, resistance drills, and core workouts with cardio routines such as light running and obstacle courses. They switch up class routines regularly to ensure courses are never the same from day to day, leading wild-card days that incorporate hiking, crawling, and high-stakes Uno games played with 50-pound cards. In addition to bolstering workouts with nutrition guidance, trainers work to cultivate an atmosphere of positive camaraderie designed to push campers further toward their weight-loss goals.
240 S Whisman Rd.
Mountain View
California
650-430-1462
Laser Fat Loss Clinic East Bay's FDA-approved lasers are the backbone of the clinic, which strives to help clients melt fat and lose inches with various weight-loss solutions. These noninvasive lipolasers help contour bodies by penetrating fat cells and causing them to release their contents into the body, evicting inches and smoothing cellulite while they shrink. For even less invasive procedures, the clinic proffers two detoxification programs, nutritional counseling, and whole-body vibration platforms, for days when people simply can't muster the energy to shimmy for extended periods of time.
34261 Fremont Blvd.
Fremont
California
510-818-1668
Emonne Abedini, a certified clinical hypnotherapist, helps her clients find relief from physical and emotional ailments with hypnosis in typically as few as 5 or 6 sessions. Having completed a master's degree in counselor education and training from the California Institute of Healing Arts and Sciences, Emonne has developed a systematic approach to therapy. Over several sessions, she works to reprogram a patient's subconscious, encouraging it to build positive patterns of behavior and reactions. Hypnosis, she claims, has even helped alleviate her dairy allergy. Her systematic hypnotherapy diverges greatly from the negative portrayal of hypnosis by the media and cartoon villains.
609 Cowper St.
Palo Alto
California
650-268-9787
In 2001, Carrie Rezabek Dorr's only venue for her Pure Barre workouts—a blend of dance, Pilates, and strengthening stretches—was the basement of an office building. Crowds drawn by Carrie's choreographing expertise and the infectious music of her routines necessitated expansion, however, and Pure Barre soon spread its franchises across the country, spurred by mentions in Glamour, Cosmopolitan, and Health magazines.
Pure Barre guides students through precise isometric movements that craft lean, not bulky, muscles. By flowing through scalable maneuvers that balance limbs against a ballet barre, participants can lift and tighten traditional problem areas such as the thighs, abs, seat, and arms. The workout is accessible to all fitness levels, and can help new mothers get back in shape. Intimate classes with a limit of 15 attendees ensure personalized adjustments and tips, allowing each guest to get the most from the workout's alternating strength and stretch drills.
299 S California Ave.
Palo Alto
California
Before moving to the United States to be with her husband, founder Shaira Bhan applied her lifelong experience in Bollywood dance—along with the jazz, ballet, and contemporary training she received in London—to supply choreography for films including Dhoom and Namastey London. Once settled in California, Bhan launched Dance Identity to offset the scarcity of studios supplying structured, progressive curriculums in multiple dance styles. She and her team help students to improve their health and build confidence through numerous creative classes, ranging from Bollywood DanceFuze—a blend of Bollywood, hip-hop, jazz, funk, contemporary, and Bhangra techniques—to club salsa, a class that teaches students timing, footwork, and how to spin without dropping any cilantro. When not at Dance Identity, Bhan hosts NDTV Good Times' health and wellness show, Bodylicious.
415 N Mathilda Ave.
Sunnyvale
California
US
408-824-4309
---