Restaurants in Palo Alto
---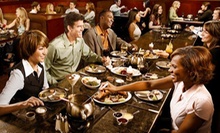 Duos dunk morsels of bread into molten cheese & meat into sizzling oils before savoring liquid chocolate in 4 wine-paired fondue courses
Use Today 9:00pm - 11:00pm
---
Recommended Restaurants by Groupon Customers
---
In Istanbul's Taxim Square, the aroma of roasting lamb and beef wafts from street vendors' stalls. Café Taxim's menu of gyros and kebabs pays homage to the metropolis' bustling street cuisine scene, though from within more serene environs: geometric light fixtures illuminate the casual eatery's sleek hardwood floors, and vibrant orange walls rescue eyes from the strain of tracking doner kebabs' RPM.
423 University Avenue
Palo Alto
California
650-330-1440
Dishes of salmon tartare and bacon-fried rice glide through the dining room of The Red Crane, as if imitating the flight of the restaurant's namesake. They land atop crisp white tablecloths, which cover tables dotted with glowing tea candles. In the kitchen, chefs prepare other contemporary renditions of classic Asian cuisine, using traditional recipes to create teriyaki sauce and enhancing other dishes with modern design principles. Brimming with tuna, salmon, hamachi, and three types of vegetables, the chefs' signature rainbow ceviche is more colorful than a sunset during a paintball tournament.
7335 Bollinger Rd., Suite C
Cupertino
California
408-725-1990
"Hueco" translates roughly to "little cave," a tribute to the Peruvian hole-in-the-wall restaurants that serve ceviche and charcoal-roasted meats at any hour of the day. El Hueco attempts to capture the feeling of a hangout in the little mountainous country with traditional dishes crafted by lauded chef Jaime Laos. "Laos," the San Jose Mercury News noted in an article, "has come a long way since his grandmother taught him to cook in a one-faucet house they shared with eight others in Lima." He now creates a full menu of traditional small plates and entrees, which rely heavily upon the seafood, South American chilies, and sweet potatoes that make up the bulk of Peruvian cuisine.
From the steaming vats of beef stew cooked in a corn-beer sauce to the pan-fried chicken cooked in a blend of porto butter and chocolate, Laos introduces clients to the ancient flavors of Peru. Guests experience how Peruvian chefs prepare mixed vegetables and quinoa. The soft grain was cultivated by Incans hundreds of years ago, but is now becoming popular in North American health-food stores and slapstick movies about people falling into vats of different things. After bowls of ceviche, traditional desserts at the eatery pair root vegetables with a splash of sweet molasses.
593 Woodside Road, Suite E
Redwood City
California
650-299-9005
Mancora Cebicheria is the joint effort from a pair of restaurateurs eager to show to the world the colorful dishes and diverse flavors of Peruvian cuisine. Head chefs Marcelo and Michael cure morsels of seafood with a marinade called "leche de tigre"⎯a blend of pepper sauce, zesty lime juice, and sea salt along with a written warning against ever attempting to actually milk a tiger. Grilled steaks share plate space with sides of fried bananas, roasted garlic, and pasta covered in basil pesto. Along with fresh seafood, corn finds its way into dishes throughout the menu, whether garnishing ceviche plates with huge kernels of choclo or in glasses of purple corn chicha morada juice.
2319 South El Camino Real
San Mateo
California
650-312-1266
---