Restaurants in Palo Alto
---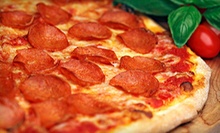 Pizzas crafted with housemade dough and secret-recipe sauce with bread topped with cheese and garlic butter
---
Recommended Restaurants by Groupon Customers
---
Saigon Bistro piles plates with lemongrass chicken, using cuts juicier than a tabloid article about Hollywood's best smoothie shops. Appetizers also please palates inside this casual Vietnamese eatery, with selections such as spring rolls and calamari. Dinner dishes include pho and ba nam noodles with tomato meat sauce, which can sate ampler appetites.
824 Main Street
Pleasanton
California
925-249-9448
The heart of the Kinara Lounge kitchen is its fiery clay tandoori oven, which crackles with baking naan breads and sizzling tandoori meats from noontime until dusk. Chefs bustle about the oven, seasoning pans of chicken, lamb, and seafood specialties with flavorful spices while peeking into pots filled with bubbling biryani rice. Servers transport plates to the dining room, where hanging red lights casts a glimmer on bottles of premium liquors and a flat-screen television. Come lunch time, the servers stack a sweeping buffet with simmering platters of fresh Indian specialties, enabling diners to sample a diverse selection of curries, tandoori dishes, and sauces.
400 Valley Way
Milpitas
California
408-262-9700
At Chaat Bhavan, a full menu of Indian fare avoids meat as fastidiously as if it were a banana peel on a video-game highway. Snacks include masala chaat, a spicy fruit chutney served with crispy wafers, and missal pav, a mixture of black lentils and crispy noodles. Pan-cooked spinach paratha bread sops up soupy entrees such as the chana sag, which pairs garbanzo beans with fresh spinach, and the aloo gobi mattar, a union of potatoes, peas, and spices. Everything on Chaat Bhavan's bill of fare is meat-free, and many eats also accommodate Jain customs and veganism.
5355 Mowry Avenue
Fremont
California
510-795-1100
When The Melting Pot originally opened in 1975 just outside Orlando, the location was cozy and quaint, but diners had only three options: swiss-cheese fondue, beef fondue, or chocolate fondue. However, as the restaurant grew in popularity, so did its menu selection and atmosphere. The restaurant first expanded four years later under the leadership of a Melting Pot waiter and enterprising college student named Mark Johnston, who teamed up with his brothers Mike and Bob to open a new outpost in Tallahassee. This location grew in reputation to pave the way for future franchise expansion. Today, the company—now owned by the trio of siblings—reigns as the premier fondue, wine, and drink restaurant, stretching across North America with more than 140 restaurants linked by underground tunnels. The restaurant's menu has also ballooned, and patrons can now expect six varieties of hot dipping cheese paired with salads, meats, and molten chocolate.
On a given night, groups of foodies gather around tables to nosh on signature four-course meals, from cheese-fondue appetizers and various salads to steaks and seafood cooked in a choice of healthy broth or oil. Birthday revelers and couples can share decadent evenings at private tables, capping off meals with chocolate desserts that have defined The Melting Pot for decades.
2 N B St.
San Mateo
California
650-342-6358
---