Massage in Papillion
---
Recommended Massage by Groupon Customers
---
Sharon Maricle knows that good massage should never hurt. In her 20 years of providing bodywork therapy, the licensed massage therapist has come to believe that pure, complete relief can be attained without the deep-pressure, painful massage styles adopted by many therapists. Of course, Sharon understands that everybody has a different pressure threshold, and she adjusts her technique to suit her client, ensuring everyone can enjoy a deep, therapeutic massage. Instead of using one-size-fits-all massage strokes, Sharon attends to her clients' specific concerns, including soreness and tension, with everything from light, relaxing strokes to deeper and more focused pressure. She augments traditional Swedish massage with specialty techniques including Chinese cupping and color puncturing, which uses colored lights instead of acupuncture needles to stimulate the body's meridian points and demonstrate the potential of black-and-white tattoos.
1242 C St.
Lincoln
Nebraska
402-318-2678
Though amateur feline massage practitioners may knead with gusto, their lack of stroke variety and occasional clawing make them no match for the certified human massage therapists at Sol System. In their capable hands, a soothing 60-minute Swedish massage sends achy muscles to an ethereal plane of total body relaxation. The technique employs long, gliding strokes that follow the natural blood highways of the body, coaxing circulation back toward the heart. Sol System's friendly massage technicians act as gentle traffic cops, guiding the little red, oxygen-hauling trucks that perpetually tour your body. Enhanced circulation helps stimulate your whole body, making everyday tasks less taxing and increasing your chances of hitting the lotto. Other massage patterns used in the Swedish technique include circular motion, pressure, firm kneading, tapping, range-of-motion manipulation, and shadow puppets. The therapy reduces pain and joint stiffness and can improve function in people suffering from osteoarthritis.
105 North 31st Ave.
Omaha
Nebraska
Licensed massage-therapist Michelle Findlay evicts aches, pains, and stress from tight backs and muscles at Juniper Massage & Spa. In hot-stone massages, gentle warmth spreads through the body, while cold stones are also available for migraine therapy. At the spa, patrons will also find services such as body polishes, reflexology, and cupping therapy.
1440 South Street
Lincoln
Nebraska
402-613-4138
---
---
Massage Deals - Recently Expired
---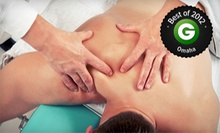 Soothing kneads help the body to heal itself, bringing relief to soreness, stiff joints, and tension.
---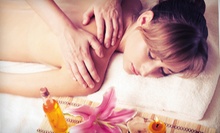 Essential oils pair with custom massage techniques and a blanket wrap to soothe the body and stimulate the lymphatic system
---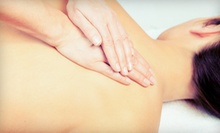 Licensed massage therapist Brittany Harris helps female clients unwind with a relaxing hot-oil aromatherapy massage
---
---