Things to Do in Papillion
---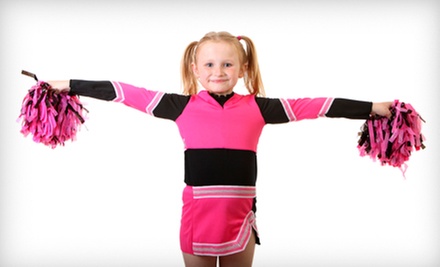 ---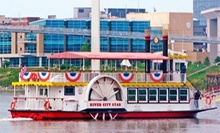 A double-decker boat travels along the Missouri River, passing Freedom Park, the Bob Kerrey Pedestrian Bridge, and the East Omaha Bridge
---
Recommended Things to Do by Groupon Customers
---
After beads etc.'s helpful, friendly staff helps students find the best beads among its selection of more than 250,000 pieces, eager beaders will then spend 90 minutes boning up on the basics in Intro Jewelry Making 1. Once students have gained the beads' trust, they'll be free to advance to the next tier of adornment creation with the 90-minute Intro Jewelry Making 2 class, in which students will make a dangle key chain and one pair of earrings with six- and eight-millimeter Swarovski crystals. The enrollment for this second-level course includes costs for all necessary materials.
17306 Lakeside Hills Plaza
Omaha
Nebraska
Since 1977, the Omaha Yoga School (OYS) has been molding clients into loose-limbed fitness fans, expanding its base of classical and Vinyasa flow classes to include Hyp-Yoga, which combines yoga with hypnosis to achieve top-notch results that won't temporarily transform participants into clucking chickens. OYS recognizes that the body must be taken care of, but the mind and spirit are also important pieces of the complex long-division formula that is fitness. By teaching ancient yoga techniques in a non-competitive and intimate atmosphere, OYS produces practical results that improve daily living and snowball-dodging skills. Experienced instructors who were enamored with their Stretch Armstrongs at an early age lead small classes that strengthen the core and firm limbs, which will undoubtedly bait jealous glares from trees. Call ahead to schedule your first session at Omaha Yoga School.
1066 Howard St.
Omaha
Nebraska
Laser tagging is a pastime enjoyed by children and adult children alike, mixing the elements of strategy, accuracy, and inevitable fits of fun. In the multilevel neon arena, taggers slink into the shadowy mist to surprise their opponents, or take a Zeus-eye view, zapping bolts of lasers from above. As a warning, some strobe-light effects will be used to intensify the battle's excitement and celebratory break dancing.
11108 Q Street
Omaha
Nebraska
Dedicated to helping guests locate the core of their physical and spiritual beings, Legacy Pilates, Yoga & More's instructors blend Eastern and Western philosophies into emphatic programs that focus on establishing unity between the mind and body. The sounds of heaving breaths and stretch-induced groans permeate the center's expansive studios, where instructors lead classes in Pilates and yoga along with high-energy Zumba dance-a-thons. Limbs stretched to their limits during workouts can recover with massage and reiki sessions that target the body's centers of energy and relax muscles still barking from prolonged downward-dog poses.
16939 Wright Plaza, Suite 129
Omaha
Nebraska
402-502-9772
Instructors at Omaha Ballroom lead drop-in group dance and fitness courses inside a studio with arched ceilings and a capacity of 100 people. Students partnered with spouses or doppelgangers glide through the steps of the waltz, fox trot, and tango during ballroom classes, or shake and strut to upbeat Latin tempos in salsa classes. Line-dancing and country-two-step classes equip individuals with the tools to impress at the next corporate hoedown, and swing lessons have dancers jitterbugging in either the East or West Coast style. Students can sidestep choreography to strengthen cores during mat Pilates, participate in Zumba's gut-busting cardio sessions, and practice folding feet into fists in kickboxing classes.
5038 S 153rd St.
Omaha
Nebraska
402-290-4869
Sempeck's Bowling & Entertainment throws open its doors and beckons fun seekers inside an expansive facility to steer go-karts down an indoor track, bob and weave in a two-story laser-tag arena, and bowl on lanes that transform into cosmic-themed extravaganzas every Thursday, Friday, and Saturday night. Inside the fun factory lies a video-game arcade equipped with skee-ball, crane games, and prizes for anyone who can slay the three-headed prize guard. After fierce competitions, high-definition TVs and frosty beverages await players in the Sparetime Sports Bar & Restaurant, an in-house eatery that hosts karaoke every Friday night.
20902 Cumberland Dr.
Elkhorn
Nebraska
---