Paradise Gyms and Fitness
---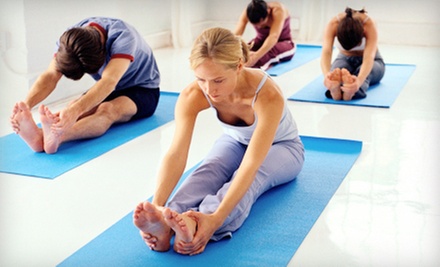 ---
Gym, Exercise, Weightloss Deals
---
Recommended Gym, Exercise, Weightloss by Groupon Customers
---
Part of yoga's beauty lies in its adaptability. Whether performed by an experienced practitioner or a first-time student, the postures can be modified to become simpler or more complicated. For students looking for an added level of impact, another variable awaits: heat. During sessions at Bikram Yoga Lincoln, instructors lead students of any age or ability level through a series of 26 postures and two breathing exercises in rooms infused with sultry waves of super-heated air. Deep breath work awakens the body with a refreshing jolt of oxygen before muscles, ligaments, and joints shed stress and stiffness. A final series of balancing postures closes classes, as students push the limits of their concentration, patience, and prior training as a unicyclist.
Illuminated with natural light coursing in through a wall of large windows, Bikram Yoga Lincoln's studio is lined with a sweat-proof and antimicrobial Flotex floor. Guests are invited to converse with peers either before or after sessions in a community lounge, and enjoy a refreshing cool down in spacious steam showers.
785 S Hwy. 65, Suite 20
Lincoln
California
916-408-3900
Copses of serene pines, oaks, and redwoods cluster along no fewer than 36 rye-grass fairways at Lincoln Hills Golf Club. Even after creating its first 18-hole Hills course, designed by professional golfer Billy Casper and famed course architect Greg Nash, the club decided it wanted another. Its ambition created a second par 72 layout—the Orchard course—giving golfers a choice between two courses where large greens nestle amid rolling hills and naturally occurring wetlands.
The older Hills course unfurls over 6,876 yards. Its second hole demands a tee shot over a lake and onto a tight fairway before players even begin to aim at a green guarded by a bunker on the left. The newer Orchard course also makes golfers sweat at the second fairway, its hardest, which earns a par 5 by coming in at 598 yards and offering a plethora of sand bunkers as well as a 75-foot slope from the tee box to the green.
Instead of smashing cell phones to make rudimentary compasses, golfers navigate the course in GPS-equipped golf carts. The club also entices players with an 8-acre driving range, a practice area for putting and chipping, and individual or group lessons with professionals Steven Treadway and Patty Snyder—a former LPGA Tour player.
1005 Sun City Ln.
Lincoln
California
916-543-9200
Bright flashing lights swirl in the low-lit studio as Latin-inspired music moves hips through high-energy dance moves. The Klubhouse 2's popular West Sacramento Zumba classes lead exercisers from all walks of life through easy-to-follow, calorie-torching moves demonstrated by energetic instructors 19 times a week. The fitness studio offers bountiful group fitness classes to help guests slim profiles and bolster muscles during R.I.P.P.E.D. classes. The driving force behind these sessions is an aversion to plateaus that other, less-inventive and less-varied workout regimens can engender.
721 Sterling Pkwy., Suite 200
Lincoln
California
---