Nightlife in Paradise Valley
---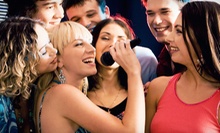 In private rooms or a public hall, groups sing along to more than 130,000 songs, nibble snacks, and sip alcoholic drinks brought from home
---
Recommended Nightlife by Groupon Customers
---
The clatter of pool balls melds with the cheering from sports fans at Skip & Jan's Sports Bar, where 24 pool tables tempt those not busy watching the game on one of 20 flat-screen televisions. During time-outs, patrons nibble on tavern fare, such as potato skins, third-pound burgers, and tuna melts. The bar's wings, which are served with nine different sauces, earned the eatery a feature in the Arizona Republic as one of the area's 20 best places for wings not including a chicken farm.
7700 S Priest Dr.
Tempe
Arizona
The Phoenix New Times pick for Best Rock Club in 2010 and 2011, this live-music venue draws crowds that huddle around indoor and outdoor stages to groove and wail every night of the week. Concerts and festivals stage local bands, indie rockers, and national acts playing genres ranging from bluegrass and reggae to jam music and rock 'n' roll. Amid the big-name acts, the house upholds beloved traditions; Grateful Dead fanatics and people with tie-dyed flesh emerge to party on Sunday nights, and each Thursday, burgeoning starlets perform karaoke with the support of a full live band. Beside the outdoor stage, a spacious patio facilitates mingling under the sky's star-freckled firmament. At the indoor bar, barkeeps fill glasses with mixed drinks and brews while colorful lights flash against walls. Black leather couches and huge art canvases line the lounge area, and a dance floor carved before the stage affords up-close views of the passport stamps canvassing rock star's wrists. AZCentral noted: "Not far from Mill Avenue, the Sail Inn offers a whole different scene, with a cool vibe and laid-back people."
26 S Farmer Avenue
Tempe
Arizona
480-966-9565
WineStyles showcases the diversity found throughout California's wine country at a small wine bar on the Coronado peninsula. More than 300 wines line its shelves, including national and international varietals sourced from small, boutique vineyards. Most bottles cost less than $25, and the shop also sells customized gift baskets and wine-lover accessories such as T-shirts, bottle openers, and fireplaces for dramatically hurling a glass into.
Live music underscores weekly wine tastings, where guests sample and learn about different wines from resident experts. The list of house wines includes fruity and bold reds, such as malbec, and creamy whites, including chardonnay. WineStyles also stocks a selection of craft beers from Germany and all over California for beer lovers. Gourmet cheese boards and imported Italian meats are also available to be added to any wine tasting or private event.
10625 N Tatum Blvd., D142
Phoenix
Arizona
US
480-922-4771
As its neon-flamed exterior would suggest, Cactus Moon Sports Grill is a lively establishment. Chefs prepare eclectic dishes, such as Wachos, their Southwestern twist on nachos, in which they douse crisp waffle fries in a hearty sauce. From the sports bar outfitted with 48 HDTVs, bartenders pour a selection of beer and wine, which includes sudsy drafts from Four Peaks, Stella Artois, and Sam Adams. On some nights, the clacking of pool balls on 15 billiards tables and the rattling of foosball kickers orchestrate rhythmic background sounds, and on others, a late-night DJ incites hip swivels and 360-degree head turns with an infectious track list of danceable tunes played out over a 1,000-square-foot dance floor.
1017 North Dobson Road
Mesa
Arizona
480-833-2226
The mic is hot, the karaoke machine is ready, and a crowd of friends and family sits nearby cheering you on. All that's left is to pick a tune. That's not an easy decision to make at August Karaoke Box, however.
In seven private rooms, touchscreen karaoke machines blast the music and videos for more than 130,000 songs, including Japanese, Korean, English, and Martian hits. Since the rooms are private, groups don't have to worry about stage fright or waiting through long lines of other singers. But if they really want to show off their pipes, singers can take to the public stage and belt one out to an adoring crowd.
Open until 2 a.m., August Karaoke Box encourages customers to croon well into the wee hours of the morning. To keep these performers energized, the staff serves hot green tea and snacks, such as Japanese-style fried noodles. They also let patrons bring along their own food and alcoholic beverages.
1301 E University Dr., Suite 106
Tempe
Arizona
480-788-6668
The Chaos Comedy Improv troupe spins lightning-quick thinking into tapestries of cachinnation during Saturday-night showcases of unscripted comedy. A vibrant, quick-witted cast evicts any lingering drama from the Dearing Acting Studio stage, giving audiences a reprieve from all non-laughing matters as they munch on house-popped popcorn. Upcoming performances vary wildly, as the troupe never plays the same show twice or forgets to wear random clothing found in a back alley. Fans of unadulterated imagination can rejoice that Chaos Comedy keeps the laughs family friendly.
10806 N 32nd St.
Phoenix
Arizona
480-313-9901
---