Restaurants in Paradise Valley
---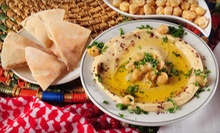 Fresh-baked pita bread and Middle Eastern cuisine such as chicken kebabs, kofta, and kibbeh
---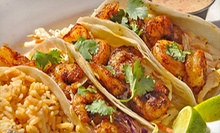 Burgers, flatbread, and wings complemented by 20 draft beers and more than three dozen flat-screen TVs
---
Recommended Restaurants by Groupon Customers
---
Whether they're celebrating gridiron victories or a fastball-filled afternoon spent with America's pastime, Sports Grill 101 fuels fandom with a smorgasbord including stuffed hoagies, sizzling calzones, and Italian eats. As the sights and sounds of sportsmanship fill the bar's television, diners bond over baskets of wings, savor topping-flecked slices of house-made pizza crust, or toast successful touchdowns, home runs, or goalie-mask-decorating workshops with a frosty beer fresh from the tap.
8763 Bell Rd.
Scottsdale
Arizona
US
480-515-7565
No matter the time of day, servers at Country Boys Restaurant fill their pads of paper with scribbled orders for breakfast, lunch, and dinner options. From the kitchen window, they grab plates brimming with chicken strips and chili cheese fries. For breakfast, fluffy pieces of french toast arrive piled with strawberries and whipped cream, and later in the day, burgers and sandwiches bring happiness between two pillowy buns or slices of bread.
3202 E Greenway Rd.
Phoenix
Arizona
602-485-1000
Benedict's Catering and Cafe's owner Dawn Kennington Bejar draws from more than 20 years of experience planning events for Estée Lauder. She leads a team of servers, bartenders, chefs, and baristas during catering services for events large and small. At her intimate French bistro, Dawn turns the reins over to American Culinary Federation–certified pastry chef Donna Shock. Every day, chef Shock bakes sweet pastries full of chocolate and pecans, and crafts a range of savory brunch and lunch dishes made from locally sourced eggs, dairy, and vegetables. Diners can complement their meals with mugs of custom-blended dark roast coffee and glasses of mango iced tea. Chef Shock also showcases her techniques in small-size cooking classes, which cover culinary styles such as Greek, Italian, and Spanish and cooking methods such as grilling and poaching. Once done with a class or two, students are ready to host their own dinner parties or test whether a grilled steak can really be thrown further than a raw one.
5555 E Bell Rd., Suite 6
Scottsdale
Arizona
US
602-992-3337
Drawing on the flavors of her childhood in Nigeria and her teen years spent in Jamaica, Fu Fu Cuisine's chef, Esther Mbaikambey, crafts a menu of authentic African and Caribbean dishes. The sauces of curry goat and jerk barbeque chicken seep into rib-sticking mounds of steamed rice, plantains, and pounded yams, with each dish available mild, hot, or extra spicy. To help clients to cool off after digging into tropical fare, the restaurant serves fresh juices and specialty drinks such as whiskey cookie shakes and piña coladas topped with coconut whipped cream extracted from the center of a cloud.
3633 W Camelback Rd., Suite 7
Phoenix
Arizona
US
602-995-2015
In an airy dining area overlooking the tarmac at Scottsdale Airport, diners grab meals to fill up for impending flights or footraces against private jets. This is Zulu Caffe, a place where a jet-setting clientele traveling to destinations around the world pauses to sample the area's local and organic cuisine. Executive chef Brian Ford, a graduate of The French Culinary Institute in New York, curates the eatery's menu of seasonally rotating dishes, which includes smoked-salmon quesadillas, locally sourced Angus burgers, and wood-fired pizzas.
15000 N Airport Dr., Suite 100
Scottsdale
Arizona
480-636-1634
Waffle Dawg is a place where that popular wake-up cake can finally escape from the world of melancholy breakfasts. The shop's waffles, which come in standard, blueberry, bacon, and chocolate-chip varieties, are the foundation for some imaginative sweet and savory concoctions. One hot dog mashed between two waffles. Two scoops of ice cream melting on a waffle. Three toppings of your choice—say fruit, nuts, and whipped cream—smothering a waffle. Marshmallow, chocolate, and graham crackers making you think about s'mores on a waffle.
It's also possible to say no to waffles and stick with Waffle Dawg's dogs, such as the Dirty Dawg with heaps of chili and cheese. Stuffed pretzels, Otter Pops, muffins, and lots of other snacks pile up inside the shop's bright red, green, and blue walls, so no one can force you to break your waffle fast—not even Waffle Dawg's waffle-cape-wearing mascot, who is made of ferocious cardboard and eats rusty cars for breakfast.
21001 N Tatum Blvd.
Phoenix
Arizona
602-989-0567
---