Coffee & Treats in Paradise
---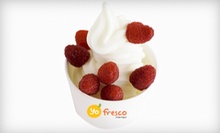 Swirls of premium frozen yogurt in flavors such as cappuccino, vanilla & mango sorbet caress figs, pistachios, oreo & other toppings
Use Today 10:00am - 1:00pm
---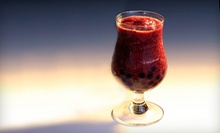 Fruit smoothies infused with avocado, mango, green tea & almond flavors & filled with chewy Boba pearls delight palates in 24-oz amounts
Use Today 11:00am - 9:00pm
---
Recommended Coffee & Treats by Groupon Customers
---
When Forest Mars Sr. was a boy, in 1911, he watched with rapt attention as his mother, Ethel, crafted gourmet chocolates in their kitchen. 70 years later, he honored her memory by making chocolates of his own in Henderson, Nevada, where today a small factory still whips up his mother's recipes alongside modern confections. Traditional candies mingle nuts, crème liqueurs, and caramels with dark chocolate, milk chocolate, and truffles. Handpicked pecans float amid chocolate and butter in Ethel M's signature brittles, and milk, dark, and sugar-free chocolate envelops bite-sized treats such as espresso beans, pretzels, and fruit. Ethel M Chocolates invites visitors to tour the factory, where chocolatiers prove sweets can be made without preservatives or the witchcraft of Keebler elves, before sending candies to seven Las Vegas–area shops.
5757 Wayne Newton Blvd., Gate D
Las Vegas
Nevada
Founded by ice-cream enthusiasts Donald and Susan Sutherland in 1988, Cold Stone Creamery has grown to more than 1,400 locations across North America. Each day, the shop's scoopers mix up fresh batches of ice cream and sorbet, which are served by the scoop, piled high in sundaes, and blended into shakes. After customers choose their desired flavor, the staffers toss the chilly sustenance upon a slab of frozen granite and fold in a smorgasbord of candy and nuts to achieve the ideal ice-cream-to-add-in ratio. Customers can dream up their own creations or opt for a signature masterpiece, sampling one of more than 11.5 million possible flavor combinations, which still await a brave conqueror to unlock them all. To accommodate sweets cravings at celebrations, staff members also dish out premade treats, such as ice-cream cakes and baked goods.
1829 W Craig Rd., Suite 2
North Las Vegas
Nevada
702-456-8407
At The MadHouse Coffee's two locations, baristas craft hot and cold coffees and teas and serve them up alongside made-to-order sandwiches and freshly baked pastries. Patrons can sip on a peanut-butter-infused Monkey Mocha between bites of the Island of Capri sandwich, full of creamy mozzarella, tomatoes, and oregano hugged by two slices of focaccia bread. The MadHouse Coffee also offers a selection of desserts such as tiramisu, which guests can nibble as they take in the vibrantly remixed pieces of artwork on tables, walls, and employees' foreheads.
8470 W Desert Inn Rd.
Las Vegas
Nevada
US
702-360-4232
The team at David&Micah's bakes a wide variety of cakes and cupcakes, and they can customize their confections to the dictates of any occasion. Some of their specialties include their Queen of Hearts cupcakes, red-velvet treats covered with a cream-cheese frosting and a red heart, and strawberry cupcakes with a pineapple in the center and a strawberry/vanilla-swirl frosting. Beyond their small specialties, the staff can whip up wedding cakes as high as four tiers, which is not to be confused with the four tears shed by the average guest at a wedding.
N/a
Las Vegas
Nevada
702-409-5141
---