Concerts & Events in Paradise
---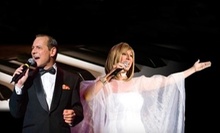 Use Sunday 4:30pm - 7:30pm
---
Recommended Concerts & Events by Groupon Customers
---
The finale of Campus MovieFest features screenings of more than 250 student films; industry workshops; guest appearances by directors, actors, and screenwriters such as Mark Boal and John Ortiz; and the national grand finale of the College Battle of the Bands. All student movies were made in just one week and span the entire country, drawing around 75,000 participants. Bus explosions and spontaneous implosions are left for hubris-heaped Hollywood as these low-to-no-budget films explore the full spectrum of film, from comedy to drama to llama. The $29 ticket avails you of the final 16 films, beginning at 8 p.m. on Saturday, featuring door prizes, guest presenters, and awards for the winners.
3131 Las Vegas Blvd. S
Las Vegas
Nevada
Like a magnet inside a paper-clip factory, the Las Vegas Film Festival attracts celluloid images capturing the visions of storytellers from around the globe. Taking over Vegas's renowned Hilton Hotel from July 19-22, the fest unveils the best of these silver-screen treats in showings and award ceremonies. The schedule is also peppered with industry panels in which professional filmmakers and actors discuss the nitty-gritty of breaking into the film business. As the sun sets, the structured events of the day give way to red-carpet arrivals, evening soirees, and late-night Citizen Kane 2 writing sessions.
3000 Paradise Rd.
Las Vegas
Nevada
702-463-4707
In 2008, a former Lady Rebel All-American returned to her alma mater in a new role: as head coach of the UNLV women's basketball team. Prior to that, coach Kathy Olivier spent 15 years at the helm of the UCLA team. The wisdom she's accumulated from her years spent guiding young ladies toward their goals on the hardwood are transferred to the next generation of female athletes in youth summer programs. Led by coach Olivier, her staff, and current UNLV players, sessions fill the 18,500-seat Thomas & Mack Center with the sound of whistles, bouncing balls, squeaking shoes, and the cheers of an imaginary crowd of fans and cool dragons. During each energetic workout, staff share their love of the game as they teach passing, dribbling, shooting, and rebounding with group and individual instruction, daily games, and contests.
4505 S Maryland Pkwy.
Las Vegas
Nevada
702-895-3041
Formerly the Lingerie Football League, the Legends Football League stands as the "fastest-growing pro sports league in the nation" according to NBC Sports correspondent Rick Chandler. That success owes much to the league's unique format, which pits two exclusively female teams in alluring uniforms against each other in full-contact football games on a 50-yard field. Donning football pads and helmets over their revealing performance wear, the female athletes block, juke, and sprint uninhibited by such frivolous gear as the NFL's heavy chainmail hauberks.
4500 W Tropicana Ave.
Las Vegas
Nevada
702-284-7777
Las Vegas doesn't necessarily have a reputation for high culture, but the founders of the Las Vegas Philharmonic showed they were serious from their very first concert. In 1999, the orchestra debuted with Mahler's Resurrection Symphony, a demanding work with unusual instrumentation that can stretch up to 90 minutes in length. "As far as we know, this is the largest staging of a classical music piece in the city's history," cofounder Harold Weller told the Review-Journal of the 260-musician production. In the decade-plus since then, the Philharmonic has continued its record of accessible ambition with a pops series, live accompaniment to silent films, and collaborations with superstars such as Sarah Brightman, Placido Domingo, and Andrea Bocelli.
In 2012, the orchestra moved into The Smith Center, a brand new cultural center built from 2,458 tons of Indiana limestone and crowned by an art-deco-style carillon tower that holds 47 bells. Inside the theater, streamlined chandeliers evoke 1920s elegance, and a wide, palm-tree-flanked lawn frames the massive building with enough space for outdoor spectacles and double dates with other orchestras.
4505 S Maryland Pkwy.
Las Vegas
Nevada
702-895-2787
The friendly staff at Power Sports Packages shuttles sports fiends to games and special events with all-inclusive sports travel packages. Departing from a base in Las Vegas, motorcoaches rumble through southern California, Arizona, and the surrounding areas to drop off passengers at horse races, ski resorts, and live mascot births for one-day trips or weekend getaways. Soon, Power Sports Packages plans to offer trips to other events such as baseball, football, and basketball games, as well as car races and hockey matches. Great for incentivizing employee behavior, bonding with friends, or proving to a skeptical child that Santa played quarterback in college, these upscale sporting experiences allow fans to relax and enjoy the game as Power Sports Packages handles the rest.
12300 Las Vegas Blvd. S
Las Vegas
Nevada
702-477-6787
---