Paradise Health and Fitness
---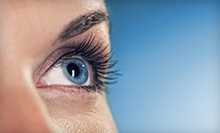 Experienced doctor and staff who have performed thousands of successful surgeries permanently correct vision in 10-minute procedure
---
Recommended Health & Fitness by Groupon Customers
---
From the comforts of her state-of-the-art offices, Dr. Olya Banchik wards off plaque and mouth disease with her formidable dental credentials, which she applies to assist in family and cosmetic dentistry. Treat mouth-bones to a thorough examination complete with x-rays for an informed and in-depth understanding of your speech-hole's overall well being. The expert staff at Banchik Dental will buff your teeth clean, removing the unwanted evidence of foods and naturally accumulating debris that can chagrin a smile, embarrass breath, and intimidate silverware en route to feeding you. Smiles tinted by coffee, tobacco, or a career as a paint taste tester make their way back to shades of white with an at-home teeth-whitening kit using personalized trays made from impressions of your teeth.
1825 Village Center Circle
Las Vegas
Nevada
Led by Doctors of Chiropractic Ryan Kissling, Jeffrey Hanks, and Keith Quisberg, Align Chiropractic helps patients battle everyday ailments and conditions, from ADHD to fibromyalgia. Using advanced physiotherapy equipment, Drs. Kissling and Quisberg help to keep the spine aligned, release long-held tensions, and help to body to better heal itself. In addition, a digital x-ray system allows the doctors to view potential problem areas from any of the center's treatment rooms, and they can then email the results and pictures to patients so that they can sprinkle them into PowerPoint presentations during important business meetings.
6441 N Durango Dr., Suiet 130
las vegas
Nevada
702-538-9100
Plastic surgeon Himansu Shah, MD—certified by both the American Board of Plastic Surgery and the American Board of Surgery—brings scientific knowledge as well as an artful aesthetic sense to each procedure he performs. Known to both patients and colleagues for his warm and compassionate nature, Dr. Shah holds pretreatment consultations to discuss medical specifics. Cosmetic procedures such as face lifts, body lifts, breast augmentation, liposuction and many other cosmetic procedures help patients embody their own ideals of beauty. His practice also helps patients His practice also helps patients with tummy tucks, rhinoplasty and CO2 laser. Signature Institute of Aesthetic Sculpting also improves appearances with minimally invasive treatments such as Botox, Juvéderm, and Restylane, all delicately injected by Dr. Shah himself. Laser treatments with Obagi technologies can give skin a refresher course in looking young, or serve hair follicles a notice of impending eviction.
3035 W Horizon Ridge Pkwy., Suite 100
Henderson
Nevada
702-684-5502
Since 1989, Personal Eyes Opticians' founder Nancy Edwards and her team of lens specialists have collaborated with customers to select functional eyewear that enhances lifestyle, image, and performance needs. Using superior optics and advanced lens technology, on-site technicians craft lenses in the vision center's attached lab, sharpening vision and senses of personal style and reducing toe stubbing. Eyeglass-inspired art upon the store's purple-shaded walls mirrors the shapes of exclusive designer frames and designer sunglasses, as well as fashionable and affordable options.
7260 W Lake Mead Blvd., Suite 4
Las Vegas
Nevada
702-258-1944
"You are unique." This is one of 13 principles that guides the staff at HealthWorks Healing Arts Institute and Wellness Center. Principles such as this and "What you attend to, you become," are acted upon by therapists as they customize healing therapies to fit clients' needs. Though colon hydrotherapy is their headlining service, the staff also specializes in massage therapy, tai chi, and yoga, and leads system cleanses. They also flex their healing expertise in classes that show students how to replace limiting thoughts with positive ones and how to turn hot dogs into dachshunds.
1100 E Sahara Ave., Suite 100
Las Vegas
Nevada
702-212-4325
---